Role of youth key to making AP drugs-free: P and E Minister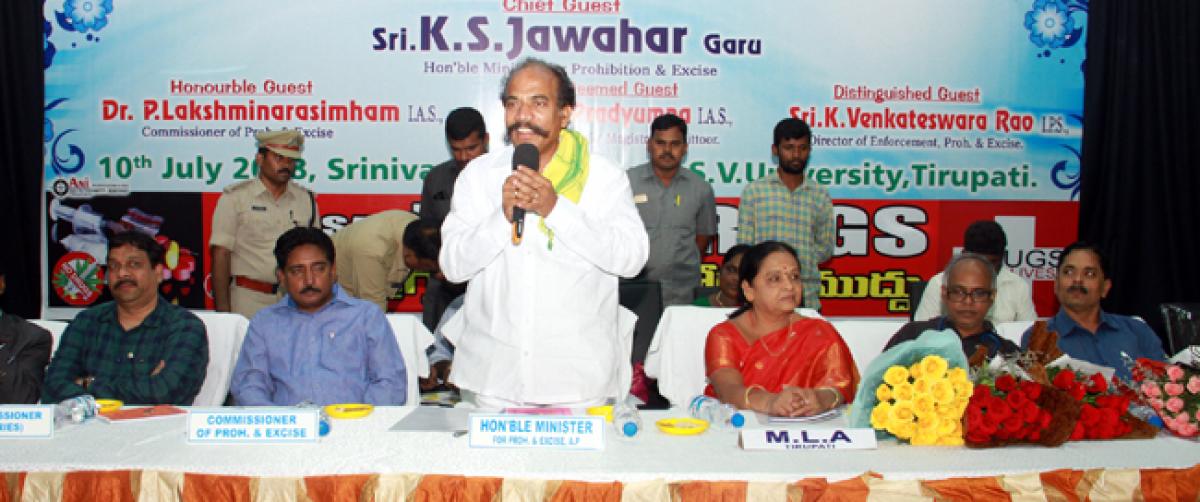 Highlights
The role of youth is key in making AP a drugfree state and the government is committed to achieve this goal which was evident from the fact that it has destroyed about 17 crore ganja plants across the state, said the Minister for Prohibition and Excise PE KS Jawahar
Tirupati: The role of youth is key in making AP a drug-free state and the government is committed to achieve this goal which was evident from the fact that it has destroyed about 1.7 crore ganja plants across the state, said the Minister for Prohibition and Excise (P&E) KS Jawahar.
A rally was held in the town to bring awareness to prevent drug addiction. Later, a meeting was also held. Addressing an awareness meet on 'Drug Abuse and Illicit Trafficking', organised by the Prohibition and Excise Department of Chittoor District in Tirupati on Tuesday, he called upon the youth to say no to drugs and lead a healthy life.
As advocated by the Chief Minister N Chandrababu Naidu, time and again, it is the youth that forms the wealth of the State and with their strong determination the goal of making drug free AP can easily be achieved.
The Commissioner of P&E department Dr P Lakshmi Narasimham said that 66 percent of population in India are youth and there is every need to see that they should go in a right approach and in right direction. Steps should be taken to see that youth will not be attracted to any type of drugs.
Students of Universities, degree and engineering colleges become drug addicts, their future will become bleak and so the prospects of the nation. In view of this, the department has decided to organise these type of awareness meets in all parts wherever the universities and engineering colleges are there, he said.
Referring to the movie 'Udta Punjab', he explained how youth in the State of Punjab has become drug addicts now and spoiling their future. The commissioner has stressed that the drug addicts are not eligible to donate their blood and they ruin not only their lives but push their families into a state of desperation.
He called upon the youth to be away from the use of drugs and intimate any information regarding those who sell the drugs whenever they come across such people to the department and stern action will be initiated on them.
Tirupati MLA M Suguna, Joint Commissioner (Distilleries) Deva Kumar, P&E Dy Commissioner T Naga Lakshmi, Prof Appa Rao, Prof SDS Murthy, Psychologist Dr Sivanand and others took part in the meeting. Earlier, the minister and commissioner have inaugurated rally on drug abuse and illicit trafficking at Mahati auditorium and reached Srinivasa Auditorium in SV University.