Dial 1100 to complain against Fair Price shops: Prathipati Pulla Rao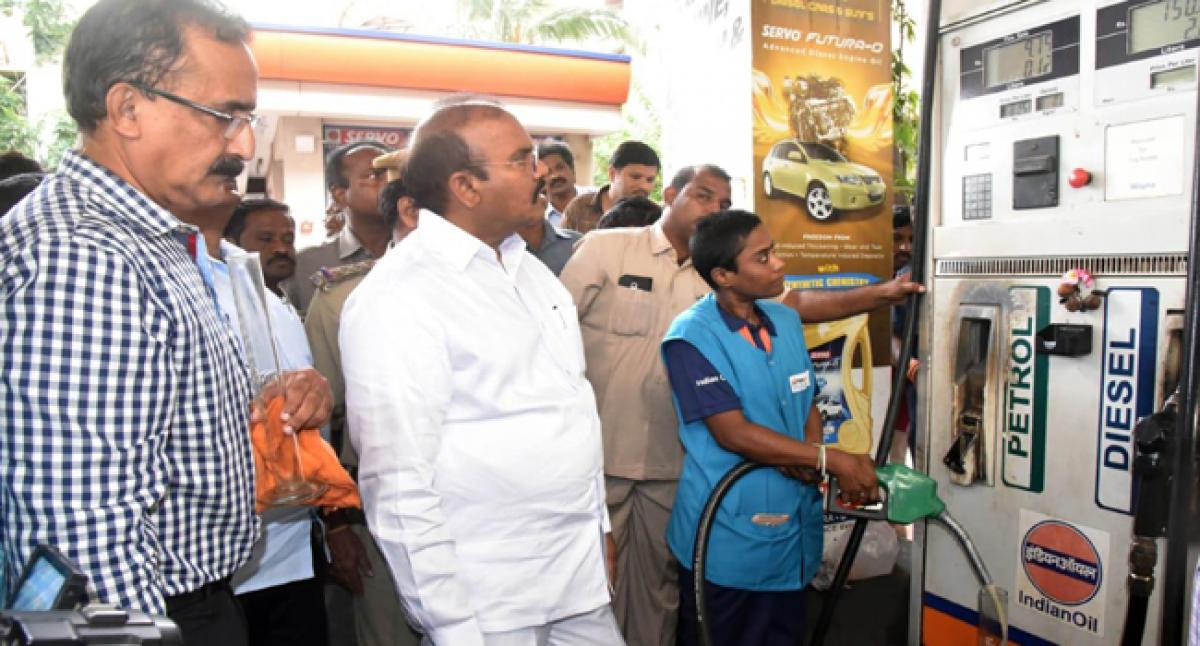 Highlights
Civil Supplies Department launched a phone number Dial 1100 to lodge complaints on irregularities in fair price shopsThe beneficiaries whoever is facing problems at the fair price shops like less weight of commodities and demanding extra prices can lodge their complaints and grievances by dialing 1100
Visakhapatnam: Civil Supplies Department launched a phone number 'Dial 1100' to lodge complaints on irregularities in fair price shops. The beneficiaries whoever is facing problems at the fair price shops like less weight of commodities and demanding extra prices can lodge their complaints and grievances by dialing 1100.
Civil Supplies Minister Prathipati Pulla Rao released a poster of 'Dial 1100' in Visakhapatnam on Friday. The Minister directed all the officials to set up the posters in all public areas and every fair price shop to educate the beneficiaries.
Prathipati inspected a petrol outlet located a Seethammadhara in the city along with the senior officials of the department. He examined the quality of the fuel and weighing machine. While observing some irregularities in the outlet, the Minister warned the dealer. On the occasion, he directed the officials to inspect all the petrol outlets in the city till the evening.
Earlier, addressing the media, the Minister said that the government decided to supply millets through ration shops from September. The millets would be supplied on every ration card against 3-kg of rice. After assessing the demand from the people it would be increased further, he said.
Satisfaction levels should 95 per cent: Later, addressing the ration shop dealers of Srikakulam, Vizianagaram, Visakhapatnam and East Godavari districts, Prathipati asked them to work to ensure 95 per cent satisfaction among the people on the government.
He assured the dealers that the commission would be increased if they increase the satisfaction level to 95 per cent. With transparency and technology-based administration, the satisfaction levels among the people in the government are 77 per cent at present. The government is very keen to increase the satisfaction level to 95 per cent by August end, he added.
Giri Kanuka: The government decided to distribute 'Giri Kanuka' covering 1.82 lakh ration cards of tribals. Under this half-kg jaggery, 1-kg dal, 1 ltr oil, 1-kg groundnut and a salt packet will be distributed to the tribals very soon. The government also decided to distribute 54,000 new ration cards in August, he added.
HRD Minister Ganta Srinivasa Rao said that there were 29,200 fair price shop dealers in the State and some the dealers' performance is not good. As a part of corrective measures, the government is organising the region-wise meetings with the dealers. The dealers whose performance is not good should correct themselves immediately, he added.