Mahatma, Shastri remembered on their birth anniversary in Ongole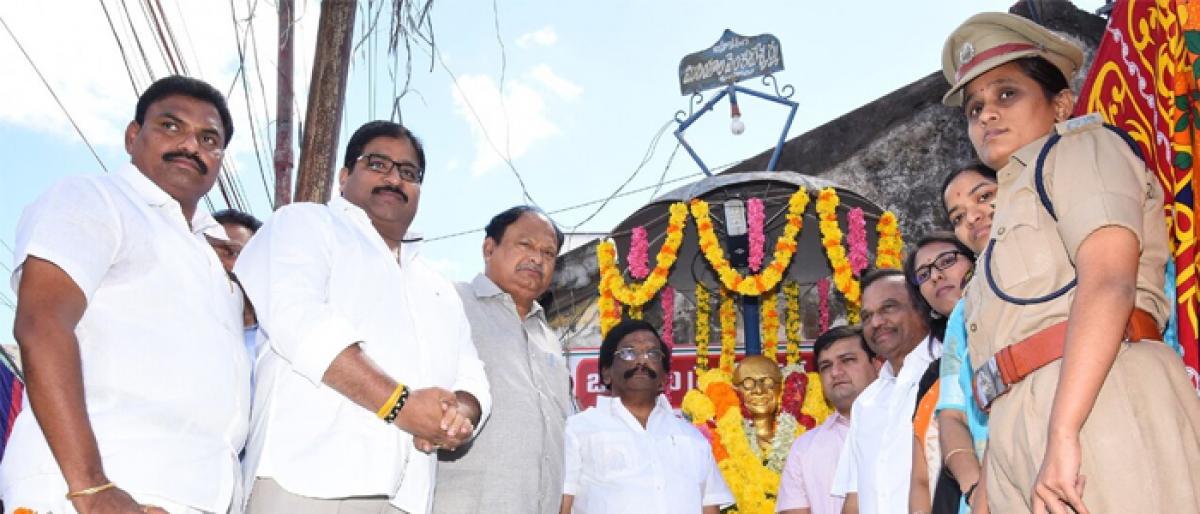 Highlights
The political parties and various organisations in Prakasam district celebrated the 149th birth anniversary of Mahatma Gandhi and 114th birth anniversary of Lal Bahadur Shastri on Tuesday
Ongole: The political parties and various organisations in Prakasam district celebrated the 149th birth anniversary of Mahatma Gandhi and 114th birth anniversary of Lal Bahadur Shastri on Tuesday.
The minister for forests, environment, science and technology, Siddha Raghavarao along with the district Collector Vadarevu Vinay Chand, MLCs Karanam Balaram, Magunta Subbarami Reddy, MLA Damacharla Janardhana Rao participated in the birth anniversary celebrations of the Mahatma Gandhi by garlanding the statue at the Grama Chavidi in Gandhi Road.
He said, "We should take inspiration from the non violent fight by the Gandhi now. Gandhi not only preached about truth but he stood as an 'ideal he' by practicing it."
The Collector Vinay Chand said that the peace and non-violence, the way shown by the Gandhi has become an inspiration to all over the world.
About 150 students from various schools in the town portrayed the getup of Gandhi and did a performance in the birth anniversary celebrations at Gandhi road.
The Bharateeya Janata Party leaders celebrated the birth anniversary of Mahatma Gandhi and LB Shastri in their party office.
The district president, PV Krishna Reddy, Minority Morcha state president Khalifatulla Basha, state executive body members Goli Nageswara Rao, Kanumola Raghavulu, Kommi Nageswara Rao, district general secretary Seggem Srinivas and others also participated in the celebrations.
The District Congress Committee leaders paid rich tributes to Gandhi by garlanding the photograph.
The DCC president Eda Sudhakar Reddy hoisted the Congress flag and started 'Intinta Congress' program in the district.
He said that it is a need for the state and county to bring Congress into power in the next elections and started collecting Rs 1 as contribution from the public.
The NSS unit of Acharya Nagarjuna University celebrated the birth anniversary of Mahatma Gandhi in the Ongole PG Campus.
Dr G Somasekhara, special officer of the campus said that the Ahimsa movement of Gandhi shook the British empire and brought independence to India.
The NSS program officer Dr Mande Harsha Preetham Kumar said that Gandhi believes in Grama Swaraj and the self ruling of panchayats required to develop the country.
The Beacon Foundation also celebrated the birth annicersary of Gandhi and distributed sarees and fruits to the old aged at Ushodaya Old Age Home.
The retired DSP Sunkara Saibabu presided over the program and asked the members of the foundation youth to follow the footsteps of Gandhi to pay true homage to him.
The foundation chairman praised the management of the old age home for running it selflessly and said it gave him much satisfaction.