Plea to fill Hindi teacher posts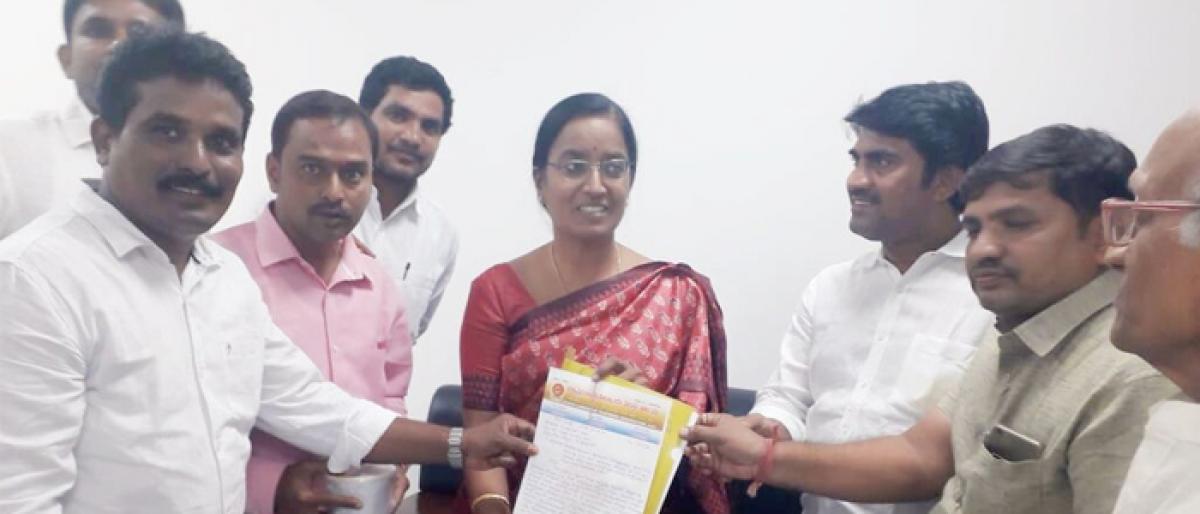 Highlights
A representation was given to Aditya Nath Das, Principal Secretary to Government Department of School Education and K Sandhya Rani, Commissioner of School Education, Government of Andhra Pradesh demanding that the government release renotification of DSC 2018 to fill 3,500 Hindi teacher posts considering Tribasha rules and GO No 29 by Hindi Sevasadhan founder S Gaibu Valli and SLTA president O Sr
Vijayawada: A representation was given to Aditya Nath Das, Principal Secretary to Government Department of School Education and K Sandhya Rani, Commissioner of School Education, Government of Andhra Pradesh demanding that the government release re-notification of DSC 2018 to fill 3,500 Hindi teacher posts considering Tribasha rules and GO No 29 by Hindi Sevasadhan founder S Gaibu Valli and SLTA president O Srinivas Reddy here on Tuesday.
Gaibu Valli said that on receiving the representation, Aditya Nath Das and Sandhya Rani responded positively and assured that the issues will be brought to the notice of Chief Minister Nara Chandrababu Naidu and HRD Minister Ganta Srinivas Rao.
Valli said that re-notification should be released to fill Hindi posts across the state considering GO No 29 and Tribasha rules.
He said that on an average there were about 200 vacant Hindi Teacher posts in each district and demanded that the government fill all the vacant posts through DSC re-notifications.
RJUP state president M Beerabrahmam, A Kondaiah, Sivashankar Reddy, Janardhan Reddy and others were present.