Mutton, chicken stalls fleece customers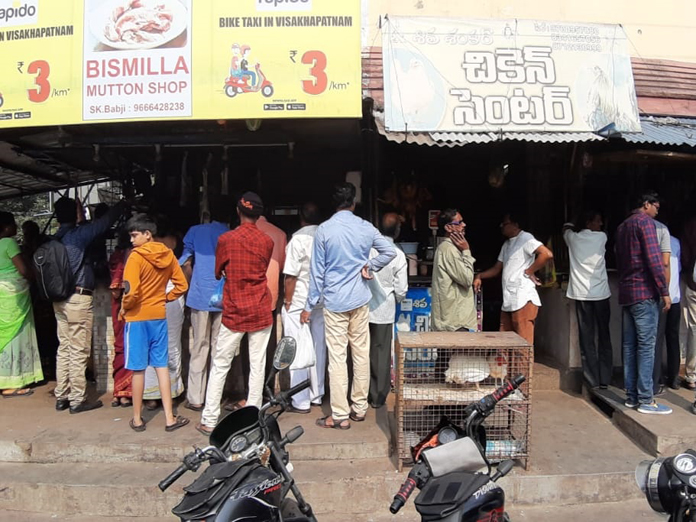 Highlights
The concluding day of Sankranti festival, Kanuma falls on Wednesday, over Rs 10 crore of liquor and Rs 10 crore of meat sale was recorded among 1500 meat and chicken business centres in the city as there was a spurt in the sale of red meat and country chicken
Visakhapatnam: The concluding day of Sankranti festival, Kanuma falls on Wednesday, over Rs 10 crore of liquor and Rs 10 crore of meat sale was recorded among 1500 meat and chicken business centres in the city as there was a spurt in the sale of red meat and country chicken.
Overall 401 liquor shops and 125 bars were in the city, while on regular days the sale will be around Rs 6 crores but only on Wednesday, on the occasion of Kanuma, the sale has crossed Rs 10 crores.
Considering the demand, the liquor traders had set up their stocks full of enough liquor to cater the liquor lovers. Meanwhile some people lamented that even police also gave up their rules in air and failed to eradicate consumption of liquor openly on the city roads due to rush at liquor shops.
The meat lovers in the city on Wednesday have coughed up extra money (at least Rs 80 per kg red meat) as the meat businessman hiked the prices on account of Kanuma and catching the demand. Despite the hike in prices, the meat lovers were seen in a beeline in front of each shop as the demand escalated.
Even after the price of mutton has gone to Rs 680 a kg from Rs 600 a kg across the city, over 50,000 kg mutton which was around Rs 3 crore was sold on Wednesday only and similarly the price of country chicken has gone to Rs 550 from Rs 450 a kg on Wednesday, which was recorded a sale of Rs 7 crore including boiler chicken sales went up to Rs 160 from Rs 140 with skin and from Rs 150 to Rs 170 (skinless chicken).
While some meat vendors conducted meat mela at various places by offering the meat at Rs 450 a kg mutton as festive offer, long queues witnessed for the meat from morning. A meat lover M Hara Gopal (Techie from Bangalore) said, "I have waited at least one hour to get the meat as there was a huge rush in front of the meat shop."
The traders attributed that as majority of people abstained from eating non-vegetarian food on Bhogi Day, the demand for meat and country chicken was high on Wednesday, resulting in hike in the prices. Sources said that nearly two lakh broiler chicken 10,000 country chicken and about 2,500 sheep were slaughtered in the city only.