Checking pollution, traffic problems, the police way at Bhimavaram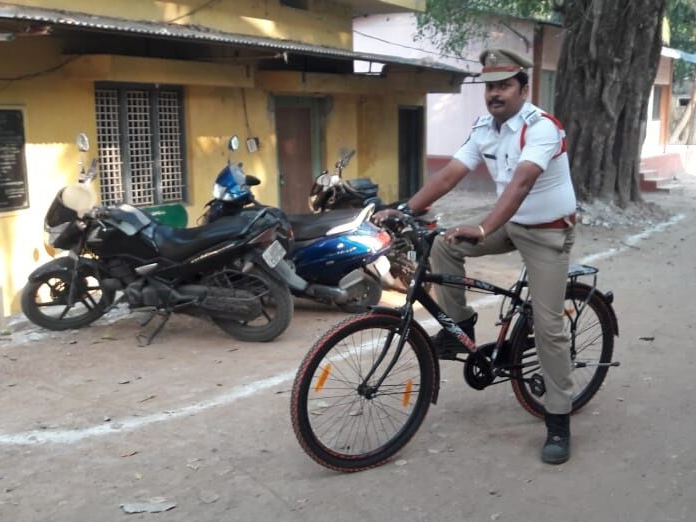 Highlights
Increasing pollution levels and traffic hurdles are tough to deal with these days and finding a solution to these problems is not that easy However, a traffic SubInspector, Narendra, with his simplicity, showed the way to others to follow and tackle the problems
Bhimavaram: Increasing pollution levels and traffic hurdles are tough to deal with these days and finding a solution to these problems is not that easy. However, a traffic Sub-Inspector, Narendra, with his simplicity, showed the way to others to follow and tackle the problems.
He pedals to office and returns home on a bicycle. Even while on duty, he uses a bicycle to reach the intricate places where it is difficult to go in shortest possible time otherwise. On an average, he uses the bicycle to travel for 20 km.
When asked about his bicycle option for transport, he explains: "These days there are vehicular pollution and noise pollution and these are affecting our lives very badly. By using a bicycle, I avoid these two pollutions and contributing for healthy environment."
He said that traffic jams affect were our routine work schedules. We are unable to reach destinations as planned because of vehicular traffic, especially four-wheelers. Many people have two vehicles with them. When we bring vehicles onto the road, traffic affects because of small and congested roads.
We cannot change the roads which are narrow. We can change our perspective and use a bicycle to avoid traffic problem. Moreover, it is a healthy trend switching over to bicycle. I suggest others also not to grab a chance of using bicycle instead of motorcycle or car. It helps in healthy life."
Subscribed Failed...
Subscribed Successfully...