Rashtriya Sanskrit Vidyaapeetha : 3 scholars to receive Mahamahopadhyaya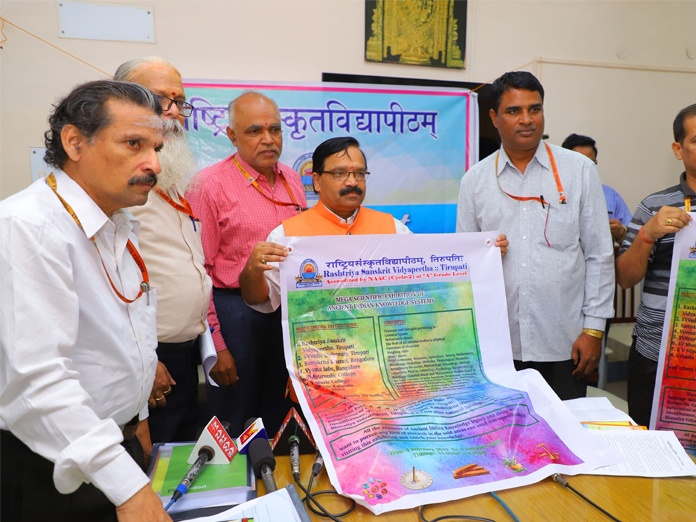 Highlights
The next 10 days will see a host of events at Rashtriya Sanskrit Vidyapeetha RSVP in Tirupati as it is going to celebrate its talent festival, convocation, annual day and hostel day
The 22nd convocation to be held on Feb 9
The 4-day All India Sanskrit Students Talent Festival from tomorrow
Tirupati: The next 10 days will see a host of events at Rashtriya Sanskrit Vidyapeetha (RSVP) in Tirupati as it is going to celebrate its talent festival, convocation, annual day and hostel day.
Disclosing the details to the media on Saturday, Vice-Chancellor Prof V Muralidhara Sharma has said that the 22nd convocation of the Vidyapeetha will be held on February 9 in which the Chancellor and former Chief Election Commissioner N Gopalaswami will preside and the Chancellor of University of Hyderabad and Chairman of Central Administrative Tribunal, Supreme Court Justice L Narasimha Reddy will be the chief guest.
This time five persons will receive Honoris Causa under which three persons–Keshavrao Sadashivsastri Musalgoankar, Tigulla Srihari Sharma and MS Rajagopalacharya to receive 'Mahamahopadhyaya' whereas Prof KS Kannan and Prof Prem Siddarth will get 'Vachaspati'. A total of 59 candidates will be receiving their PhD
degrees on the occasion.
The V-C said that the 13th All India Sanskrit Students Talent Festival will be held from February 4 -7 in the campus which was aimed at providing a platform to the Sanskrit students from all around the country to test their calibre and performance in various academic and cultural events.
It is expected to witness more than 400 participants from about 35 institutions across the country.
During the course of this festival, 13 academic and five cultural competitions will be held like elocution on various topics like Veda, Sahitya, Vyakarana, Jyotisha, Nyaya, Sankhya Yoga etc., Sloka Anthyakshari, quiz competition, rapid Fire round among other events.
Cultural activities will include mono acting, one act play, Sanskrit song and folk dance along with Sanskrit Technical Competition in which graphics/animation in Sanskrit may be performed.
There will be a heritage exhibition of Indian culture based on Sanskrit which include Agama and Yajna exhibition, Ayurveda exhibition, Shilpa Kala exhibition, Sangeeta Kala exhibition, Smaskruta Bharati, Yoga Vijnana, manuscripts exhibition and others.
It will be inaugurated by the Secretary of Sahitya Akademi, New Delhi Dr K Srinivasa Rao on February 4 in which former DGP Dr K Aravind Rao will be the chief guest.
The Vidyapeetha's annual day and hostel day will be held on February 10 and 11 in which several scholars will take part.
One of the oldest publications, which is having a legacy of 160 years in Sanskrit and Telugu by Vavilla Ramaswamy Sasturlu and Sons, who have donated more than 70 rare manuscripts in palm leaf being looked after by the Managing Trustee of the Institution Alladi Swaminathan will be felicitated.
Also, OSD in Tirumala Temple Dollar Seshadri, Sri Vari Temple Bokkasam In-charge K Gururaja Rao and Chief Priest of Sri Padmavathi Ammavari Temple Srinivasacharya will receive felicitations, the V-C disclosed.