Criteo studies emphasise on understanding consumer shopping patterns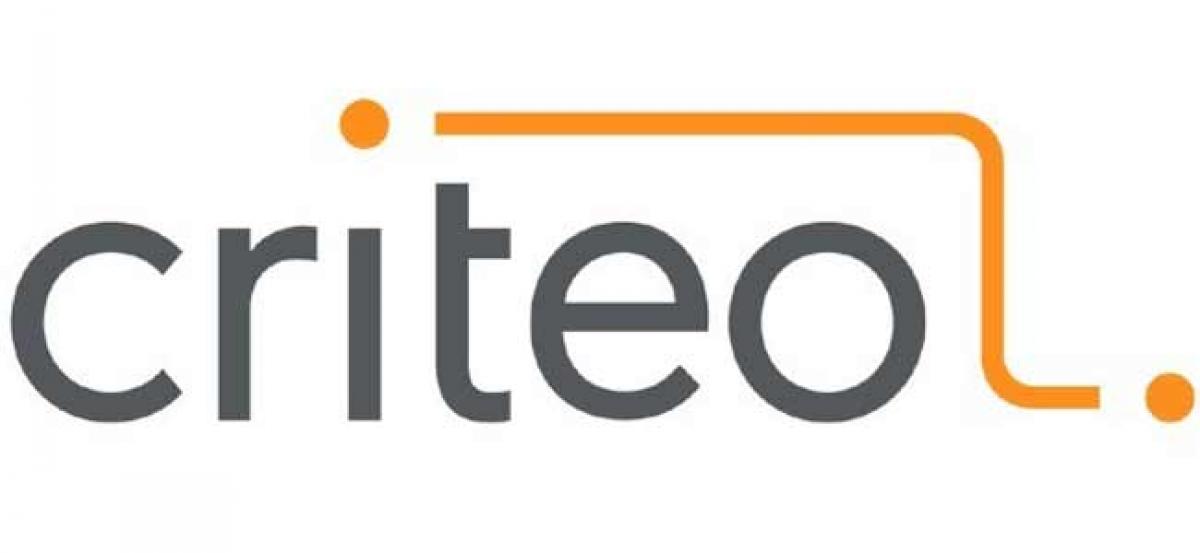 Highlights
Criteo S.A., a commerce marketing technology company unveiled findings from two studies commissioned by the company, highlighting the pressing need for retailers and brands to organise and apply data at scale to understand shoppers.
New Delhi : Criteo S.A., a commerce marketing technology company unveiled findings from two studies commissioned by the company, highlighting the pressing need for retailers and brands to organise and apply data at scale to understand shoppers.
To this regard, Criteo is opening up an ecosystem that enables retailers and brands who participate to benefit from a much broader data set and more intelligent technology than they could acquire or develop on their own.
A Criteo-commissioned study, conducted by Forbes Insights, titled "The Commerce Data Opportunity: How Collaboration Levels the Retail Playing Field," highlights the value of data collaboration and pooling data to better meet customers' needs, drive value and compete. The "Shopper Story 2017" study, also commissioned by Criteo, highlights the rise of "omnishoppers" - those that use a variety of devices, channels and platforms to browse and buy products.
Overall, both studies reinforce the need for brands and retailers to innovate through collaboration and harness the collective power of data to engage with consumers at every moment and across any screen or device during the shopper journey.
To help retailers and brands deliver seamless and relevant shopping experiences across all devices and channel, Criteo announced its vision to build the highest performing and open commerce marketing ecosystem. As part of the company's commerce marketing vision, two new solutions - Criteo Audience MatchBETA and Criteo Kinetic Design with Video - have been made available across the Asia-Pacific region.
"Collaboration in an open ecosystem levels the playing field and paves the way for commerce companies to shape their future. This is especially crucial for eCommerce companies in Asia-Pacific where the market is expected to grow to more than USD 3 trillion by 2021. We have developed Criteo Commerce Marketing Ecosystem to unleash the value of collaboration and the power of data to all who participate," said Siddharth Dabhade, General Manager, Criteo India.
The Forbes Insights highlights that the retail industry disruption is reshaping commerce. 50 percent of brands demonstrate concern that physical-digital giants will limit access to their products and 41 percent are concerned that they will not have access to information about their own customers and products. Retailers also worry that this trend will cause consumers to turn away from smaller retailers.
Nearly four out of five brands and retailers include customer data as a key part of their business strategy. But while retailers have access to more data than brands, especially online, they are less confident than brands in their ability to activate data into actionable insights
Further, brands and retailers see value in collaboration and pooling data assets to meet customer needs and drive value for their business. In fact, 71 percent of retailers are willing to contribute online search data to a pool. And, three-fifths of those surveyed are already part of a data cooperative, with almost seven out of 10 of those companies already happy with their collaborations as well as the data they receive.
Additionally, 72 percent of marketers cite "increased revenue" as a key benefit they experience from pooled data.
On the other hand, the second study highlights that more than 3/4 of shoppers globally engage in omnishopping, with majority going online to shop and buying in-store, and vice versa.
Webrooming and Showrooming are the norm, with 66 percent of consumers occasionally browsing products online and then purchase at retail, with 24 percent making this a regular occurrence; whereas 74 percent of consumers occasionally make purchases online after seeing a product in retail, with 15 percent communicating they do this regularly.
As mobile continues to permeate everyday life, online is now a critical driver of point of purchase; with nearly half of all omnishoppers from various countries sharing that websites were the "last influence before purchase" and 62 percent of consumers reporting that they use their phone while in-store to research products online.
Commerce marketers can use Criteo Audience MatchBETA to:
-Quickly execute cost-effective, paid display campaigns across a diverse set of marketing scenarios, including re-engagement of lapsed customers, promotion of seasonal offers, cross-sell of products related to previous purchases, and more.
-Drive unmatched advertising engagement through optimised ads, balancing brand-inspired design and ad performance through Kinetic Design.
-Synchronise perfectly with Criteo Dynamic Retargeting to ensure cross-campaign optimisation and attribution.
Criteo has also added video as a new channel and inventory source for commerce marketers. Criteo Kinetic Design with Video automatically optimises every visual aspect of an ad to inspire and engage a shopper. Kinetic Design already allows for more than 17 trillion variations from one base design in display ads.
This has been now expanded to incorporate video, creating personalized video ads that feature relevant products based on Criteo's complete understanding of the shopper. These video ads are created automatically, on-the-fly, and appear across web and mobile.
As consumer video consumption continues to grow, Criteo's clients can now use video to relevantly re-engage shoppers without production time, resources, or costs. Video is delivered in a non-intrusive manner to provide a seamless browsing experience - in app, in feed or on a website. Criteo's video capability also allows marketers to take advantage of video ads on a cost-per-click basis.
"Understanding consumer purchasing behavior is challenging for retailers given that shoppers are on more platforms than ever before, with collected data being difficult to integrate and analyse, at scale. To help retailers and brands overcome this challenge, Criteo Audience Match and Criteo Kinetic Design with Video, as part of a robust suite of commerce marketing technologies, will support the full shopper journey, enabling brands to create relevant and engaging experiences for customers online and offline," said Siddharth.
Interested in blogging for thehansindia.com? We will be happy to have you on board as a blogger.