Hospitality veteran, culinary master Ajay Chaudhry makes India proud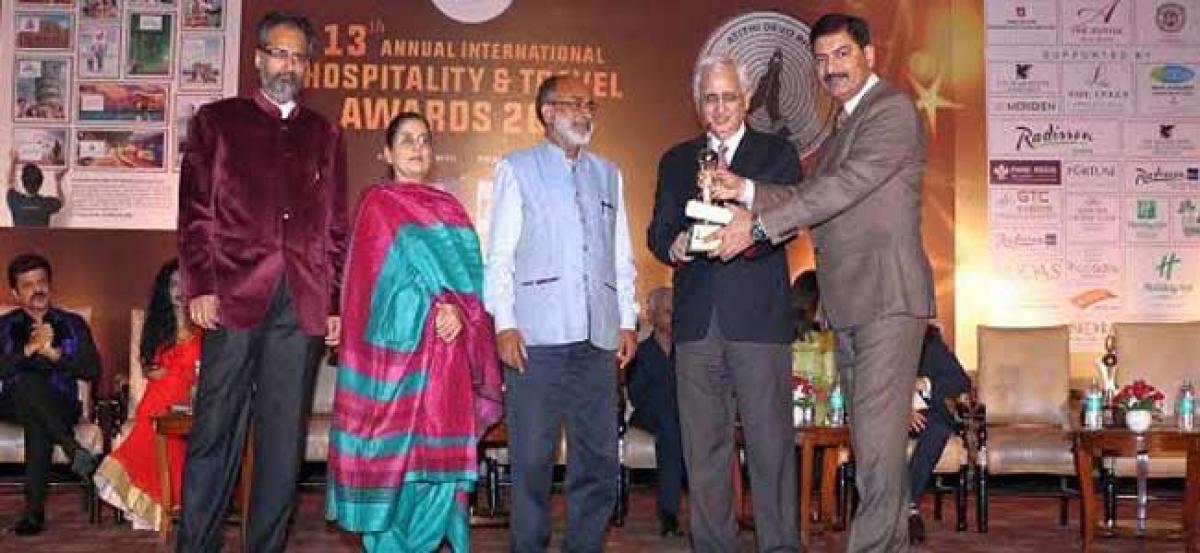 Highlights
Hospitality Veteran and Culinary Master Ajay Chaudhry was awarded with \"International Icon of the year for promoting Asian Cuisine Globally\" for his outstanding contribution in putting Asian Culinary on the global map by Alphons Joseph Kannanthanam, Honorable Union Minister of State for Electronics and Information Technology, Culture and Tourism at the recently concluded \'13th Hospitality India an
New Delhi : Hospitality Veteran and Culinary Master Ajay Chaudhry was awarded with "International Icon of the year for promoting Asian Cuisine Globally" for his outstanding contribution in putting Asian Culinary on the global map by Alphons Joseph Kannanthanam, Honorable Union Minister of State for Electronics and Information Technology, Culture and Tourism at the recently concluded '13th Hospitality India and Explore the World Annual International Travel Awards 2017' in the capital.
Ajay Chaudhry who has now moved to USA and heads the Banquet and Catering Operations at Chand Palace and Martinsville Gardens, 1801, Washington Valley Road, Martinsville 08836 in New Jersey has about 27 years of experience working at many prestigious places in New Delhi.
His impressive work profile includes places such as Hyderabad House, where he planned state banquets for many heads of states; Vigyan Bhawan, where he organized large conferences like G-15 having 15 heads of states; Old World Hospitality which is the busiest and prestigious venue for conferences and gala dinners and at Hotel Ashok as the head of Ashok Banquets and Convention which is the oldest and the most prominent venue for most prestigious events including President Bill Clinton's state banquet took place in this hotel under Chaudhry's supervision himself.
Chaudhry has been working relentlessly and inexorably in promoting Asian Cuisine globally in countries including the United States of America, France and Switzerland with his 'Out of the Box' ideas which are evidently visible in his presentations of well-crafted menus and Asian fusion dishes.
Born in Shimla this Indian is a true Global Citizen who has made India truly proud in his endeavor to make the world experience Asian Cuisine in its true form and entirety
Interested in blogging for thehansindia.com? We will be happy to have you on board as a blogger.