City students win India Design Week 2017 for e-waste recycler design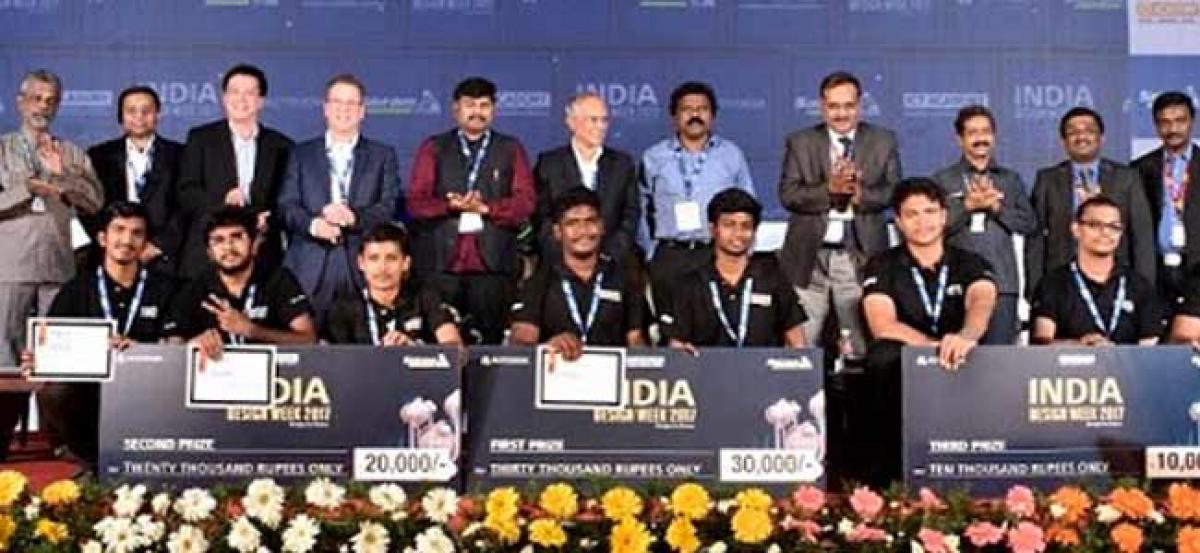 Highlights
ICT Academy, in association with Autodesk, has recently (on 11th & 12th Dec 2017) conducted India Design Week 2017 competition in the city. Students from Prathyusha Engineering College, Tiruvallur, won first place for `Green Bank (E-Waste Recycler)\' design while `Finite Element Modeling and Analysis of Femur\' using Autodesk Fusion 360 by the students of Sri Sairam Institute of Technology, Chennai
Chennai (Tamil Nadu): ICT Academy, in association with Autodesk, has recently (on 11th & 12th Dec 2017) conducted India Design Week 2017 competition in the city. Students from Prathyusha Engineering College, Tiruvallur, won first place for `Green Bank (E-Waste Recycler)' design while `Finite Element Modeling and Analysis of Femur' using Autodesk Fusion 360 by the students of Sri Sairam Institute of Technology, Chennai, grabbed the third prize.
The second place was won by Bannari Amman Institute of Technology, Coimbatore, for `Step Climbing Mechanism Powered Wheel Chair'. Cash prize of Rs. 30,000, Rs. 20,000 and Rs. 10,000, respectively, were given away to the winners whose designs were selected by eminent industry experts from top level organisations.
500 students formed 220 groups from 35 colleges that participated. 25 groups were shortlisted and finally the said designs won the top three places.
India Design Week is a unique initiative for budding designers to learn, explore, innovate and design products for different areas. It was open for full time students enrolled under mechanical, aeronautical, automobile, mechatronics, robotics and production engineering courses.
"This event was part of our efforts to enable the students, the future generation of engineers to create product designs that can have a positive impact on the various ecosystems that sustain human life. We are happy that along with Autodesk we were able to provide platform for students to showcase their skills that could help them as well as world march towards a better future," said M. Sivakumar, CEO, ICT Academy.
"India Design Week 2017 was an interface for students to come up with solutions to design a better world. Opportunities like this will help budding designers to apply visionary design thinking to create product designs that will tackle challenges associated with creating a sustainable ecosystem. We are elated that this edition was instrumental to draw out the best of students design talents," added Gary Conrad, Director, Autodesk Education Experiences and Anand Pillai, Education lead - India and SAARC, Autodesk India.