RERA will hit real estate sector hard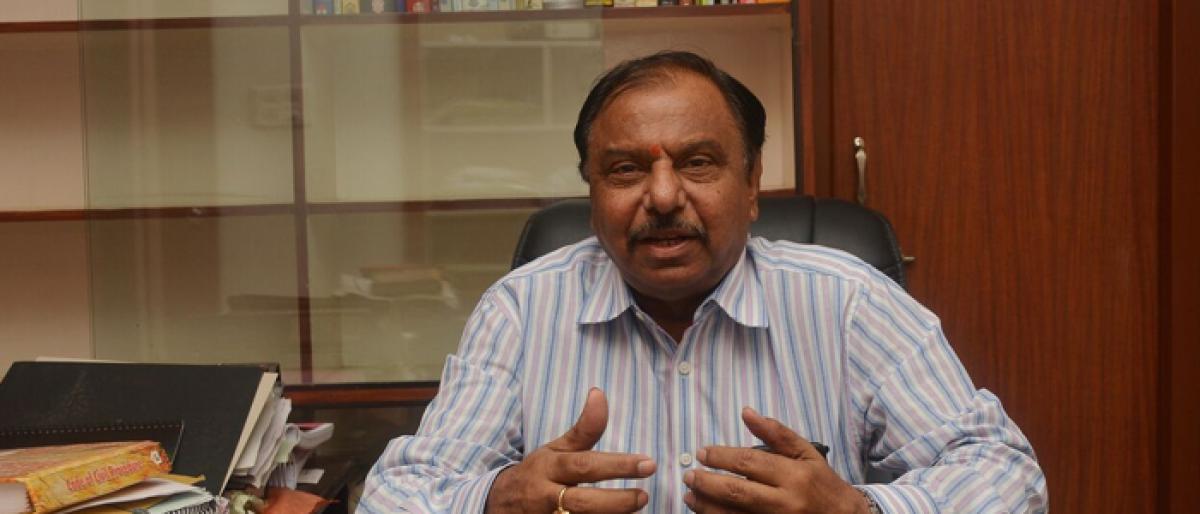 Highlights
Not allowing developers to collect advances will be detrimental to the sector, says TBF president Prabhakara Rao
Not allowing developers to collect advances will be detrimental to the sector, says TBF president Prabhakara Rao
How the realty sector is doing in Hyderabad and Telangana?
Real estate sector in Hyderabad and Telangana went through sluggish phase for a couple of years after the bifurcation as buyers and investors were hesitant to purchase properties in the newly-created State. But the proactive policies and initiatives launched by the Telangana government infused confidence among buyers, leading to rise in property transactions from 2016 onwards. The State government is of the view that real estate companies play key role in the economic growth of Telangana.
That's the reason why it has resolved all the issues and challenges the sector has been facing. For instance, the government issued as many as 13 government orders related to real estate on a single day in 2016. That way, it addressed problems of buyers and developers in a balanced way. That shows how proactive the State government is when it comes to this key sector. The other key aspect is that we have easy access to the government officials and ministers. That helped us in solving our issues at faster pace.
But has the sector seen any growth in the recent years?
Yes, there has been a 20 per cent growth in terms of sales in the last couple of years. Besides, there is a decent appreciation in property prices. These trends will continue for few more years. As the current government played key role in the revival of the sector, builders are of the strong view that the TRS government should get a second term so that the proactive policies would continue. At the same time, we will not have any problem even if Congress forms government. We dealt with Congress governments as well in the past.
Recently, TBF has requested the State government to formulate single window clearance system for real estate projects. Are the approvals getting delayed now?
I want to point out here that the State government has initiated measures to reduce delays in granting permission to real estate projects. In the past, it used to take one to two years for getting approvals. This period has now been reduced to six months. But we want the government to further reduce the time. That can only happen if the government brings in single window system on the lines of one (TS-iPASS) Telangana has for industrial projects. That way, we can get all the approvals within two months or so. We expect the government to announce single window clearance system for real estate after the elections.

RERA has come into force in Telangana now. Is it adversely impacting real estate sector?
It's a fact that RERA Act enacted by the central government has some harsh rules. We brought them to the notice of the State government which acted proactively and made changes to suit ground realities here so that interests of both buyers and developers are safeguarded. Central government enacted RERA Act to address problems cropped up in the real estate sector in North India. In those places, there is no direct link between buyers and developers as marketing agencies or intermediaries purchase all the residential units from developers in bulk and sell them to individuals. Some greedy agencies indulged in double sales.
Some companies there collected advances but did not complete projects. That's not the case here. To eliminate such possibilities, the then united AP government issued GO No 168 in 2006, mandating mortgage system. Under this, 10 per cent of residential units or open plots are mortgaged to the government which has powers to confiscate them if developer deviates from sanctioned plan. We already had enough checks and balances in the place even before RERA came in.
But there is a strong view that RERA will make it extremely difficult for new companies to enter this segment, thereby killing startup culture. What do you have to say on this?
As I told you earlier, it takes six months to get all the approvals for a project as there is no single window system. With RERA in place now, we need to register the project with RERA authority again and get their approval after getting all the permissions. This is a double whammy. We have to submit project details, sale deeds and commitments to RERA. Developers are not allowed to distribute brochures, sell units execute sale deeds and collect advance payments from buyers until they get RERA approval. Further, only 30 per cent of advance amount can be used by developers while the remaining 70 per cent should be deposited in the banks.
The other problematic issue is that developer will have to refund entire amount paid in 45 days if a customer cancels his order. How can a developer refund the entire amount without reselling the residential unit that the customer cancelled? Further, developers will be in trouble if they are not allowed to collect advances. They will have to make huge investments. Traders, all business entities and even car companies are permitted to collect advances from customers. Then why not developers? The central government should make changes to RERA Act and allow developers to collect advances. Otherwise, it amounts to discriminating developers. If a developer cheats, there are enough laws to deal with it. Such strict stipulations in RERA will harm the sector. Developers have lost freedom because of RERA.

Is there any slowdown in sales because of elections?
There is some sort of sluggishness in the market as buyers are in wait-and-watch mode because of elections. But this is a temporary phenomenon, and everything will be normal in a month or so.
Interested in blogging for thehansindia.com? We will be happy to have you on board as a blogger.