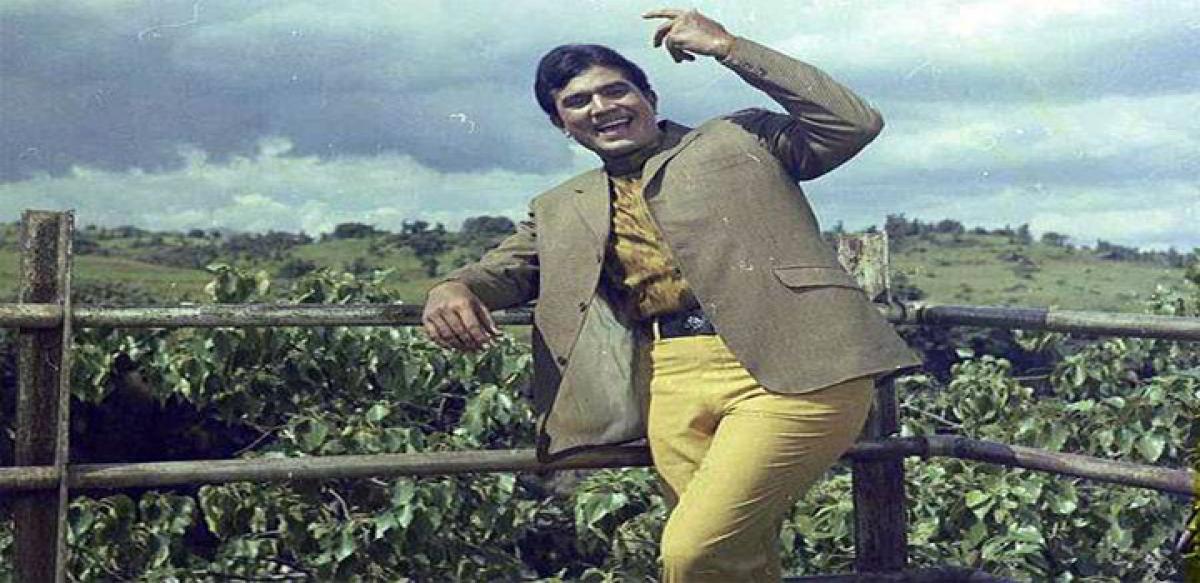 Highlights
Most first films have a certain charm attached to them. More often than not this quaint charm increases with the passage of time, especially if the talent attached, go on scale great heights or the film in question is rediscovered. Amongst the two stalwarts to dominate the landscape of popular Hindi cinema from the late 1960s through the 1970s and again for a brief period in the 1980s, both Rajesh
Aakhri Khat' (1966) marked the debut of superstar Rajesh Khanna in a highly experimental film where Khanna played a near second fiddle to a fifteen-month toddler and it wasn't a success when it first released
Most first films have a certain charm attached to them. More often than not this quaint charm increases with the passage of time, especially if the talent attached, go on scale great heights or the film in question is rediscovered. Amongst the two stalwarts to dominate the landscape of popular Hindi cinema from the late 1960s through the 1970s and again for a brief period in the 1980s, both Rajesh Khanna and Amitabh Bachchan had debuts that were far from perfect.
While Bachchan had to go through the rigmarole of being one of the many in the frame in his maiden appearance, 'Saat Hindustani' (1969), to a supporting act in 'Anand' (1970), ironically enough to Khanna, and ultimately a superstar with 'Zanjeer' (1973) after 13 releases, Khanna got to play the lead right from the first time he faced the camera. Although 'Aakhri Khat' (1966) might not be an unlikely first film it surely was in Khanna's case.
While this highly experimental film where Khanna played a near second fiddle to a fifteen-month toddler and it wasn't a success when it first released, the movie, unfortunately, hasn't even been able to rekindle a journey of rediscovery. Even though the trip down the memory lane might not be a pilgrimage of sorts, which would be expected from the first film of someone as Khanna, there is enough in 'Aakhri Khat' that warrants a relook.
The premise of 'Aakhri Khat' is as old as the hills – a city based sculptor, Govind (Khanna), falls in love with a village belle Lajjo (Indrani Mukherjee) and leaves promising to come back for her in a while – and what follows wasn't unexpected as well. The two consummate their love and when Lajjo comes to the city with Govind's son, Buntu (Master Bunty), in tow, he doubts her and asks her to leave.
Lajjo tries to convince Govind but when things don't work out she pens a farewell letter, the eponymous 'aakhri khat' telling him that she would leave his son at his doorstep and end her life. Although she leaves the letter she isn't able to tear herself away from the bawling infant and walks away with her child only to unexpectedly die some moments later.
A guilt-ridden Govind looks for his son and Buntu totters across the bustling city without a worry in the world. The cop (Manvendra Chitnis) investigating the case can't stand the likes of Govind and stops short of calling him names, something that only extenuates Govind's worst fears – the love of his life and his son both dead. After three days when Govind is about to give up his son miraculously ends up wandering into his studio and goes in front of a statute that resembles Lajjo and says, "mama."
Written and directed by Chetan Anand, who, to put it mildly, was an aberration in popular Hindi cinema; 'Aakhri Khat' wasn't supposed to feature Khanna in the first place. Anand was on the lookout for a young actor who could play Govind and Khanna, who had won the Filmfare - United Producers' talent contest wasn't even on his radar.
While awaiting his legitimate launch by GP Sippy, Khanna accompanied a friend to Anand's office and what followed was serendipity. Anand knew that he had found his Govind and the film ended up being Khanna's first release. The film was shot in monochrome as opposed to the colour extravaganza 'Raaz' (1966), the film that 'officially' launched Rajesh Khanna, and while it had enough for the actor within Khanna to pack in a good performance, it also juxtaposed him with a 15-month old baby whose scenes couldn't be scripted.
The film features long sequences of Khanna being made to 'react' to Indrani Mukherjee's voice-over where her letters are read out as well as many where cinematographer Jal Mistry's camera just followed the toddler, Buntu, across real locations in Bombay. The one thing that both Chetan Anand and Rajesh Khanna had in common was a background in theatre.
Anand was one of earliest members of The Indian People's Theatre Association (IPTA), that included the who's who of Hindi cinema as members like Balraj Sahni, Zohra Sehgal, Ismat Chughtai, Balwant Gargi, Krishan Chander, Prithviraj Kapoor, Ritwik Ghatak, Utpal Dutt, Khwaja Ahmad Abbas, Salil Chowdhury and Pandit Ravi Shankar to name a few, and Khanna was active in Bombay's theatre.
So, when it came to the treatment of 'Aakhri Khat' Anand found in Khanna an actor willing to be pushed and being a novice when it came to acting for the camera, Khanna submitted to Anand. For the climax where Khanna's Govind hadn't slept for three days, Anand kept Khanna up for three days by calling him in the middle of the night to break his sleep, sometimes instructing his assistants to not allow the actor to converse with anyone beyond a point.
By the time Khanna arrived on the set to film the pivotal scene he was a wreck. The entire climax is almost 600 feet of film or approximately 5 minutes, and it is almost devoid of any dialogue. Once Govind realises that it's his own son in front of his eyes he undergoes a gamut of emotions and for this Chetan Anand let the film roll instructing Khanna for a particular look or emotion and didn't stop till he got what he wanted.
One of the strongest cases for a relook at 'Aakhri Khat' would have to be a wonderful Kaifi Azmi penned song called "Aur kuchh der thahar" rendered to perfection by Mohd Rafi. Composed by Khayyam, the song is one of the earliest testimonies of the romantic phenomenon that Khanna would go on to become.
This was perhaps for the first time in Hindi cinema the hero wasn't shy of displaying sensuality. The film's softer scenes and the songs were an indicator of the torrent that Khanna would unleash as a romantic star in a few years with Shakti Samanta's 'Aradhana' (1969) but on its own as well 'Aakhri Khat' has enough to enjoy Rajesh Khanna before the burden of stardom.