Those memorable movie titles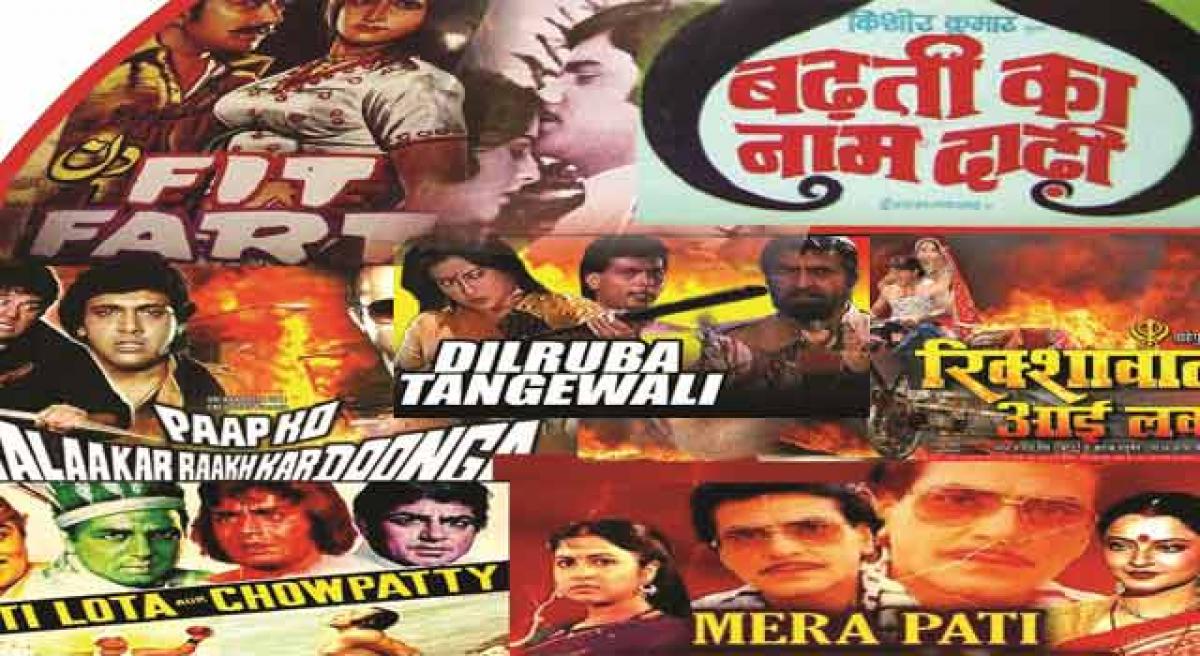 Highlights
No I am not talking of the 'Hum Aapke Hain Kaun' or a 'Jaane Bhi Do Yaaro' kind of film titles. As they have for various reasons already taken cult...
No I am not talking of the 'Hum Aapke Hain Kaun' or a 'Jaane Bhi Do Yaaro' kind of film titles. As they have for various reasons already taken cult status. Here are some of the funniest titles or the titles, which were considered wow when the movie was being made only to retain humour value.
A movie's title is as important as the story as it pulls the audience to cinemas. However, there are a few movie names not only create curiosity but also tickle a rib or two
Murde Ki Jaan Khatre Main - The movie did create some curiosity in me besides the instant laughs when I first heard this name as a kid in 1980s. How could a dead man's life be in danger? If the director had created a plot even half as encouraging as the title may be this one could have been a surprise winner at the box office. The movie, however, is remembered even today and is a tremendous ode to the writer's amazing creativity.
Dhoti, Lota Aur Chaupati – This one had a title dedicated to our early morning unavoidable responsibility and names the three important aspects of getting it done. The costume needed (dhoti), the vessel that carries water across India for post activity rituals (lota) and the venue which is socially acceptable in this case a famous sea beach (Chowpati). This one was directed by one of our most phenomenal underrated comedian Mohan Choti and had a flood of the 70s biggest stars in it right from Dharmendra to Ranjeet; from Sanjeev Kumar to Premnath, etc. Yet it bombed at box office, but the title stood the testing times.
Paap Ko Jalakar Raakh Kar Doonga – In case, you thought Sooraj Barjatya was the guy who first attempted a half kilometre long title for an A-lister star cast then you obviously have not heard of this one . As a kid, I suffered this one and what I remember about this one is that it had the same song repeated about five times in the movie .Yes! This movie also has a place in history. It stopped Dharmendra's golden run of 7 or 8 jubilee hits in 1987.
Basanti Ki Shaadi Honeymoon Gabbar Ka – All I can say about this title is that it probably would bring a smile even on the faces of Salim-Javed. A title which points at how destiny or coincidences work brings a different Freudian angle to our most legendary cinema characters which an Anurag Kashyap or Mahesh Bhatt would love to attempt.
Badhti Ka Naam Daadhi – This was one title which could have connected instantly with all men who have grown a beard. Unfortunately, despite being directed by our greatest icon of comedy Kishore Kumar this one bombed. It is best remembered yet again for its quirky title and resemblance to the cult classic 'Chalti Ka Naam Gaadi'.
Dilruba Tangewali – This is one had various meanings if you started tweaking it. Does it mean sweetheart tonga owner? Does it mean sweetheart with lovely legs? The release of the movie laid all doubts to rest. It meant a lady whose name was Dilruba and she owned a tonga. To the director's huge credit Dilruba remains our most remember female horse cart driver post the legendary Basanti.
Rikshawala, I love You – Can the Bhojpuri filmmakers ever remain behind when the topic is about laughable titles? This one in one line creates excitement and hope in the have-nots. It is truly a socialist title, which aimed at dissolving the economic divide.
Mera Pati Sirf Mera Hai - I still remember this movie's advertisements on Vividh Bharti. The lady voice forcefully saying – "Mera pati sirf mera hai" and my neighbourhood aunty reacting: "Baaki sab ka kya poore Hindustan ka hai?" That one nailed the title for me.
Miss Fit Fart – And one reason why you might feel sorry for an average Pakistani is this movie title. Did It raise many questions in me? Yes, it did. I mean is this lady a woman with great gas capabilities? Or is great gas making capability the mark of a great lady? Any which way you look at it this explains why they wait for our Bollywood movies so eagerly. This also explains why 'Fan' is still getting viewers in Pakistan. Look at the choices the system offers there.
Subscribed Failed...
Subscribed Successfully...