I am not so famous, can still buy tomatoes on the road: Kalki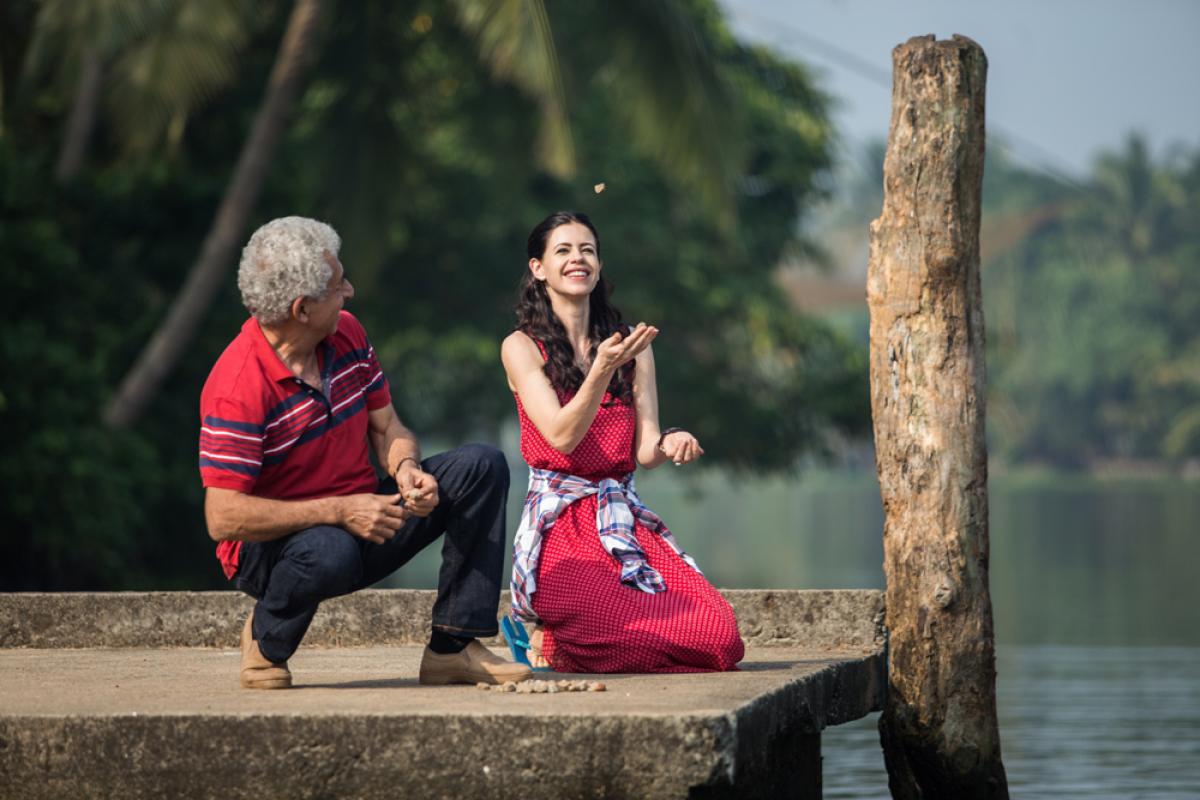 Highlights
National Award-winning actress Kalki Koechlin says she doesn\'t like to think about awards all the time as it should come as a \"happy surprise\" and that she lives for work rather than honours.
National Award-winning actress Kalki Koechlin says she doesn't like to think about awards all the time as it should come as a "happy surprise" and that she lives for work rather than honours.
A Special Jury Award went to Kalki earlier this year at the National Film Awards for her performance as a young woman afflicted with cerebral palsy in "Margarita, With A Straw". Come May 27, she will again charm audiences with her act in "Waiting". Another award-winning performance?
"I don't want to think about awards because it should be a happy surprise and not a disappointment that 'Oh I didn't get an award. I can't live for awards. I need to live for work. My award is work. If I get more work from this film, then that's the biggest award," Kalki told IANS in an interview.
"It's important that the movie does well at the box office because that will allow more faith in studios to put money into these kinds of scripts," she added.
The trailer of the Anu Menon directorial, produced by Ishka Films and Drishyam Films, shows how her and veteran actor Naseeruddin Shah's characters come together due to pain. It also depicts how his character remains aloof from social media unlike Kalki's character. Was she successful in convincing the veteran actor to join social networking sites?
"I haven't managed to convince him off-screen also to get on Twitter although I told him it's very useful. He has fake accounts, so he is very upset. He is like 'Who are these people who create fake accounts?' 'Who has that kind of time?' We've had funny conversations about social media," said the "Yeh Jawaani Hai Deewani" star.
For Kalki, her followers and friends from the digital world are very important.
"The kind of work that I do... my theatre and all gets spread because of social media. But, yes, it's also important to switch off from it sometimes as we think it's the whole world. It's just the virtual world," she said.
What about stardom? Is she tired of it?
"I am lucky enough to have a good balance. I am not 'so so' famous that I can't walk on the streets. I can still go and buy some tomatoes on the road. Maybe, two or three selfie requests. But that's okay," said the actress, who feels glad that she doesn't get stereotyped.
From playing a school girl-turned-prostitute in her debut movie "Dev.D" to a mentally disturbed character in "Shaitan" to an interior designer in the Hrithik Roshan-starrer "Zindagi Na Milegi Dobara", Kalki has tried her hand at various roles. That's not all, she will be also seen in "A Death In The Ganj", which is set in the 1970s. It will present her as "a sexy 35-year-old woman".
"After I did my first film 'Dev.D' (2009), I started getting similar kind of roles. I wanted to do something different and I think it's just about personality. I am somebody who wants to challenge myself and push my barriers...try something not explored before. So, I am learning," she said.
Despite tasting success in Bollywood, she is still in love with the stage.
"I always loved theatre. For me as an actor, it's a place to practise your art. It's like muscle. Some people need to go to the gym to make muscles bigger, I go to theatre to make my acting better," she said and added that she is looking forward to flying to the US in July for a play.
Apart from that, she also has a documentary in her kitty. Is it based on the Jawaharlal Nehru University row?
"I am doing a documentary about India and the progress of our country... how the country has changed over the years. It just happened that I was in Delhi at that point (in March) when JNU march was happening. Somebody took a photograph of me and assumed that my documentary was about the students. But it's not. We are still shooting, so I can't talk about it," Kalki concluded.