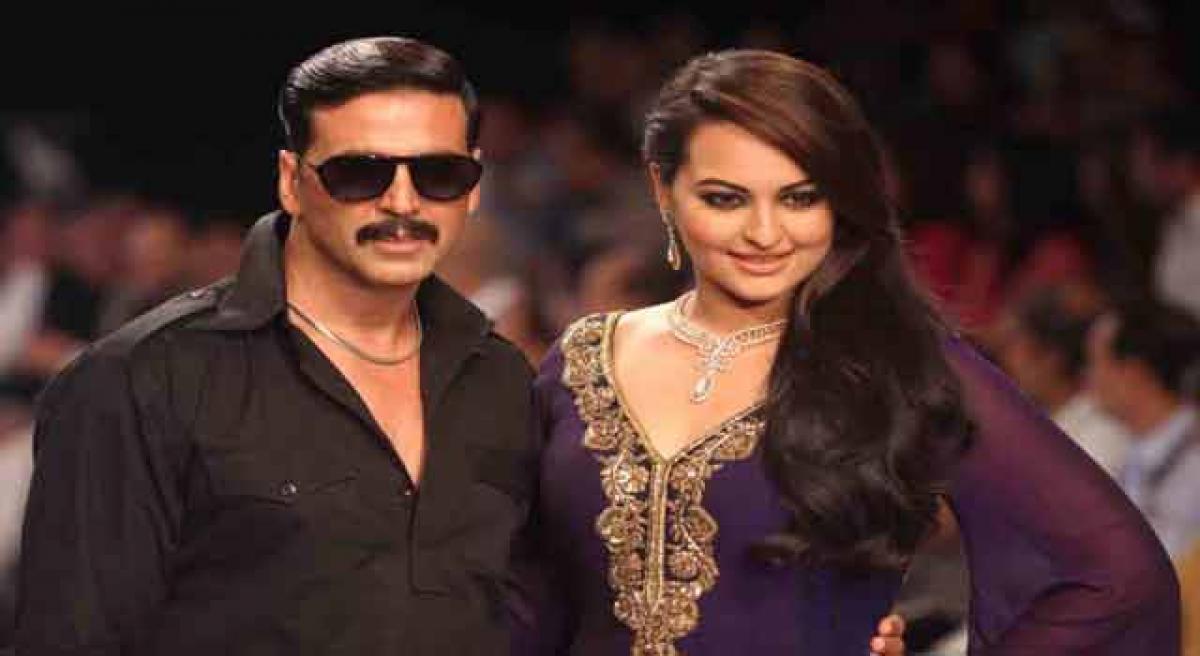 Highlights
Good news for the Bollywood masala film fans. Sonakshi Sinha informed fans through social media that she will be a part of 'Namastey England'. She...
Good news for the Bollywood masala film fans. Sonakshi Sinha informed fans through social media that she will be a part of 'Namastey England'. She will be paired opposite Akshay Kumar. I would not want to go overboard here but Akshay-Sonakshi pair is probably the best thing to hit us since the pair of Amitabh-Rekha.
One of the pull factors in Bollywood cinema is the pairing of actors. There have been many hit pairs who have set the cash registers ringing. Akshay-Sonakshi's combo is emerging as one of the good pairs of this decade
Sure a lot many of us would want to hand over that tag to Kajol and Shah Rukh and yes they sure are a big time worthy case but the problem with that pairing was that in the later movies, more so post 'Kabhi Khushi Kabhi Gham' SRK overshadowed Kajol big time. Frankly she just wasn't there in 'Dilwale'.
The parallel between Amitabh-Rekha and Akshay-Sonakshi is far more striking. Amitabh had tonnes of screen presence and if there was one heroine who matched his histrionic punch for the punch it was Rekha but what made the pair even more smashing was Amitabh's swag that was matched to the dot by Rekha's glamour.
Sonakshi does the same in her numerous films with Akshay. 'Rowdy Rathore' was the first where we got the first major glimpse of this on screen winner pair. Akshay's street smart thug was matched frame by frame by Sonakshi's innocent woman-child role in the movie. Her act came as a perfect foil for Akshay's aura.
There are very few who can whisk away a scene from Akshay but Sonakshi did just that. 'Rowdy Rathore' was thumbed down big time but ask the masala lovers of Bollywood and they will tell you that they still go to YouTube for "dhadang dhadang".
The second one which was even more brilliant, an example of how these two were given the right screenplay and moments, could give us that cinema pair that we have been craving for. The movie was 'Holiday'. Akshay's Virat falls for Saiba, a tomboyish girl who transforms into a hard to get woman, as quickly as superman changes his costumes.
The comic romance between the two in this terror thriller was the perfect antidote to the high tension of the movie. In fact, a clever screenplay, which had scenes like the same cupboard hiding of a dreaded terrorist and Sonakshi, was a brilliant screen moment.
It wasn't just the bad guys and Akshay who played cat and mouse; Saiba and Virat have a romance which is more like Tom and Jerry than the sugar-tear heavy stuff from Bollywood. And yet it had a magnetic pull to it. If 'Holiday's three-hour-plus length does not for a single moment bore you, yes the running time of Holiday is 170 minutes, it is because of Sonakshi-Akshay's brilliant act.
In fact, just before the climax when Virat knows he will be killed and he breaks his relation with Saiba and the lady is devastated could leave a sad sigh in you which is far more sincere than miles of a Karan Johar tear flood. 'Holiday' remains one of the best Sunday noon watch in recent years purely because of Saiba and Virat.
They say when a good thing gets going it gets better and better so even in an otherwise mediocre movie like 'Boss' a bright moment comes when Sonakshi and Akshay grooved together for "Aunty Police Bula Legi".
Probably Sonakshi is also lucky for the Khiladi Kumar, her "Go go Govinda" act in a brilliant movie like 'OMG' did contribute to its box office numbers. Though giving beyond a point credit to Sonakshi for this one would be unfair, 'OMG' had a well-written screenplay and had Paresh Rawal's greatest performance ever.
Try as hard as I do and you could do as well it is sometimes very difficult to crack the mystery behind an on-screen hit pair as against a flop one. But I think the biggest thing going for this pair is that, while purists refuse to give her this rightful due, Sonakshi is no less a superstar and it is her phenomenal Woman-child personality which makes her the perfect match for a screen god-like Akshay.
I am, for sure, counting days now for 'Namastey England'.
By: Rahul Deo Bharadwaj
Subscribed Failed...
Subscribed Successfully...