Badhaai Ho: A captivating engaging family saga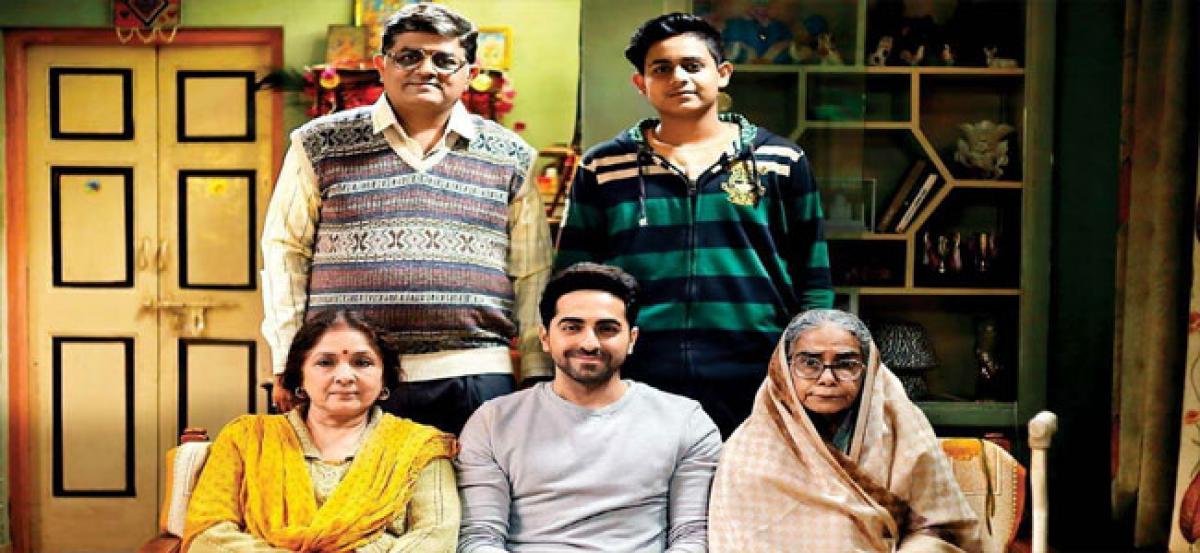 Highlights
Sometimes you run into a movie which is entertaining, paisa vasool masala as it is called Sometimes you run into an intelligent movie Sometimes you run into a movie that is message oriented
Sometimes you run into a movie which is entertaining, paisa vasool masala as it is called. Sometimes you run into an intelligent movie. Sometimes you run into a movie that is message- oriented . How many times do you go into a movie that delivers you all three without becoming boring even for a second? That is 'Badhaai Ho'. This movie is like fine perfect hot dosa on a cold rainy weekend evening. You just dig into it and throw all caution to the winds.
The movie is a simple story of a nearing retirement TTE Jeetendra Kaushik (Gajraj Rao in his elements), who is a romantic at heart and loves his wife Priyamvada (Neena Gupta effortlessly brilliant). He has his hot headed mother a widow staying with him (Surekha Sikr, the show stopper of this movie) and his two sons Nakul (Ayushman) and Gular. One fine night, the couple get intimate and the wife gets pregnant. The entire family gets shocked and there is resentment, denial and hurt flying all around. Slowly just like that the family comes together and the movie ends on a warm note.
The brilliance of this movie is a screenplay which is flawless. Once the movie begins till it ends, you won't find a single moment of boredom. The story is told in such balanced measures of comedy, emotions and coming together moments that you just want more of the movie and wish it was at least half an hour more long when it ends. The movie has such well written comic moments, my favourite is Gajraj Rao stealing glances at his mother and son while polishing his shoes. Like the elder brother going and sowing his younger brother's bully his place in the school.
The movie has sudden moments of surprise which are very well executed like the mother in law springing to the defence of her daughter in law while all the while she finds her as the perfect vamp to be blamed in all situations. How the family suddenly just comes together again is the biggest high point.
'Badhai Ho' has not just brilliant characters , each of the actors have put their heart into the acts. Ayushman is brilliant so is Sanya Malhotra as his girlfriend. Chances are while walking out you will remember Surekha Sikri the most while coming out of the theatre. That is the biggest victory of the director – you remember the story and the characters. This one is not about any star. This is one movie you should go and ensure every family member with you and even friends accompany you while watching.