Rally on pollution-free Diwali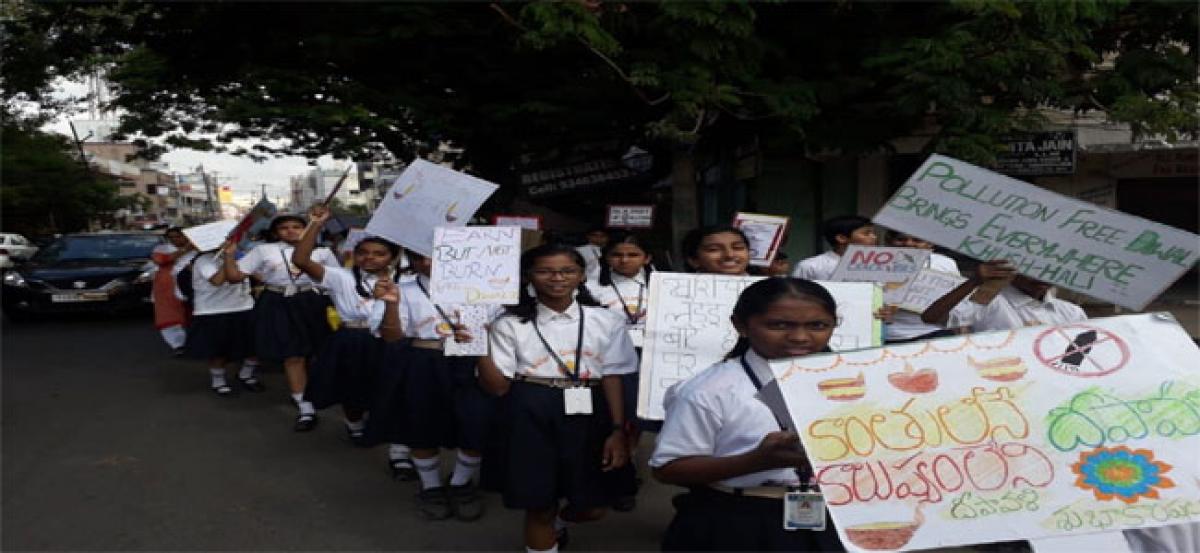 Highlights
St Peters Grammar School, New Bowenpally and Rockspire Public School, New Bowenpally jointly organised and conducted a 3 k Awareness Rally in the surrounding colonies to sensitise the residents about a pollution free Diwali
Hyderabad: St. Peter's Grammar School, New Bowenpally and Rockspire Public School, New Bowenpally jointly organised and conducted a 3 k Awareness Rally in the surrounding colonies to sensitise the residents about a pollution free Diwali. Chief Guest Ch Malla Reddy, MP of Malkajgiri Constituency, Cantonment Board Member J Maheshwar Reddy ,Ex president of SCB Jampanna Pratap, School correspondent T V Reddy, Director Ranadhir Reddy presided over the programme as guests of honour.
Adding up more significance to the programme the school's sports achievers Master Tarun of class X who represented India and won the gold in Nepal in the international Athletics 1500 mts event, Purvi Sharma of St. Peter's Grammar School, who won silver in the World Championship tournament for taekwondo at Greece last month and M Likhita of Rockspire Public School, who won the state championship gold medal in swimming conducted at Gachibowli sports facility were felicitated by the dignitaries. The young achievers were appreciated and honoured for their representations and achievements.
"The students were being moulded in the best possible way giving scope for both academics and extracurricular activities in the school and hence they will surely emerge victorious in their future," said the Chief Guest in his address. Social awareness and community participation makes students more responsible in future decision making, said the correspondent of the school T V Reddy in his address.
Later the Awareness Rally was flagged off by the chief guest MP Ch Mallareddy and the dignitaries. Director Randhir Reddy and principals of the Schools Shanthi and Anuradha Ganesh appreciated the students on their achievement and lead the rally with great vigour and enthusiasm. Students carried meaningful and purposeful slogan placards to emphasise on the need of the hour to keep of pollution low and help everyone get fresh air. They implored the onlookers and residents to avoid crackers that emit smoke and noise and suggested to enjoy Diwali in its true sense with lighted lamps that dispel the darkness of pollution.