Employability of engineers-a nightmare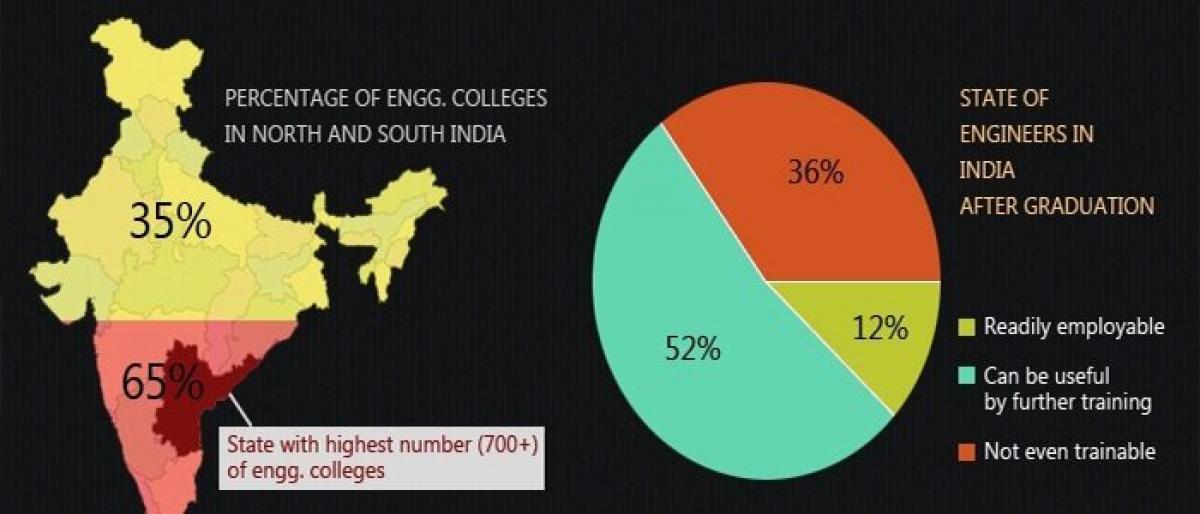 Highlights
India is one of the largest producers of engineers in the world and approximately 15 million engineering graduates are arriving into the job market every year But, the rate of employment is still appalling and is not in coincidence with the number of candidates passing out It is shocking to know that among these 15 million graduates , only seven per cent candidates are fit for getting employm
India is one of the largest producers of engineers in the world and approximately 1.5 million engineering graduates are arriving into the job market every year. But, the rate of employment is still appalling and is not in coincidence with the number of candidates passing out. It is shocking to know that among these 1.5 million graduates , only seven per cent candidates are fit for getting employment, as per an employability focused survey conducted by a New Delhi based employment solutions company.
The reasons which account for this little employability of engineering graduates are many.Sociologists and academicians hold the mushrooming of institutions as responsible for this situation. A senior engineering professor, Dr. Prashant Patra, said the mushroom growth of engineering colleges, without prescribed standards was alarming and primarily responsible for the low employability of engineers.
The lion's share in the low employability of educated youth canbe attributed to skill enhancement.Many engineering graduates lack the needed skills to enter into the corporate world. Many engineering and also management graduates are not employable readily. These freshers, in many cases, are not being trained the way businesses and industries desire. Community pressure, inadequate infrastructure, pitiable quality of teachers,old-fashioned syllabus and lack of training in tune with industry required skills contribute their part to the lack of skill development.
Furthermore, the recurrent recession worsens the scenario, adding it's share to the diminishing rate of employment.What will happen if sucha large number of graduates can't get their livelihood? Analysts are of the opinion that this status quomay result in severe insecurity in the social and economic state of affairs of the nation; as it intertwines a large-scale frustration and disillusionment among the unemployed youth.
Manyun wanted incidents report that these educated people without jobs are wandering in the streets, resorting to variousunlawful activities. Poverty and unemployment are the main causes for the increasing crime rate in India. Increasing population makes it difficult to get jobs for every individual. Above and beyond, urbanisation, increase in the cost of living, impact of technology, present education system devoid of moral values, practical experience and skill development;have an effect on a person's intellect and wipe out his rational thinking; misguiding him towards crime.
Every hour, one student commits suicide in India, according to 2015 data, from the National Crime Records Bureau (NCRB). A 21-year-old engineering graduate, Arpit Ravish, who topped the final semester examination, reportedly took his life by hanging, at Girinagar in south Bengaluru after failing to get campus placement.
Many individuals, like Arpit, are languishing after vainattempts at finding jobs in the miserable Indian job market in spite of having privileged academic degrees. After perceiving the endemic situation, in September 2017, All India Council of Technical Education (AICTE) ordered to shut down 800 engineering colleges. Mainly, it's a part of their plan to cut down the total engineering seats in the country by 40% in the next 4 years.
The Government of India has initiated the Skill Development through Pradhan Mantri Kaushal Vikas Yojana, in association with UGC/AICTE, to upgrade the skills of the students to meet national occupational standards.
Also the curriculum has to be tailored in accordance with the ever changing scenario of the industry, in order to improve the rate of employability. And for this revision of curriculum, industry-academia synergy is inevitable.
(Dr K Sarojadevi - The author is Professor in English, Rise Krishnasai Prakasam Group of Institutions, Ongole)