Japanese firms to set up joint research centre at IIT-Madra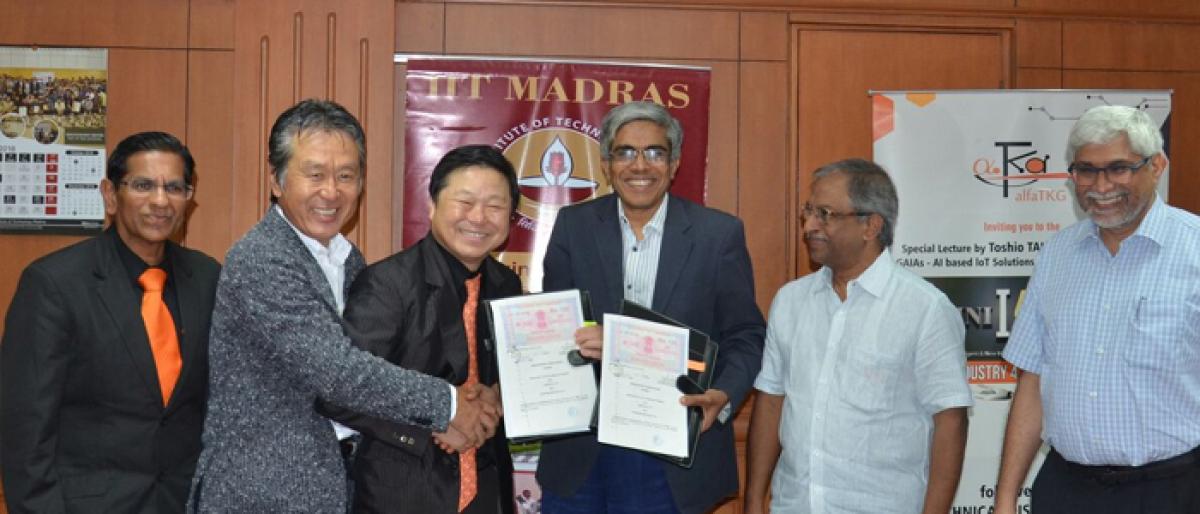 Highlights
Indian Institute of Technology Madras is going to establish a Joint Research Cell with leading Japanese Manufacturing Firms A Memorandum of Understanding was signed on Wednesday with alfaTKG Co Ltd, Japan and OKABE Manufacturing Co, Ltd, Japan, for collaborating in core areas of manufacturing sector including Research and Development RD
​Chennai: Indian Institute of Technology Madras is going to establish a Joint Research Cell with leading Japanese Manufacturing Firms. A Memorandum of Understanding was signed on Wednesday with alfaTKG Co. Ltd., Japan and OKABE Manufacturing Co., Ltd, Japan, for collaborating in core areas of manufacturing sector including Research and Development (R&D).
The MoU will pave way for the cooperation between alfaTKG, IIT Madras and Okabe Co., Ltd on areas related to joint research, sponsorship programs, usages of facilities of alfaTKG, OKABE and IIT Madras by each other, exchange of employees between them.
Speaking about the importance of this collaboration, Prof Bhaskar Ramamurthi, Director, IIT Madras, said, "There is a lot of potential for this kind of collaboration with IIT Madras. This collaboration can also pave way for our students to intern in the partner firms in Japan. IIT Madras has incubated startups that are doing amazing work based in IoT and AI that surpass even the big corporates in their technological innovation."
Prof Bhaskar Ramamurthi, Toshio Takagi, President and CEO, alfaTKG, Japan, and Hiroaki Okabe, President and CEO, OKABE Manufacturing Co., Ltd, Japan, signed the MoU in the presence of Prof Ravindra Gettu, Dean (Industrial Consultancy and Sponsored Research), IIT Madras, Periasamy Thanapandi, President and CEO, alfaTKG Integrated Solutions India Pvt. Ltd and others.
This agreement will help India to foray into the paperless manufacturing, which is revolutionizing the manufacturing sector across the globe. As part of the initiative alfaTKG Co., Ltd, a pioneer in providing IoT-based solutions for knowledge driven paperless manufacturing technology in small and medium-sized enterprises (SMEs) in Japan and other Asian Countries, will be introducing 'Genius Artificial Intelligence Assistance' (GAIA) for efficient manufacturing, machinery utility and health monitoring.
Addressing the event, Toshio Takagi, President and CEO, alfaTKG, Japan, said, "We had a tie-up earlier with IIT Madras in 2015 and since then our firm has grown a lot.