Eco-tourism may put wildlife at risk​ in Telangana​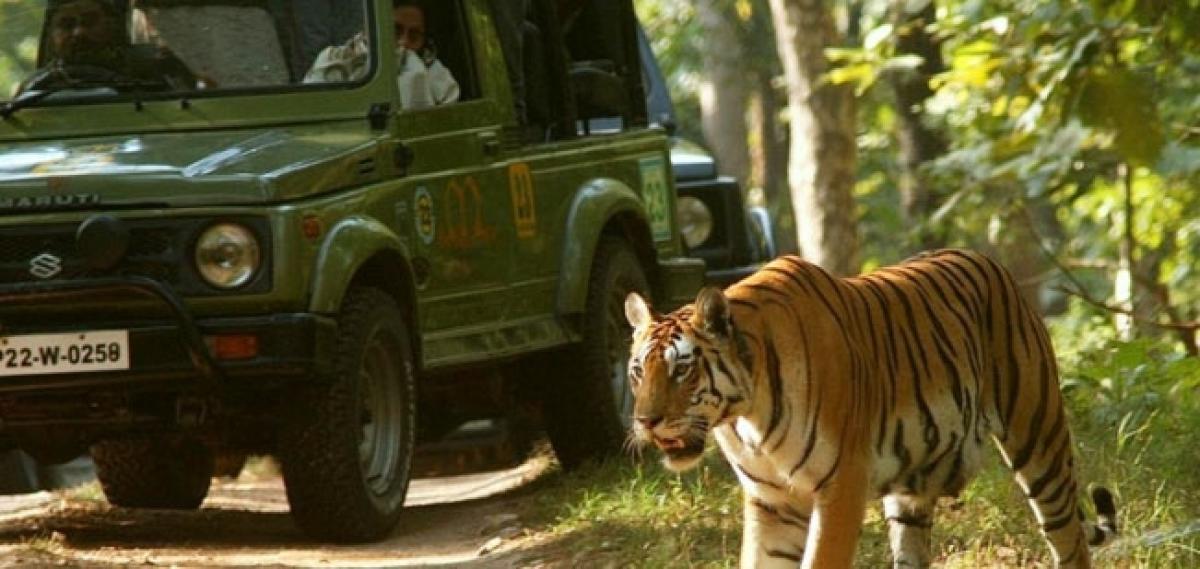 Highlights
Telangana, a land rich in history and culture, is garnering significant interest in recent years as a preferred tourist destination in India.
Telangana, a land rich in history and culture, is garnering significant interest in recent years as a preferred tourist destination in India. The State is promoting Heritage Tourism, Cultural Tourism, Tribal Tourism, Wildlife and Ecotourism, and Spiritual Tourism; it also caters to various tastes and preferences of tourists. It is concentrating on promoting unexplored destinations like tiger reserves at Kawal, Jannaram, Tadavai, and Mannanur in Adilabad, which are being developed for adventure and Ecotourism.

The Telangana Government is planning to utilise the occasion of Krishna Pushkaralu, likely to be held from August 12 to 23 next year, to put the State on the national tourism map by giving a facelift to several historical temples, forts and eco-tourism spots located on the banks of the sacred river in Mahabubnagar and Nalgonda districts.
The State Government has plans to draw tourists by highlighting the proposed eco-tourism circuit of Somasila-Akka Mahadevi Caves-Uma Maheswaram temple-Mannanur-Farahabad-Mallelatheertham-Srisailam, which was granted funds by the Centre under Swdesh Darshan scheme.
The State also develops Amrabad Tiger Reserve into tourist hub on lines of periyar Tiger Reserve in Kerala, known for its community based eco-tourism. Water rafting, trekking, hiking and rock climbing will soon adrenaline rush in Telangana, as the State is set to become an eco-adventure tourist hub.
The State has charted a road map to boost the eco-tourism in large scale with Rs. 1 crore as central assistance and along with State budget of Rs.250 crores for the current year towards adding gear, personnel and other facilities at popular eco-tourist cities to attract the domestic and international tourists. Adilabad district will receive the biggest boost as its terrain holds and trekking paths, rock-climbing opportunities and water sporting locations will definitely attract the tourists a galore.
It also plans to develop the one of the most beautiful water fall location of "Mallelatharetam" in Mahbubnagar district and proximity to Srisaliam, which has been attracting dozens of adventures and trekkers to trek and rock. Another spot is Farahabad, which is jut 158 km away from Hyderabad and it is also proximity to Srisailam forest area is also planned, to spot the big cat campers wait for weeks in dense forest.
But a recent new study that appeared in Tends in Ecology and Evolution has suggested that eco-tourism boom may be putting wildlife in a new kind of danger. Many tourists are drawn to the idea of vacationing in far flung places around the globe where their money can make positive impact on the local people and local wildlife.
The researchers say that all of those interactions between wild animals and friendly eco-tourists eager to snap their pictures may inadvertently put animals at greater risk of being eaten. The study also finds that the ecotourism business is booming day by day and around the globe each human visited a protected area once a year and the massive amount of nature-based and eco-tourism can be added to the long list of drivers of human-induced rapid environmental change.
It also sets out a new way of thinking about possible long-term effects of nature-based tourism and encourages scientists and reserve managers to take into account of these deleterious impacts to assess the sustainability of a type of tourism, which typically aims to enhance, not deplete, biodiversity. The basic premise of the report is this- human presence changes the way animals act and those changes might spill over into other parts of their lives. Those changes in behaviour and activity may put animals at risk in ways that are not immediately obvious.
The presence of humans can also discourage natural predators, creating a kind of safe haven for smaller animals that might make them bolder too. When humans are around, for example, monkeys have fewer run-ins with predatory leopards. Now the question is what extent these more relaxed and bolder behaviours around humans transfer to other situations, leaving animals at greater risk in the presence of their natural predators and what happens if a poacher comes around.
It is the time for the State to think twice before developing eco-tourism at the cost of wildlife. However, eco-tourism can be developed with disturbing wildlife and bio-diversity.
By ​G Rajendera Kumar​