Food for the poor at Rs 10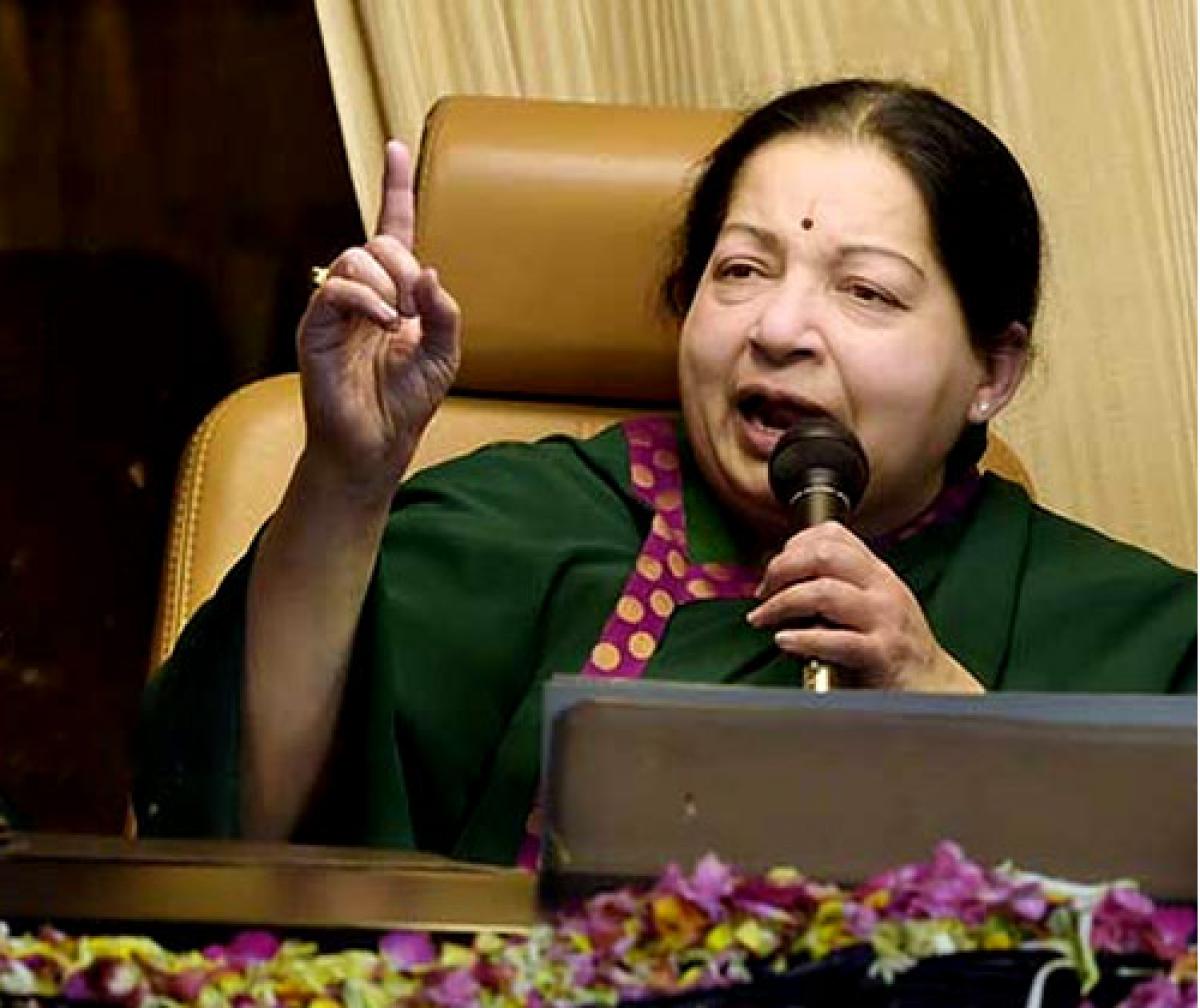 Highlights
Jaya comes closer to masses with her low budget canteens scheme SUNDAY SPECIAL At a time when food prices are making people slash their...
Jaya comes closer to masses with her low budget canteens scheme
SUNDAY SPECIAL
At a time when food prices are making people slash their household budgets to meet the growing expenses, and the Central government is dilly-dallying over Food Security Bill, Tamil Nadu Chief Minister Jayalalithaa has come closer to the people with 'Amma Unavagams,' whose popularity has been increasing by the day.
N Viswanath
Tamil Nadu Chief Minister J Jayalalithaa has become the darling of the masses with the launch of low budget canteens in all municipal corporations in the State. With prices of essential commodities skyrocketing in the market and the cost of food, including breakfast, lunch and dinner, in hotels going up, low budget canteens, known as Amma Unavagams, have become an instant hit with low and middle class people in Chennai. Not surprisingly, the demand for such canteens has been increasing not only in the capital city but throughout Tamil Nadu. Jayalalithaa had decided to open low budget eateries in January this year and inaugurated 15 'Amma Unavagams' each in 15 zones of Chennai Corporation on February 19. On the eve of her birthday, 24 canteens were opened on February 24. Later, in a phased manner, these canteens have come into operation in all the 200 wards of Chennai Corporation and ten each in nine municipal corporations of Madurai, Coimbatore, Salem, Erode, Trichy, Tirunelveli, Tirupur, Vellore and Tuticorin. Altogether 290 canteens are functional now and the government is planning to extend this facility to a few more major towns to meet the target of 500 during the current fiscal year. The idea behind the scheme is to give people sufficient food -- nutritional and hygienically prepared -- at affordable prices. So, idly is priced at one rupee each; a plate of pongal Rs 5; sambar rice Rs 3; a plate of lemon rice and curry leaf rice Rs 5 each. One can have breakfast or lunch at Rs 10. As this scheme is fulfilling the basic and minimum need of a person, it has become more popular than any other scheme Jayalalithaa has introduced within a short span of time. The canteens function from 7am to 10am for breakfast and from 12noon to 3pm for lunch. The State government provides rice and milk at subsidized rates. Before launching the scheme in January this year, a team of officials from all corporations and civil supplies department discussed it thoroughly right from the procurement stage to accounting at the end of the day keeping in view the twin objectives of the scheme: To provide healthy and tasty food at rock-bottom prices in complete hygienic conditions. The low budget canteens scheme has its roots in the 'Noon Meal' programme introduced by former Chief Minister the late MG Ramachandran, who was the founder of AIADMK in Tamil Nadu. He introduced it during his rule in the 1980s to drive children to schools. The present Chief Minister Jayalalithaa is obviously following in the footsteps of her mentor by offering subsidized food to the poor and the downtrodden so that they could save their hard-earned money for other needs like their children's education and clothes. The establishment of 'Amma Unavagams' in each and every ward of Chennai Corporation and at a few places in other municipal corporations is the talk of the town now. By understanding the mood of the people, Jayalalithaa came up with such a populist and innovative scheme. It was also aimed at offsetting criticism from a cross section of people who were harping on about hike in milk prices, electricity charges and bus fares. Within a few of its launch, the scheme has reached all major towns. More importantly, it is serving those for whom it is meant. One of the important factors is the canteens are being supervised by civic officials at all places, giving no room for anyone to complain about any shortcomings or malpractices. Even though the scheme was aimed at serving the poor like daily wage workers, rickshaw pullers and others, it is attracting marketing executives, office goers, middle class family members, students, youth, women and others due to the hygienic preparation of tasty food items. While the people are savouring food at low budget canteens without spending much, Jayalalithaa's adversaries see a political angle to it: Next year's parliamentary elections. Her party, the AIADMK, wants to win all the 39 parliamentary constituencies and lone MP seat in Pondicherry. She hopes the subsidised eateries would pave the way for her triumph.
TN food scheme a boon for SHGs
All the canteens were provided with Reverse Osmosis water purifiers and freezers to stock vegetables and other ingredients to keep them fresh at all times
In Chennai City alone, the 200 canteens are selling more than 2.50 lakh idlies, about 50,000 plates of pongal, more than one lakh plates of sambar, lemon and curry leaf rice every day
N Viswanath
Tamil Nadu's low budget canteens known as 'Amma Unavagams' are giving a big boost to women's self help groups (SHGs) as they are run by them. The eateries' standards are being maintained and monitored by the health departments of civic bodies.
Members of SHGs are vested with the task of preparing food in time without compromising on quality and the civic body officials monitor the whole activity. The women will procure vegetables, milk, rice and other ingredients on their own from the wholesale vegetable market. Each canteen is run by 12 women of one particular SHG and every working member is paid Rs 300 a day. The civic bodies provide power connections, drinking water, cooking utensils, LPG connections and furniture to all centres. Now, most of these canteens are functioning in the civic bodies' own premises and Anganwadi centres. The canteens were designed in such a way that there was no scope for complaints. The hall was well furnished with circular tables (without chairs) and granite counters. All the canteens were provided with Reverse Osmosis water purifiers and freezers to stock vegetables and other ingredients to keep them fresh at all times. Since the canteens maintain a 'self service' system, people can't spend more time at the canteen, sitting and chit-chatting, and there is no take-away system (food parcels). Customers have to eat at the canteen itself. Initially, idly was the only breakfast item in the menu. On people's demand, 'pongal' was added to the menu recently. Similarly, the lunch menu earlier was only sambar rice and curd rice. Later, lemon rice and curry leaf rice had been included. Rotis may be added to the menu to cater to North Indians who are pouring into Chennai and other major cities in Tamil Nadu that are fast becoming major industrial hubs for work on construction projects and employment. Civic officials are discussing the procurement of special machines to make 'roti' and 'chapathi'. Very soon, this food item may join the menu. Initially, the officials planned to serve 'dhal' and 'kurma' with chapathi on alternate days and the price is said to have been fixed at Rs 5 for a set of three chapathis. Chennai Corporation Mayor Saidai Duraiswamy said the number of chapathis a group of six women can make (only 50) in one hour can't meet the demand, the officials have decided to install chapathi-making machines at all canteens. Each machine can make around 3,000 chapathis an hour. He also said that there is a demand for about 2,000 chapathis at each canteen. Chennai City alone needs more than four lakh chapathis every day. He added the State Government has allocated Rs 4 crore to buy these machines. One can measure the popularity of the canteens scheme with statistics of food items sales and the number of customers standing in queues. In Chennai City alone, the 200 canteens are selling more than 2.50 lakh idlies, about 50,000 plates of pongal, more than one lakh plates (each plate of rice weighs approximately not less than 350 grams) of rice items (sambar, lemon and curry leaf rice) every day. Though the civic officials are refusing to disclose the complete details, the average number of customers at each canteen is estimated at around 600 for breakfast and about 800 for lunch. In Chennai City, for example, the canteens are using more than 50 kg of rice for idly making. It is estimated that the business of roadside eateries and small hotels around the Amma Canteens has been hit by about 20% mainly because of the value the canteens' food gives for money. In middle-range hotels, one idly costs about Rs 10-12; sambar idly Rs 24; pongal Rs 30-32; and meals around Rs 50 to Rs 80. Prices of poori, chapathi, dosa (all varieties) each are priced at more than Rs 30. It is estimated that the cost of making an idly is about Rs 1.86, but Amma Unavagams sell it at one rupee with a loss of 86 paise. As the low budget canteens have proved a big hit, Chief Minister Jayalalithaa is planning to establish such canteens at all government hospitals to cater to the needs of patients and their attendants every day. Already work is going on in Chennai Government General Hospital. While the government is confident of making 500 canteens functional by the end of next March, the Chennai Municipal Corporation is more confident of reaching that number in a month or two. There is a lot of demand from the public to keep open these canteens in the evenings and serve dinner as well. The government is keen on serving eatables three hours in the morning and three hours in the afternoon by taking into consideration the food needs of rickshaw pullers, auto rickshaw drivers, daily labourers, coolies, luggage pullers, poor and low income groups. But the ruling AIADMK leaders and party cadres are requesting Jayalalithaa to provide dinner also.