Best of vegetarian places in city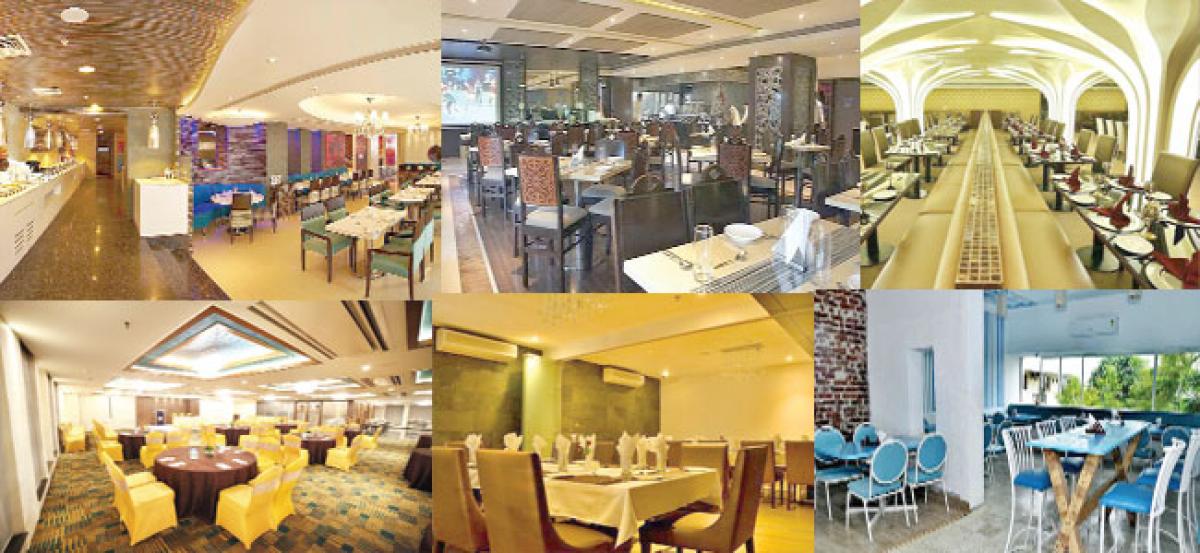 Highlights
We know it sounds ridiculous for a lot of people to be going out for a meal and ordering vegetarian. 
We know it sounds ridiculous for a lot of people to be going out for a meal and ordering vegetarian.
But trust us there is a lot to it too! We are not talking about the obvious choices, that our parents are extremely and illogically loyal to but the others that have emerged over time! Those times at home when you are restricted from eating non-veg or the times when you're feeling adventurous, or for those who are vegetarians; here's a list of the best places to have a vegetarian meal at its best
Bikanervala
From Chole Bhature to the North Indian Thali to Raj Kachori, the food you get here is somewhat lavish. Even though they are South Indian snacks like dosa and idli on the menu, it's the Northie fare that is the best. Also, they offer multi-cuisine veg lunch and dinner at the restaurant upstairs.
Where: Road Number 1, Banjara Hills
Phone: 040 6666 1111
Jalpaan
This restaurant is on the top floor of the building. Located in the central part of the city surrounding many shops and malls, it is very convenient to those want to grab something post shopping. Almost all the food items served here are of very good quality. They have a buffet system at a very reasonable price too. If you pick lunch, they have every kind of Indian delicacy that you would enjoy. And if it is dinner, don't forget to order Potli Biryani, it comes straight from heaven.
Where: Somajiguda Circle
A'la liberty
It is the Best Vegetarian restaurant, because of its constant upgrades and improvisation of the menu, keeping both popular and discerning choices in mind. While decor continues to be minimalist, there have been a few renovations of late. One includes doing away with their mocktails counter, thereby making space for a bigger desserts salads spread for their popular buffets, and another, by improving acoustics so that the busy buzz of noisy diners is kept to a minimum.

Where: Road no 12, Banjara Hills
Phone: 040 6464 7861
Phone: 040 4017 9999
Taj Mahal
This place has been serving for over six decades now and still going strong. The South Indian tiffin, which you can get as early as 7 in the morning, is quite popular. The Button Idli-the bite-sized idlis that are dunked in a bowl of sambar- is a great fare to go with the classic South Indian filter coffee. The food is good but it is also economically priced.
Rotis
Rotis is a great place for good vegetarian fare that is not just a thali. It has seemingly taken a lot of care in designing their interiors - with its ambient lighting, well-arranged seating and cosy dining area. The menu has Indian, Chinese, Mexican and a bit of Italian cuisine to please one and all. Service staff is always on their toes to attend the customers. Dragon Chilli Mushroom, Veg Lahori, Veg Maharaja, Assorted Rotis Basket, and Fried Ice Cream are dishes you must try.
Where: Hitech City
Phone: 040 6586 8686
Where: Jubilee Hills and Abids
Phone: 040 2355 7955
Khandani Rajdhani
'Khandani' means; it implies a sense of belonging, just as everything belongs in nature, including humans. These guys know what that means 'cause the foods they prepare belong firmly to the category of the best Rajastani and Gujrati food you get in Hyderabad. There is nothing less than 72 rotating menus. This spacious outlet has dishes like Dal-Batti-Churma, Aam Ras, Bajra Rotis, Moong Dal Khichdi and a lot more; and all of them are oh so yum!
Where: Road Number 3, Banjara Hills
Phone: 090008 79333
Chutneys Coffee House
Even though there are North Indian fares like Chole Bhature and Chinese snacks on the menu, Chutneys Coffee House is known best for their South Indian tiffin which is quite filling. In addition, you also have the option of fresh juices, buttermilk, sweet lassi etc to quench your thirst. They have five outlets but the one at Banjara Hills is the most popular.
Where: Road 3, near the Times House
Phone: 093902 34234
Dwaraka
Dwaraka is a hugely popular joint having two sections. One is the meal section that has regular South Indian dishes, but all highly enjoyable. The other is the meal section where you get authentic Andhra dishes on a plantain leaf. One thing special about the place is that they serve more than thirty varieties of dosas.
Where: Khairatabad, Near Bajaj Electronics
Phone: 094400 57260
Subscribed Failed...
Subscribed Successfully...