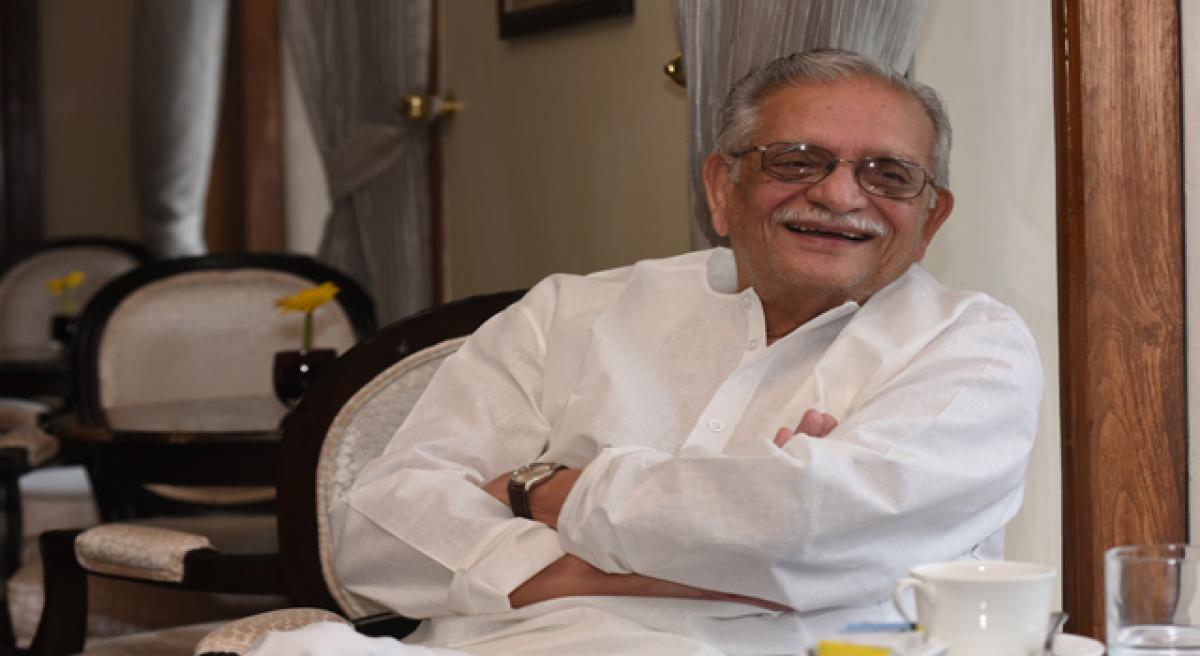 Highlights
Everyone translated 'Geetanjali' from English, which was definitely not his literary best," says poet, lyricist and filmmaker Gulzar, whose tryst with the Viswakavi began with a book that he stole from a local library. As a 10-year-old, he was a voracious reader, who would go back to the librarian every day for a new book. 
For over 50 years Rabindranath Tagore's works were under the control of Viswabharathi, and this led to Tagore being confined to Bengal. Except for Geetanjali, which rose to fame thanks to the Nobel Prize, not much of Tagore's poetry was read across India, though a lot of prose was translated and even taught in schools.
"Everyone translated 'Geetanjali' from English, which was definitely not his literary best," says poet, lyricist and filmmaker Gulzar, whose tryst with the Viswakavi began with a book that he stole from a local library. As a 10-year-old, he was a voracious reader, who would go back to the librarian every day for a new book.
---
A conversation with him goes on in mellifluous Hindustani, peppered with exquisite poetry, interesting anecdotes, and a whole lot of tongue in cheek humour laced with sarcasm. Poet, lyricist, filmmaker, Gulzar, speaks about Tagore's poetry beyond Geetanjali, the language that binds India, and the secular roots of our country
---
To avoid him, the librarian gave him a volume of Urdu translations of 'The Gardener', which he instantly fell in love with, and used every ruse to keep the book with him until the librarian eventually forgot about it. This childhood love was further nurtured, as Gulzar learnt Bengali and started reading Tagore extensively.
"I have always loved the Bengali language. I like the Bengalan (he smiles making an obvious reference to his wife Raakhi). I have been among the great Bengalis like Bimal Roy, my first Guru, and I have imbibed the language over the years. And since I also knew Hindi and Urdu, I realised that the feel in Tagore's poetry was not translated into other languages well enough."
As a tribute to one of the greatest poet laureate of India, Gulzar brought out a two-book set of translations 'Baaghbaan' – with poems from collections like 'Chitra', 'Kshanika' and 'Sonar Tari', and 'Nindiya Chor' – poems from the world of children, based on 'Sishu'.
The beautifully designed collectors' editions brought out by HarperCollins have the original poems in Bengali along the side of English translations by Tagore himself, and Gulzar's Hindi translation, in addition to some of Tagore's popular sketches and paintings – making it a complete set.
'Baaghbaan' brings out the sensitive emotions like love, longing, sacrifice expressed in simple verse that, however, is filled with deeper context and feelings. 'Nindiya Chor' on the other hand takes you into the world of children, their dreams, simple joys and expressions.
He shares, "The two books are non-Geetanjali style. People think he was born with a beard, it is not so. He was a fine handsome man, as you can see on the cover of 'Baaghbaan'. His personality had everything. The way he describes small little details of life is fascinating.
If you read the poem, 'Pyaasi' you will see the detailed way in which Tagore writes from a girl's point of view, her feelings and from the way he describes, we can see the total body language of the girl standing behind the tree. This is the real Tagore. And, I do not think many know him well enough."
(From Gulzar's translation of 'Pyaasi')
Mandir ka ghadiyal baja tho
aasman bhi jag gaya
dharthi ne gagan ko dekh duahein maangi
rasthe mein maveshii dhool udhathe nikal gaye
nadiya se chalakthi gaagren koolhon par rakh kar
ghaat se auratein uthne lagi
jhaag bhare barthan pe tumhaare
haathon ke kade khanakthe rahe
din chadne lagaa aur phir bhi main
main paas nahi aayee
bas pyaase nain liye
ek kinare khadi rahi
maine kuch maanga bhi nahi
"I have always wanted to translate his works from Bengali. While I translated other Bengali works, I could never muster the courage to touch Tagore. I always postponed. Finally, I decided I have reached a stage of my life when I should do what I always wanted to.
And, since Hindustani is the language that is spoken and read in every part of India, in some way or the other; with my translation, I have tried to bring the not so well known facets of Tagore closer to people of India," reveals Gulzar.
"I want Tagore to be taught in schools. I made the initial attempt, and now I hope it is taken forward," he adds. Hindustani, which Gulzar refers to as the link language, is neither Urdu nor Hindi, he says. "It is the language spoken by you and me, it is the language that has reached the entire country, thanks to the Hindi movies. It is the language that connects India."
Evidently, Gulzar's translation of Tagore's poetry is beautiful, laden with the cultural ethos, familial bonds, beauty of changing seasons, best expressed in mellifluous Hindustani – I have tried to recreate the feel of Tagore's writing in the best possible way, shares Gulzar, who took over five years to complete the translations.
And, one wonders if the various shades of the poetry can be recreated in English at all. In fact, Tagore has ruthlessly abridged his English translations and deviated from the original where ever it pleased him.
"Of course, there was no one to question him. Moreover, he was a creative man and when he was doing the translation, some thought would have crossed his mind, which he promptly put down. No poet can translate his own work," explains Gulzar.
He agrees that it is only Indian language that can best translate the feel of any other Indian language. "The connection remains in Indian languages because they are culturally bonded together. How much ever you try, you will not be able to recreate Indian ambience in English translation.
If I am reading Sachidanandan in English, he tries to explain the idioms, and the meaning comes through, but I miss the feel. But, if I read it in Hindi, I automatically understand it. When we translate in Indian language the entire ambience and culture comes along."
Gulzar was extremely cautious in recreating the essence of Tagore's original work in Bengali. He would go back and forth reflecting upon the previous poems, checking at every stage, and hence took a long time to translate. He explains, "It is important to understand the premise, the life of the poet and his works to understand his poetry in its entirety."
Mahatma Gandhi once asked Tagore to spin yarn and said that if he spins the charkha, the entire Bengal would do it along with him, to which, Tagore replied – Bapu, I cannot spin the wheel, I will waste a lot of your cotton, all I can spin is poetry – and he sent him this poem – 'Sacrifice'.
(Tagore's English Translation of 'Sacrifice')
'O Mother,
the young prince
did pass by our door,
and the morning sun flashed from his chariot.
I swept aside the veil
from my face,
I tore the ruby chain from my neck and
flung it in his path.
Why do you look at me
amazed, mother?
I know well he did not
pick up my chain;
I know it was crushed
under his wheels
leaving a red stain
upon the dust,
And no one knows
what my gift was not to whom.
But the young prince
did pass by our door,
and I flung the jewel
from my breast before his path.
"Now if you know this background, you will know the answer he gave to Gandhi. He says - I know that there won't be any sign of what I gave, nobody would even notice and the prince will go away – but whatever I had, I gave it away.
Tagore was referring to the chariot of the independence movement, which is passing swiftly forward. And people gave away whatever they had, some gave their jewellery, some their valuables, and one youngster threw himself in front of the chariot, for that was all he had. If you know the reference and know his life, you will understand the poem better," he explains.
This is yet another instance of the simplicity in Tagore's verse that imbibes within itself several shades of emotions, which, Gulzar says comes with years of experience and persistence. And this, he recreates extremely well in his translation. "Mine can be a fluke at times, Tagore's was never so," says the poet in all modesty.
He shares his poetic influences, "I have imbibed poetry like everyone else in India. I am a Punjabi and Bulle Shah, Fareed, Nanak came to me naturally. I grew up at a time when we were taught in Urdu and I came across poets like Ghalib.
My cultural roots and upbringing made me a poet. Every Hindustani has grown with music and poetry in his life. Be it the mother who sings a lori (lullaby) at bedtime, a bhajan during pooja, or a Sanskrit chant, or the milkman singing along the way – there is a metre, rhythm and poetry that you grow with; some of which you just listen, and understand later in life.
Every Indian knows at least 3-4 languages, as he grows. This is such a secular growth for every Indian. That is why remaining secular is the most important thing. Otherwise, you are ruining your roots."
He rubbishes the claims that there is not much poetry happening nowadays or that language is getting destroyed. "You go to interior India, speak to the villagers of UP, and you will hear such pure Hindustani. This generation too will eventually find their language," he states.
"Today, there is vibrant poetry happening in the North, especially North East in smaller languages like Khasa. And here, we are stuck with our Urdu, Bengali, and Hindi. My next book is going to be a compilation of contemporary poetry," he reveals. He has completed the translation of 270 poets in 22 Indian languages and is bringing out the first volume with 365 poems. "One poem per day, in one Indian language or the other!" he states.
By: Rajeshwari Kalyanam