Strive for social justice: Chief Justice of India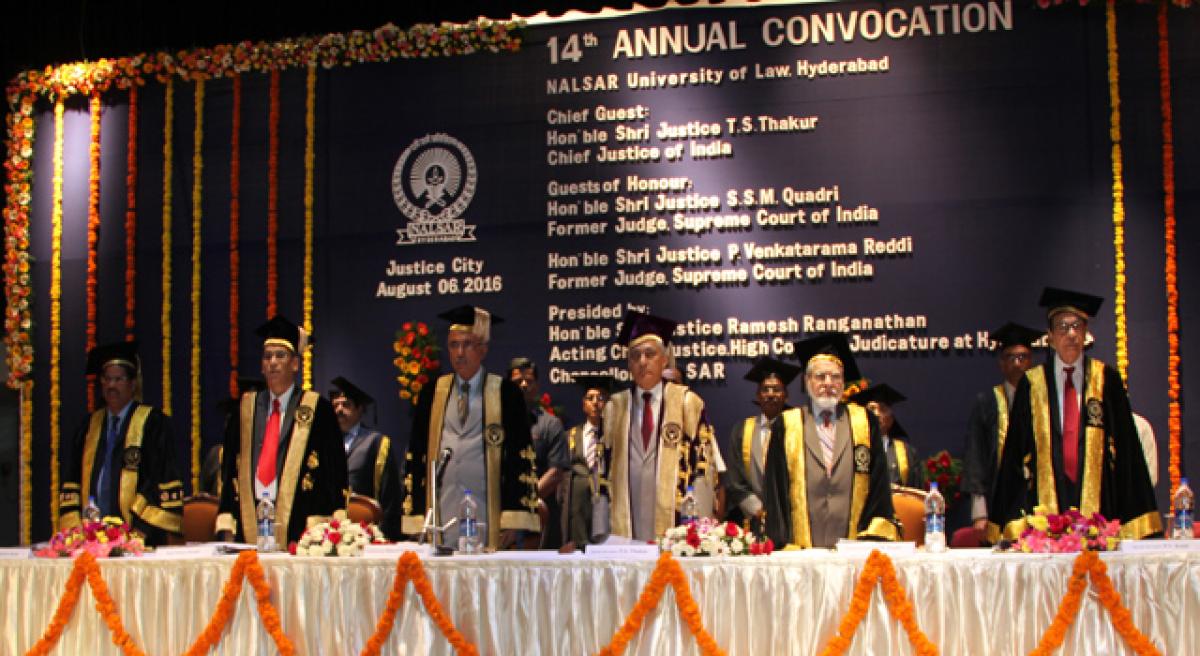 Highlights
The National Academy of Legal Studies and Research (NALSAR) University of Law, Hyderabad, held its fourteenth annual convocation programme on Saturday. 
​Hyderabad: The National Academy of Legal Studies and Research (NALSAR) University of Law, Hyderabad, held its fourteenth annual convocation programme on Saturday.
The Chief Justice of India Tirath Singh Thakur, Supreme Court of India, New Delhi, was the Chief Guest at the programme.
The proceedings were presided over by Justice Ramesh Ranganathan, Acting Chief Justice of the High Court of Judicature at Hyderabad for the States of Telangana and Andhra Pradesh and the Chancellor, NALSAR University of Law.
Prof Dr Faizan Mustafa, Vice-Chancellor, NALSAR, presented a report on the University's activities over the previous academic year.
While highlighting the various academic programmes organised by the university as well as numerous faculty and student accomplishments, Prof Mustafa acknowledged that NALSAR needs to do a lot more in the directions of research and social advocacy.
Various degrees for full-time and part-time programmes were conferred on the graduating students. In the convocation address, Chief Justice of India, T S Thakur spoke about the importance of inclusiveness in India's public life.
Emphasising the need for preserving diversity, Justice Thakur observed: "As India attained freedom, the framers of the Constitution sought to unite a vast country with its great diversity of languages and creeds within a common bond of constitutional justice based on the great ideals of liberty, equality and fraternity. These cannot be divorced from each other".
He further opined that while fraternity is an older idea than secularism, in the modern context, secularism itself is a precondition for building fraternity in the true sense.
The pursuit of these ideals required a citizen-judiciary partnership which was stressed upon with the following words,
"The Supreme Court not merely liberalised the concept of standing but drastically democratised it. No longer is it important to show that one's fundamental rights are affected to move the Supreme Court of the High Courts, but it remains adequate to show that one argues for the violations of the worst-off Indian citizens and persons within India's jurisdiction.
Concern for human rights has provoked a creative partnership between active citizens and the judiciary".T.S. Thakur addressed the graduating students with some frank remarks about the state of justice-delivery and legal education in India.
While noting that graduates from institutions such as NALSAR have largely been choosing to join lucrative jobs in corporate law firms, the Chief Justice of India exhorted them to serve the cause of social justice by practicing in courts and joining the judiciary.
Reflecting on some experiences from his own life, he stated that lawyers' derive true satisfaction from the ability to make innovative arguments and seeing justice being delivered to their clients.
The pursuit of monetary rewards pales in comparison to the respect that lawyers and judges earn if they build a reputation for integrity and fairness.