The cart from which Gandhi disembarked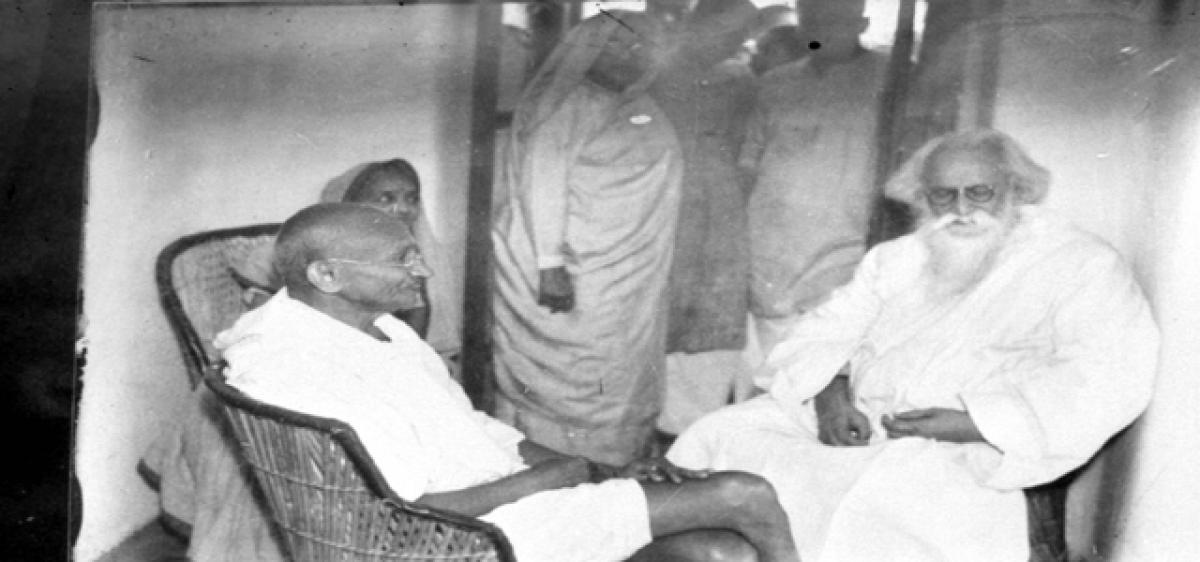 Highlights
Now, 69 years after the independence, the euphoria of the momentous occasion that Indians experienced at that time almost got faded away. And, Mohandas Karamchand Gandhi who had become synonymous of the Indian freedom struggle had become simply an antique historical figure and now he means nothing but a statue that people overlook as they get too used to its presence, a capricious reference made o
Now, 69 years after the independence, the euphoria of the momentous occasion that Indians experienced at that time almost got faded away. And, Mohandas Karamchand Gandhi who had become synonymous of the Indian freedom struggle had become simply an antique historical figure and now he means nothing but a statue that people overlook as they get too used to its presence, a capricious reference made often by the politicians for vested interests and a curious subject to be analyzed by the academia.
But, Gandhi was a major force during the first half of the last century and the literature of India of that period got thoroughly influenced by him. The very first reference to Gandhi in Indian literature can be seen in the play of Rabindranath Tagore written in 1922, 'Muktha Dhara'. Tagore pointed out that people simply garlanded and worshipped Gandhi but never tried to imbibe the values for which he stood for.
Telugu short story also fell in that line and many writers wrote stories reflecting Gandhian Ideology and a chronological reading of them reflects the pragmatic developments which dethroned the idealism of Gandhi.
In his allegorical story, Viswanatha Sathyanarayana, points out that the western rulers defeated Indians in a monstrous way. He relates British to a megalomaniac king, who kills the husband and children of a woman to seduce her, and never gets successful in winning her love.
Karuna Kumara's story 'Polaiah' is a trend setter of sorts. It is the story of a Brahmin scholar, who requests a poor cart man to take him from a railway station to his native village during a dark night on a rough road. The cart man, out of sympathy for the Brahmin, accepts the proposal and takes him on his cart but enroute casually reveals that he is a Harijan. The Brahmin scholar becomes furious to know that a Harijan has dared to take him in his cart and plans to punish him with the help of his villagers after reaching his destination.
When an iron rod is getting ready in an oven to burn his back, the poor cart man declares that he is a converted Christian and his name is not Polaiah but Poulaih. As the Brahmins of the Agraharam are afraid of the Christians they leave the cart man without punishment.
Gandhi's fight against 'Untouchability' influenced many Telugu writers. Dr Kesavareddy, the champion of downtrodden Harijans, who wrote several novels depicting their plight, describes how an ex-army Harijan struggles to pave a road connecting a Harijan village and an agraharam and how he is ditched even by his fellow Harijans who fail to get rid of their inferiority complex. Madhuranthakam Rajaram, in the story, 'Ajnathavasam', depicts the ordeal of a poor Harijan who is declared the president of a Panchayat by a feudal lord when the government reserves it for Harijans. Consequently, he loses his livelihood and is forced to live incognito.
Chalam, the doyen of Telugu literature also wrote a story under the influence of Gandhi and it is unlike his typical stories. It is the story of a house wife who rejects her extra-marital relationship with a British police officer, a Muslim, and gets back to her husband out of respect for his commitment for the freedom struggle.
Konakalla Venkatarathnam's story 'Chivariki Migilina Rangadu' is a story of a man, Shivaiah, who renounces his deeply loving foster son for the sake of helping the Harijans but lands up in a jail in another continent. After undergoing imprisonment for 16 years, he returns to his village only to find that his wife had passed away long ago, and to his dismay he finds his foster son as a sub inspector of police, who is torturing the patriots taking part in the freedom movement. The poor man dies heartbroken.
Adavi Bapiraju's romanticism and Amarendra's realism are reflected in their stories, 'Vadagallu' and 'Samarpana', respectively. Both the stories deal with the partition of India. Bapiraju depicts the love of a Punjabi girl, who flees to Hyderabad after the riots of partition with a young man where as Amarendra portrays the agony of an old woman whose son and daughter-in-law get brutally murdered in the same riots. She flees to Delhi to accuse Gandhi for her personal agony but gets terribly disturbed when Gandhi is murdered right in front of her.
Dasarathi Rangacharya imagines what happens to Gandhi if he comes back to India. He writes that Gandhi would prefer the service of the poor of the slums and the politicians would imprison him for creating a nuisance. Kaluvakolanu Sadananda wrote a grim satirical story, 'Thatha Digipoyina Bandi'. It is about the way Independence Day is celebrated in a small town by the municipality. The innocent children are made to assemble, suffering the hot sun and teachers have to follow the orders of the boorish politicians.
The portrait of Gandhi is placed on a municipality cart and taken in a procession. On the next day the same cart is used for disposing the garbage of the town. The writer shows us the garbage filled cart and laments, "Look at it. It was worshipped yesterday as it carried Gandhi. Its prestige is lost along with him. Yes, now our country is a cart from which Gandhi disembarked."
All these stories are collected into a volume titled "Thaatha Digipoyina Bandi" It was compiled by Madhuranthakam Rajaram, in 1982, on the request of Mandali Buddaprasad, the then director of Gandhi Kshethram, Avanigadda and was dedicated to Mandali Venkata Krishnarao, a true Gandhian.