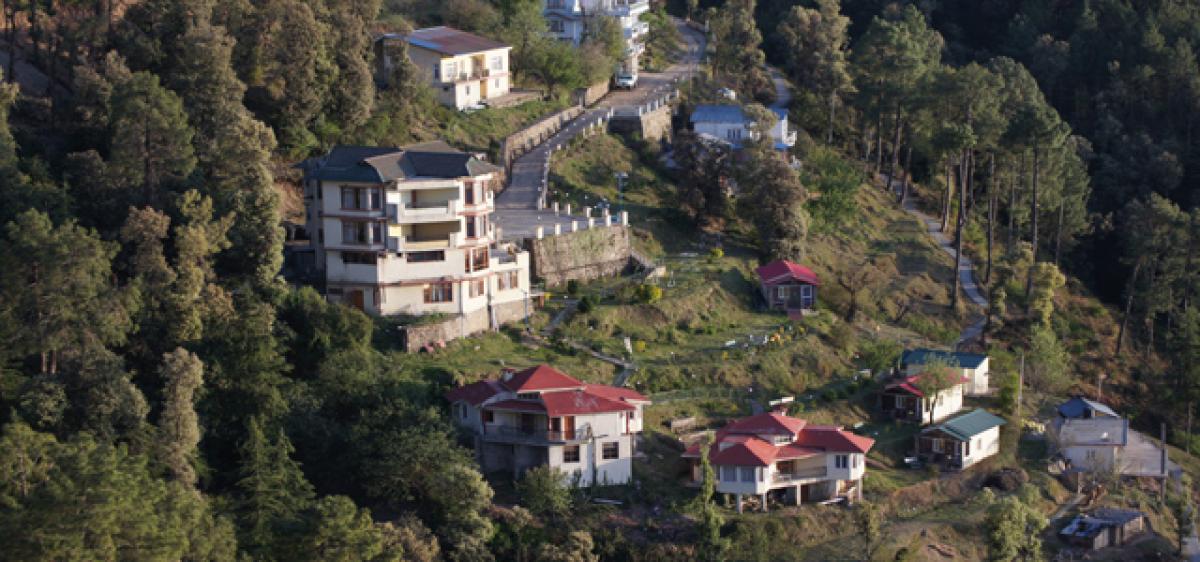 Highlights
Chail was initially designated as the summer capital of Maharaja Bhupinder Singh of Patiala. In 1891, the Maharaja incurred the wrath of Lord Kitchener and was sent to exile. 
If your imagination of a Hill Station is that of a Mall, a shopping street, many sightseeing spots and a place teeming with people, then do not go to Chail.
This is because Chail is essentially a laidback hill town in Himachal Pradesh, which is gradually making its presence felt on the tourist map.
The journey from Fagu to Chail is through one of most green environs I have ever come across. Nature is at her exuberant best here and words like pollution and deforestation are nowhere to be seen or felt.
Chail was initially designated as the summer capital of Maharaja Bhupinder Singh of Patiala. In 1891, the Maharaja incurred the wrath of Lord Kitchener and was sent to exile.
He was banned from entering the summer capital of the British Raj, Shimla. Thus, to avenge the dishonour, the Maharaja decided to build a better summer capital than Shimla for himself.
His eyes fell on the little village of Chail. Surrounded by magnificent Deodar forests, it seemed just perfect. Shimla was in a direct vision and most important, the hill of Chail at 2226 mts was somewhat higher than British-controlled Shimla.
So to 'cock a snook' at the Britishers, the Maharaja created his own summer capital and that's how the Chail of today came into being.
Chail is also famous for having its cricket ground and golf fields, which too was built by the Mahajara. The ground surrounded by tall trees is a beautiful spot in itself.
The architecturally magnificent palace of Maharaja on Rajgarh Hill has now been covered into a heritage hotel. On the third hill, Sabba Tibba, is the small township of Chail.
There is a small anecdote associated with the hill on which now sits the Sidh Baba Ka Mandir. It is said that the Maharaja had originally intended this to be the site of his palace, and had even started building it, but as is believed, a 'sidh', saintly person appeared in the Maharaja's dream and declared that this was the place where he had meditated.
Consequently, Bhupinder Singh shifted his venue and built a temple on the spot. This temple dedicated to Goddess Kali is at a vantage point and offers a bird's eye view of the valleys below.
Once we reached Chail, we made our way to Hotel Palace, where we were to stay. There was an antique grand piano gracing its lobby. The sight of the huge Belgian mirrors with ornate, gilded frames adorning the palace corridors mesmerised me and has stayed deeply etched in my mind.
However, as we entered the hotel and looked around, a thick veil of disappointment descended on me. Although the property was handed over to Himachal Pradesh government way back in 1972, the place has not been maintained properly as one would expect a palace to be kept.
That bit of sadness aside, the palace still feels majestic. To get a feel of its grandeur, just try and recollect the scenes of the interiors of 'Chanchad Bhawan' from Bollywood's '3 Idiots' where Javed Jaffrey sits and mourns the death of Chanchad Sr. Yes, that's right – that entire sequence was shot at this property.
Another key attraction of this scenic town of Chail is its cricket ground. This is the highest cricket ground in the world and is at an altitude of 2444 metres, a good 200 metres higher than Chail.
So, it is not surprising to come across panting yet happy tourists when you visit this venue since the walk up to the ground is quite steep.
The ground has now been given to Rashtriya Military School and is used by them for the training of their student-cadets. It is also used for football, cricket, polo and other assorted sports.
While we were there, thick layers of clouds started swirling around us, making the sun play hide-and-seek. The clouds speedily crisscrossed over us many times over from various directions.
Though we felt lost amongst the clouds at times, there were moments when we felt we were walking on them.
Chail's quiet, verdant, mysterious aura refreshed all of us. The fact that we chose to stay at Hotel Palace turned out to be the perfect icing on the cake. Tall Deodar and Chir pines crown its hilltop lawns.
Chail still feels like a one-horse town that offers more accommodation for tourists than its own residents, even though most of this accommodation is modest.
Its main market is a 500-metre stretch that caters to both the locals and tourists. Unlike the other more-frequented hill stations like Shimla or Nainital, this place offers limited activity.
It is a peaceful spot where you would enjoy reading a book, or better still, think of writing one…