Transforming lives of the destitute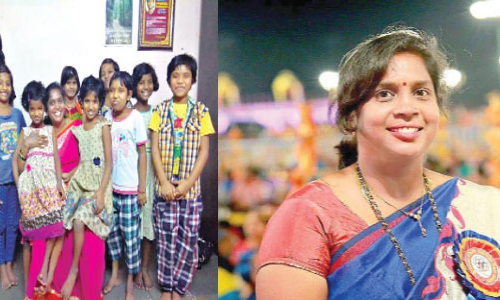 Highlights
Here is the story of an ordinary woman doing her bit to help the needy in spheres of education and selfemployment to make them stand on their own feet, with their heads held high Moved by the plight of people, she has been rallying likeminded to render help through an NGO set up by her
Here is the story of an ordinary woman doing her bit to help the needy in spheres of education and self-employment to make them stand on their own feet, with their heads held high. Moved by the plight of people, she has been rallying like-minded to render help through an NGO set up by her.
Highlights:
• A housewife ventures to provide succour to the needy
• Shanti Sahaya Seva Samithi earning laurels for service
"I was born and brought up in Srikalahasti. My father, Narayana Murty who runs a fertiliser shop would help workers whenever they were in need of money. My father always told us to help the needy. I have seen my father's charity activities since childhood. He is my inspiration," says Erram Poorna Shanthi, who is now settled in Hyderabad.
The urge to help people in need led to establishment of Sri Sai Shanti Sahaya Seva Samithi in 2015, and, ever since Shanthi has been relentlessly working for the poorest of the poor. Santhi has been doing yeomen work in several fields but is keen on putting an end to female foeticide in Telugu states.
"I felt so bad when I read reports of many female foeticide in two Telugu States. A girl is a light of any family and she can change the facets of her family. I am requesting couples who do not want to raise a girl child to hand over her to me; I will raise her and make become a successful person in life," she adds.
Through her organisation, Shanthi is taking up various activities including cremations for orphan bodies, helping physically handicapped getting people married, encouraging poor students to study, organising medical camps, distributing food for the needy and helping single women learn courses like embroidery, maggam, tailoring, beautician and basic computers.
Shanthi even takes care of cows and participated in many protests to save cows in the city, along with MLA Raja Singh and others. In recognition of her humanitarian services, she has been felicitated with 'Savitribai Phule National Award,' 'Eminent Lady,' 'IVS Best Social,' 'National Keerthi Puraskar,' and 'Womenergy Special.'
Shanthi's story the a journey of an SSC studied woman dedicated to bringing in transformational change in the lives of people.
After her marriage, Shanthi shifted to Kothapeta, Hyderabad. Sharing the reasons why she started her own NGO, Shanthi said: "When I learned embroidery and tailoring, I started teaching the same to more women in my colony to help them. I observed many women facing problems with no proper driving skills and helped them to learn driving. At the same time, I got to know the problems of the poor, uneducated and single woman and decided to set up an NGO to do my activities in a faster way and started Sri Sai Shanti Sahaya Seva Samithi in October 2015,"
Being a woman, it was not easy to perform last rites for orphan bodies. She said, "In the beginning, I was not involved but after meeting Mogilipally Srinivas Gupta, who works round-the-clock at government hospitals to perform last rites for unknown bodies, I decided to join the noble cause. Many women of my colony scolded me for doing such activities, but my family members supported me very well. We used to perform these activities at Bansilalpet or Alwal graveyards,"
Subscribed Failed...
Subscribed Successfully...