Corporator Padma lays foundation for drainage works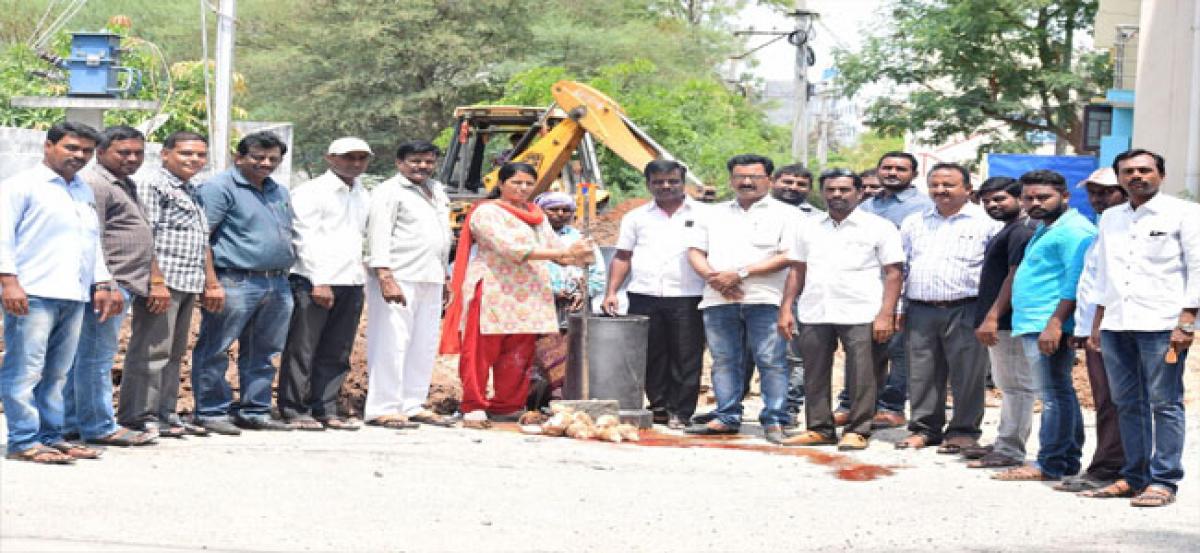 Highlights
Local corporator Ramavath Padma Srinu Naik laid a foundation stone to drainage works worth Rs 9.60 lakh at Sagar Enclave East Colony here on
Hastinapuram: Local corporator Ramavath Padma Srinu Naik laid a foundation stone to drainage works worth Rs 9.60 lakh at Sagar Enclave East Colony here on Thursday.
The corporator informed that the drainage network dates back to the period when Hastinapuram was in the erstwhile L B Nagar municipality. The population increased multi-fold in the last two decades and the drainage system is not able to take the load.
During rainy season the colonies get flooded. Once the new drainage system is laid which is much bigger with wider pipes, the problem of overflowing drains would be dealt said officials. The colonies that would be benefitted include Sagar Enclave, Omkar Nagar and Hastinapurm East.
A trunkline is under construction and all these pipe lines would be directed to it, informed an official. Earlier the pipes were 6 feet, now the replaced ones are 10 feet. The old pipes were 10 inches the new ones are 14 inches.
Locals are a happy lot. Ramesh, a resident of Sagar Enclave said, "These are low lying areas and every year during monsoons we go through hell. There used to be a problem of skin diseases as well and children in almost every house used to get sick. We are extremely happy."
DE Venugopal, AE Praveen Kumar, ward and area members Likki Indra Reddy, Sayeed, Bikshapathi Mudiraaj were present.
Subscribed Failed...
Subscribed Successfully...