Unnathi Counselling Programme held for Chanchalguda jail inmates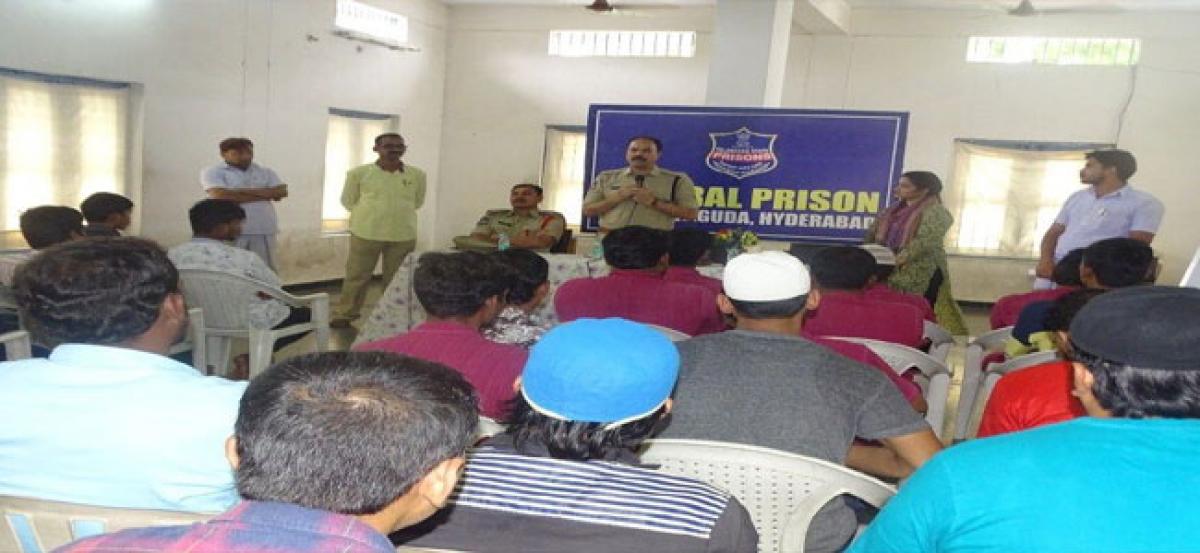 Highlights
The jail authorities on Wednesday conducted Unnathi Counselling Programme for inmates of Chanchalguda Central Prison, where 58 inmates representing three different batches attended The inmates were also provided with helpline numbers, who in case of false implication can contact th
Chanchalguda: The jail authorities on Wednesday conducted 'Unnathi Counselling Programme' for inmates of Chanchalguda Central Prison, where 58 inmates representing three different batches attended. The inmates were also provided with helpline numbers, who in case of false implication can contact them.
The objective of the counselling was to dispel their doubts of false implication of cases and imposition of PD (Preventive Detention) Act. Ghouse Moinuddin, Additional DCP, South Zone, Hyderabad who attended the programme clarified their doubts and allayed apprehensions. The official also asked all the inmates to keep in touch with police to avoid false implication of cases. He enlightened the habits of adjustment to the circumstances and advised to inculcate the good habits such as avoid intoxication and not to roam in uneven times with persons inclined to be anti-social.
K Arjuna Rao, Superintendent of Prisons praised the efforts of Prof C Beena, Unnathi Programme Organizer in arranging this type of programmes to the benefit of prisoners and also praised Ghouse Moinuddin, Additional DCP, South Zone, Hyderabad for taking part in this programme. Dr D Srinivas, Deputy Superintendent of Prisons, A Venkatesham, Jailor, A Kiran Kumar, Deputy Jailor and G Narendar, Head Warder also attended.