25 people run over by trains every month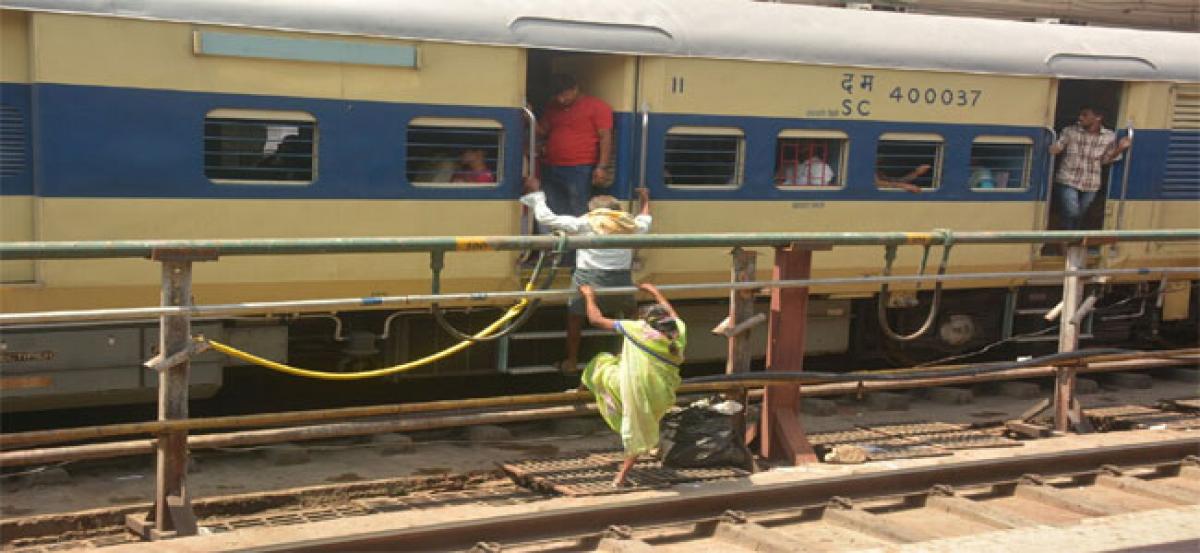 Highlights
Throwing caution to the winds, they leisurely walk along the railway tracks unmindful of death haunting them in the face The Secunderabad Government Railway Police GRP say that on an average 2015 people are run over by trains every month
Secunderabad: Throwing caution to the winds, they leisurely walk along the railway tracks unmindful of death haunting them in the face. The Secunderabad Government Railway Police (GRP) say that on an average 20-15 people are run over by trains every month.
The Secunderabad GRP jurisdiction extends to 75 km of which goods track is 7 km and the remaining passenger. It extends till Medchal on one side and Ghatkesar on the other. Speaking to The Hans India, K Adi Reddy, Secunderabad GRP inspector said, "60 per cent of the accidents happen due to human negligence. Maximum accidents happen while crossing the tracks." People are murdered and thrown on the tracks, such cases are two to three in a year. The recent incident was on Sunday, a man was murdered and the body was placed on the track at Bolarum Bazaar railway station to make it look as if it was caused by a train.
On Saturday, Mohammed Yunus, 52, an auto driver and resident of Charminar was killed when a train hit him at Yakutpura railway station. Adi Reddy says, "People often make the mistake of not judging the speed and distance. They feel they can cross the tracks before the train arrives, but the force at which it moves it just engulfs them." Many who catch running trains fall on the edge of the platform and due to the speed of the train fall on the tracks, the danger of getting under the tracks is far less on MMTS trains.
Another common reason for accidents is people running to get into general compartments. A senior official of GRP said, "Listening to music on mobile phones is another cause for accidents as they are so engrossed that they cannot hear the horn." R Aravindan, a retired postal service officer said, "There is no doubt that many accidents happen due to negligence on the part of humans but the railways too need to build foot over bridges.
BY T P Venu