Chinese Military to Layoff 1.70 Lakh Officers: Report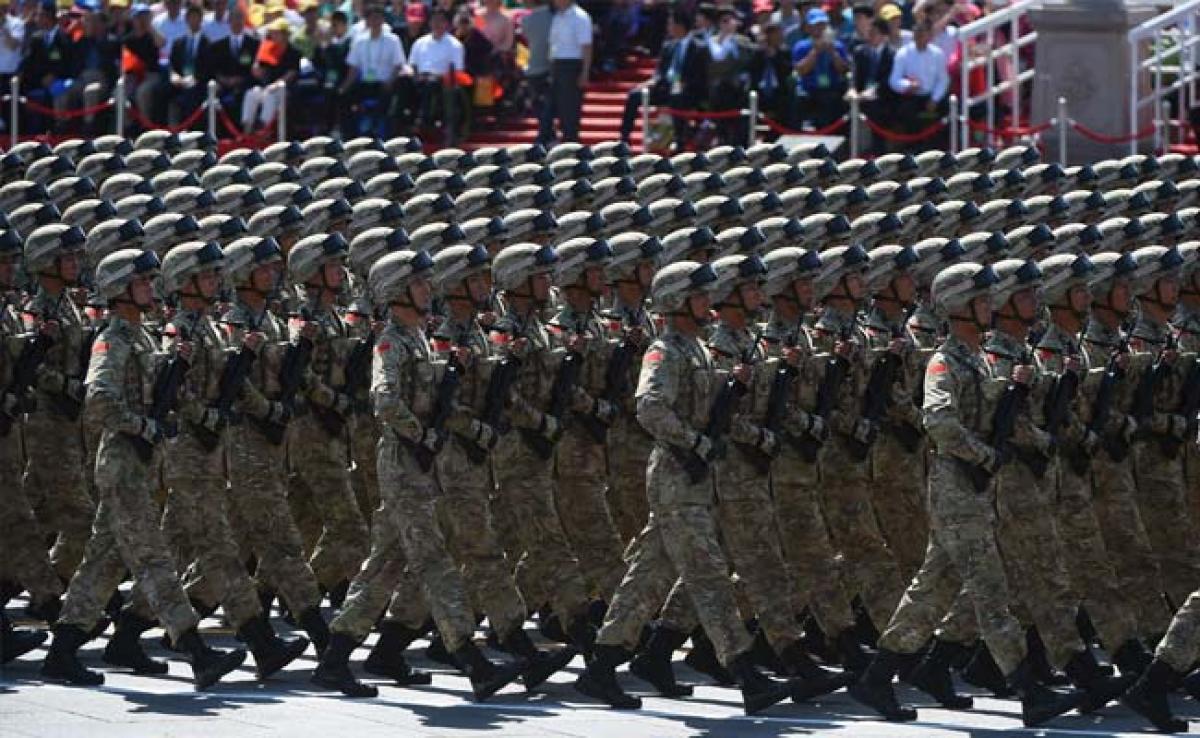 Highlights
China\'s new move to downsize its 2.3-million strong military will result in laying off of about 1.70 lakh officers as the world\'s largest army plans to scrap two of its existing seven commands and three corps to streamline forces.
China's new move to downsize its 2.3-million strong military will result in laying off of about 1.70 lakh officers as the world's largest army plans to scrap two of its existing seven commands and three corps to streamline forces.
Officers will account for more than half of the 300,000 personnel to go in President Xi Jinping's plans to streamline the People's Liberation Army (PLA), Hong Kong-based the South China Morning Post said, citing unnamed military officials.
At least 170,000 officers, ranging from lieutenants to colonels, in China's land forces would be laid off after two of the existing seven military commands and three army corps were scrapped, the Post quoted Chinese officials as saying.
They will be offered early retirement packages.
Each key military command has two to three army corps, with each corps having 30,000 to 50,000 troops. Shutting down two commands would mean the loss of about 120,000 personnel.
The massive downsizing plans were also aimed at encouraging pilots from the land forces to merge into the air force and navy, as part of the PLA's drive to master joint operational warfare as it set its sights beyond borders.
The PLA, the world's largest military force, would announce some details of the downsizing later this month.
Soon after Xi announced 3 lakh troops cut at this week's military parade to mark the 70th anniversary of the victory against Japan, Defence Ministry spokesman Yang Yujun clarified the move was aimed at further modernising and restructuring the army, and the lay-offs would be completed by 2017.
With the exception of the Beijing Garrison, which is directly under the PLA's powerful Central Military Commission and safeguards the capital, all provincial and municipal garrisons would be shut down and 50,000 personnel dismissed, the Post report said.
As many as 100,000 troops from non-combat units, such as medical, communications, and artists brigades, would be cut, and 50,000 soldiers from border forces will merge into the People's Armed Police, the sources said.
All of those laid off would be offered good compensation packages, with 50,000 transferred to civilian posts, the sources said. Some would be offered inducements to retire early.
Once the overhaul was completed, the PLA would be left with five key military commands.
The 15 army corps remaining under those five commands would strengthen joint operational command by recruiting soldiers from the air force and navy, officials said.
China is ranked third in terms of military might - behind the US and Russia. The US, the world's sole superpower, has 1.4 million active military personnel, with another 1.1 million in reserve.
"The PLA's land forces will definitely be the main targets for downsizing because it has more personnel than the air force and navy combined. This is not the right path for China's defence strategies," Xu Guangyu, a senior adviser at the China Arms Control and Disarmament Association in Beijing, told the Post.
"Because of its expanding national interests overseas, China's defence strategies have shifted from 'offshore defence' to 'protecting both offshore and open seas'", he said.
Providing a perspective about the new emerging structure of the PLA, Beijing-based military expert Li Jie said trimming the number of commands back to five "makes sense", especially when compared to Russia.
"Both China and Russia are continental countries and face different kinds of security challenges from various directions on land," Li said.
"But Russia, which covers more than 17 million square kms of land, has only four joint strategic commands, while China's territory is only about 9.6 million square kms."
It was not clear which two main military commands will be affected. The Shenyang army corps would become an air commando unit, suggesting that more pilot teams would be formed, an official said.
He also said that two other army corps, one from Nanjing and the other from Jinan, which also command the North Sea and East China Sea fleets, would become marine corps.
It is yet to be seen what kind of impact the downsizing of the PLA will have on public, specially in rural areas where the military is seen as major employment provider.
The troops cut to make the military more lean and trim comes in the backdrop of raising concerns over China?s economic slowdown impacting the job market.
The new strategy also alters Chinese military prime characteristic of heavy manpower force with lighter on arms.
As it looks itself as an emerging challenger to the US, Chinese media says it still has a long way to match world's sole superpower.
China, according to most online reports, boasts 2.3-million military personnel, with another 2.3-million in reserve, state-run China Daily drew a comparison with American forces.
However, aircraft and naval assets is where the US leads, with 13,892 aircraft of all types in service, and a naval fleet that includes 10 active aircraft carriers and 75 submarines, many of them nuclear capable.
From the hardware point of view, China lags far behind the US with 2,860 aircraft only and a largely surface navy with one aircraft carrier and 67 submarines, the report said.
In terms of defence spending US military budget amounts to USD 610 billion - USD 9 billion more than that of China, Russia, Saudi Arabia, France, the UK, India and Germany combined, the report said.
China ranks second with USD 145 billion annual defence budget.
"No one is predicting a war, but the old adage that walk softly and carry a big stick still rings true," the Daily report added.