Turkish President Erdogan Lashes EU Over 'Anti-Islam Crusade'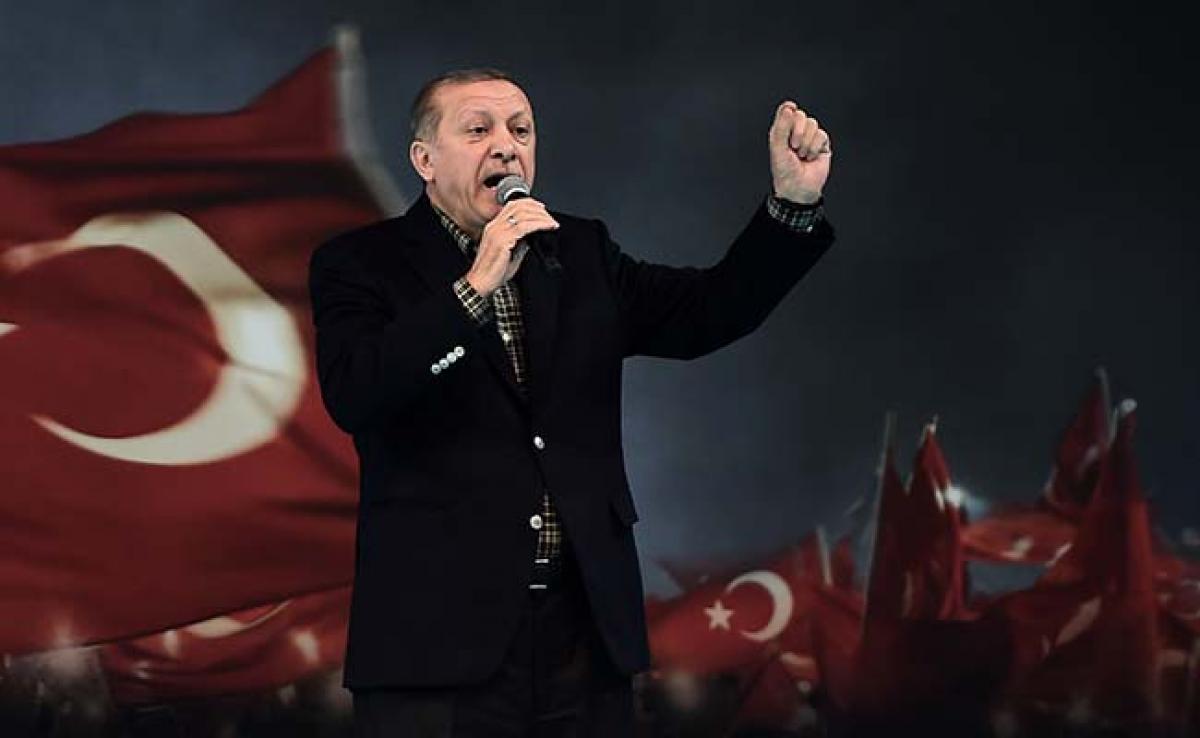 Highlights
 Turkey\'s Recep Tayyip Erdogan on Thursday accused the EU of starting a \"crusade\" against Islam and said his country was no longer friends with The Netherlands, further souring relations.
Turkey's Recep Tayyip Erdogan on Thursday accused the EU of starting a "crusade" against Islam and said his country was no longer friends with The Netherlands, further souring relations.
Turkey and the EU are locked in their most explosive row in years after Germany and The Netherlands blocked Turkish ministers from campaigning for a 'Yes' vote in a April referendum on expanding Erdogan's powers.
Ankara has expressed dismay over the rise of the anti-immigrant far-right in Europe but showed no pleasure over Wednesday's election win by liberal Dutch Prime Minister Mark Rutte.
And on Thursday, the Turkish president accused the EU's top court of starting a "crusade struggle" against Islam after a ruling allowing European firms to ban employees from wearing political or religious symbols -- including the Islamic headscarf.
"Europe is swiftly rolling back to the days before World War II," he said in a televised speech.
'Europe on the brink'
Dutch voters on Wednesday returned Rutte's liberals to power, seeing off a challenge from the anti-Islam party of Geert Wilders.
But, embittered by a Dutch move to block Turkish ministers from holding rallies several days earlier, Erdogan offered no congratulations, instead saying The Netherlands had lost a friend.
"Hey Rutte! You may have emerged as the number one party in the election but you must know that you have lost Turkey as your friend," Erdogan said.
Earlier, Turkey's top diplomat Mevlut Cavusoglu said there was "no difference" between Rutte's liberals and the "fascist" Wilders, and predicted the start of "religious wars" in Europe, saying the bloc was being pushed to the edge of "the cliff" by the rise of the far right.
The row erupted at the start of the month when several German towns refused to allow political rallies at which Turkish ministers and officials were due to campaign.
And there appears to be no end in sight with the German city of Hanover on Thursday barring a rally by the Union of European Turkish Democrats (UETD) at which a senior official from Erdogan's ruling AKP party was to speak.
"We don't want such electoral meetings in our city," said Hanover mayor Stefan Schostok.
And an Austrian concert hall cancelled a Turkish music event over its "political" nature, citing the performers' links to Turkish nationalists who are allied with the AKP.
But in a surprise move, the mayor of the Dutch city of Rotterdam approved a pro-Turkish protest over the police's handling of clashes which erupted outside the Turkish consulate on Saturday.
'Unacceptable'
Over the past fortnight, the row has escalated, with Erdogan repeatedly accusing Dutch and German politicians of acting like "Nazis" and claiming the "spirit of fascism" is rampant in Europe.
Analysts say the Turkish strongman wants to be seen as standing up to Europe so he can sweep up nationalist votes ahead of the April 16 referendum on constitutional changes.
But his volcanic rhetoric has raised questions about the continuation of Turkey's half-century bid to join the EU.
However, Cavusoglu said in an interview with the HaberTurk broadcaster late Thursday that there was "no reason" for Turkey to "move away from Europe".
French President Francois Hollande and Germany's Angela Merkel on Thursday issued a joint statement denouncing as "unacceptable" Erdogan's remarks on Nazism and his aggressive statements against Berlin and other EU nations.
Turkey has also raised alarm in Brussels by threatening to unilaterally scrap a 2016 agreement that has substantially reduced the flow of migrants to the EU.
"We can stop (the deal) unilaterally... all of this is in our hands," Cavusoglu told 24 TV, lambasting the EU for failing to make good on a promise to allow Turks visa-free travel.
The EU Commission said that it expected Turkey to implement the accord. But Cavusoglu has said Turkey is no longer taking back migrants who landed on the Greek islands in what had been a key part of the deal.
The minister later insisted Turkey was "not using refugees as a weapon".