Suicide bomber targets poll rally in Pakistan's Peshawar, ANP leader Haroon Bilour among 13 killed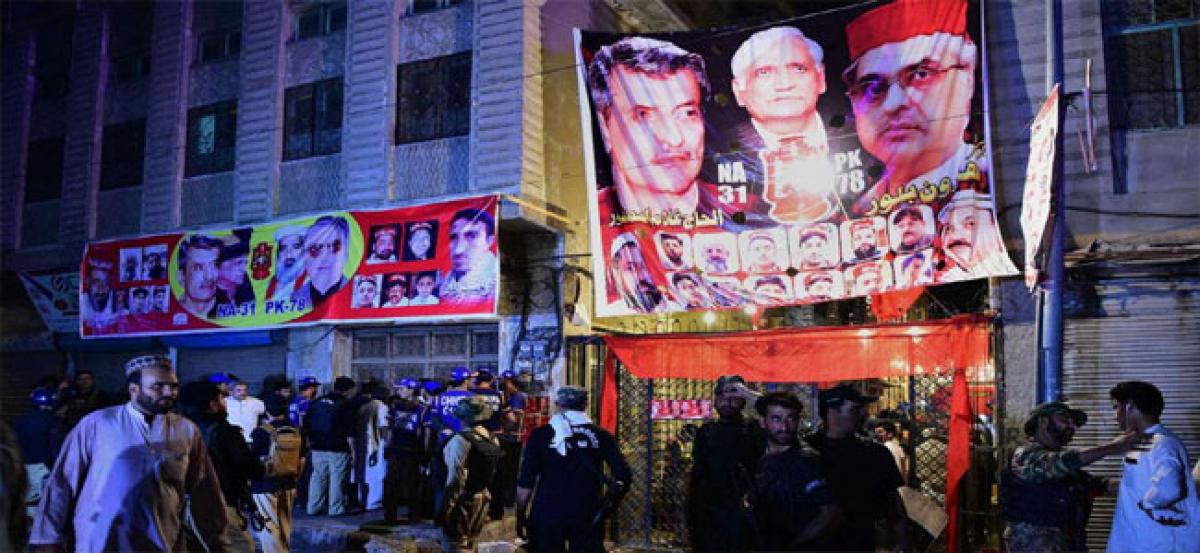 Highlights
At least 13 people, including Awami National Party ANP leader Haroon Bilour, were killed and nearly 50 others injured after a suicide bomber blew himself up at an antiTaliban political partys rally in Pakistans Peshawar city
At least 13 people, including Awami National Party (ANP) leader Haroon Bilour, were killed and nearly 50 others injured after a suicide bomber blew himself up at an anti-Taliban political party's rally in Pakistan's Peshawar city.
The blast took place shortly before midnight when Bilour, a candidate for the provincial assembly, along with ANP workers gathered for a corner meeting in the congested Yakatoot area. Thirteen people were killed and 47 others were injured in the blast, confirmed officials at the Lady Reading Hospital, where the victims were shifted.
No outfit took immediate claim of responsibility for the attack.
City police chief Qazi Jameel said Bilour, the ANP candidate from PK 78 constituency in Peshawar city, was among those killed.
Fireworks were being burst as Bilour arrived on the stage when the suicide bomber blew himself up. Bilour suffered serious injuries and was shifted to a hospital where he succumbed to the wounds, reports said.
Bomb disposal squad chief Shafqat Malik said eight kilos of TNT explosive was used in the blast.
Rescue teams and law enforcement agencies reached the site of the blast and investigations into the incident are now underway.
This is the second terrorist attack on an election rally in Pakistan ahead of the July 25 general election.
Earlier this month, seven people including a candidate of the Muttahida Majlis-i-Amal, a gathering of religious parties were injured in an explosion during an election rally near Takhtikhel also in the KPK province.
Meanwhile, Pakistan's Chief Election Commissioner (CEC) Sardar Muhammad Raza strongly condemned the attack, reports said.
"This shows the weakness of our security institutions and a conspiracy against transparent elections," he said in a statement.
Pakistan army has announced that it would deploy over 371,000 troops to ensure peaceful and fair and free elections on July 25.
The ANP was the main target of Taliban attacks in the 2013 election as well. Haroon Bilour's father Bashir was killed in a suicide bombing claimed by Pakistani Taliban bomber in December 2012.
The ANP is a mainstream national party headed by Asfandyar Wali Khan, the grandson of nationalist leader Abdul Ghaffar Khan commonly referred to as Bacha Khan among the Pushtuns.
The ANP, which governed the Khyber Pakhtunkhwa province from 2008 to 2013, has been targeted by the TTP for carrying out operations against militant outfits in the Northwestern region of Pakistan and being secular in its ideology.
Last month, Pakistani Taliban chief Mullah Fazlullah, who had claimed responsibility for most of the attacks against the ANP in the 2013 election, was killed in a US drone strike.
The National Counter Terrorism Authority (Nacta) on Monday had told a Senate standing committee that some leading political leaders faced death threats from militant outfits ahead of the July 25 general elections in Pakistan.
The leaders include Pakistan Tehreek-e-Insaaf (PTI) chief Imran Khan, the son of Mumbai attack mastermind Hafiz Saeed, Asfandayar Wali Khan, and senior leadership of other parties.