Travails of tenant farmers of Telangana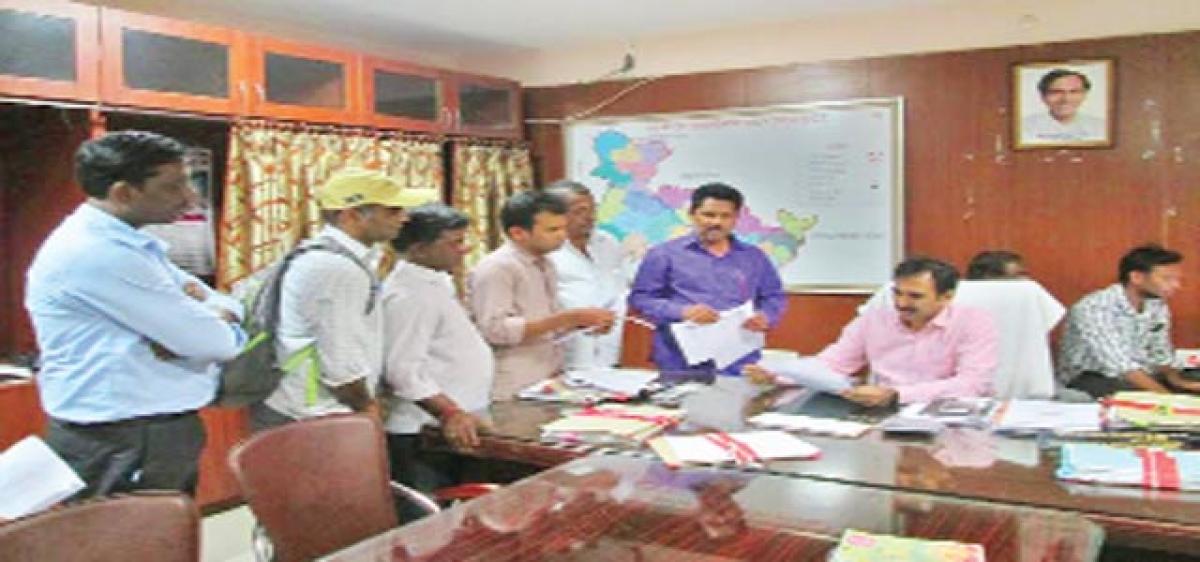 Highlights
It would be the first death anniversary of Kandi Srisailam Mudiraj in exactly a week from now. He was a tenant farmer because he owned neither...
Having no proper document and none to offer support, tenant farmers in the State are driven to suicides, leaving their loved ones to live in misery
It would be the first death anniversary of Kandi Srisailam Mudiraj in exactly a week from now. He was a tenant farmer because he owned neither ancestral properties, nor any land given by the government for cultivation. A resident of Ismailkhanpet village of Sangareddy mandal, he had to take 5 acres on lease in another village to make a living out of the only profession he knew agriculture.
Last year he sowed cotton and when the crop failed due to drought, he sowed chickpea crop, which failed too. As a tenant farmer, he had taken land on lease and borrowed money from private moneylenders hoping for a good crop, but in vain. Unable to bear the heavy losses, Srisailam committed suicide by consuming pesticide. He is survived by two children, Akhila (4) and Abhiram (2). The children live with their mother who works as a daily wage labourer, while the grandmother takes care of the children.
It has been almost a year now, but the family has not been visited by the mandal-level three-member committee that is supposed to certify the case as a farmer's suicide or not, though the final copy of the First Information Report (FIR) with the police clearly mentions the reason for his suicide as crop failure and debt burden.
There are two problems. First is that Srisailam was not the owner of the land and the second is that he was never issued a Loan Eligibility Card (LEC) so that he could at least have an option to try for an institutional loan. Only 1,050 LECs were issued across integrated Medak district before it was trifurcated. There are more than 1 lakh tenant farmers in the new districts.
As per the GO 194, the revenue authorities are supposed to ensure whether the farmer (whether tenant or not), has been farming, if he had debt or not and what led him to take the extreme step of ending his/her life. Even the Licensed Cultivators Act of 2011 reasserts the same.
It will be in the discretion of the MRO to certify the death of a tenant farmer suicide as a suicide or not, based on the investigation performed. Speaking to The Hans India, Kondala Reddy, a representative of Rythu Swarajya Vedika (RSV), said in the past some of the tenant farmers were compensated but since the past two years they were not even being considered as a genuine case of farmers' suicide.
"Even MLAs used to visit families of suicide victims before and used to give the family Rs 5,000 as immediate relief as part of National Family Benefit Scheme. But now even after the relief has been increased to Rs 20,000, they are not even visiting these grieving families," he said.
The family of Srisailam is currently living in pathetic condition. On Thursday, representatives of RSV met Sangareddy District Joint Collector Vasam Venkateswarlu and requested him to take steps to conduct mandal-level and division-level investigations with respect to more than 70 families affected by suicide of their breadwinners, who have not yet been given ex-gratia of Rs 6 lakh.
According to RSV, 93 farmers have committed suicide in Sangareddy district since the formation of Telangana. According to them, only 22 families have been given ex-gratia. Joint Collector Venkateswarlu assured the representatives that he would send instructions to the RDOs to conduct investigation into the cases being referred by RSV.
By Vivek Bhoomi
Subscribed Failed...
Subscribed Successfully...