Bandh peaceful in Khammam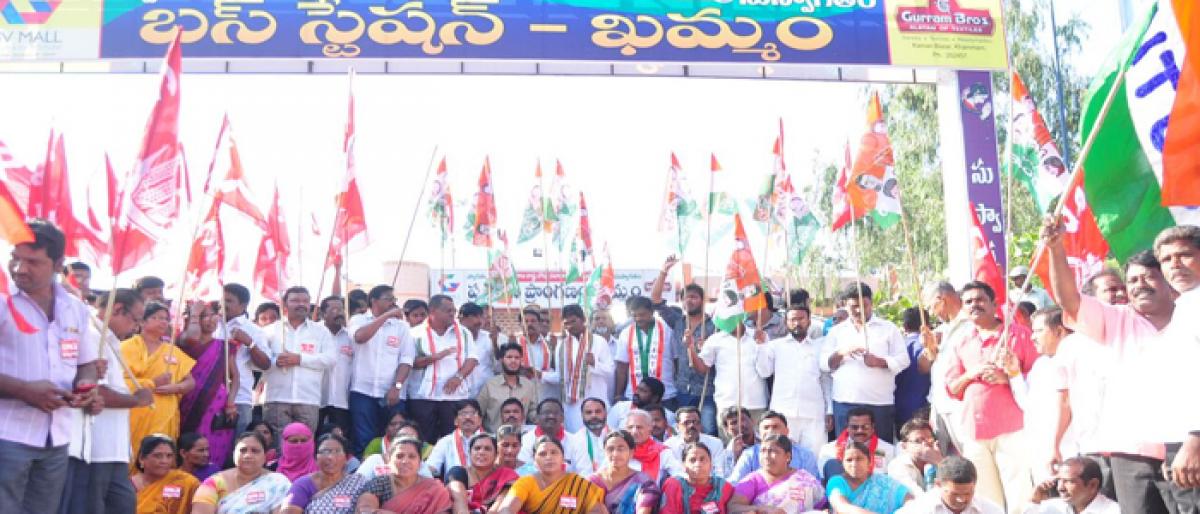 Highlights
The bandh by the opposition parties in protest against the decision of State government shifting the Collectorate to VV Palem passed off peacefully here in Khammam on Friday. Several business establishments, educational institutions and various other offices voluntarily supported the bandh. Meanwhile, the leaders of opposition parties staged a dharna in front of bus depot in the early hours demand
Khammam: The bandh by the opposition parties in protest against the decision of State government shifting the Collectorate to VV Palem passed off peacefully here in Khammam on Friday. Several business establishments, educational institutions and various other offices voluntarily supported the bandh. Meanwhile, the leaders of opposition parties staged a dharna in front of bus depot in the early hours demanding the government not to shift the Collectorate, which is located in the heart of the city and easily accessible.
It may be recalled that leaders of several opposition parties have been holding protests and dharnas for the last one month. The parties staged a massive dharna on October 19, in front of the Collectorate at Dharna Chowk and on October 20, a signature campaign was held along with other programmes like distribution of pamphlets and peoples ballot opposing the decision of shifting Collectorate.
District president of the Congress party Ayitam Satyam said people would face problems if the Collectorate was shifted to V V Palem which is 10 kilometres away from the Khammam city. He alleged that only to boost up real estate business, which is run by some of the TRS leaders, the government took the decision of shifting Collectorate against people's will. Meanwhile, the police interrupted and arrested the leaders of opposition parties.