Rising chilli prices bring respite to growers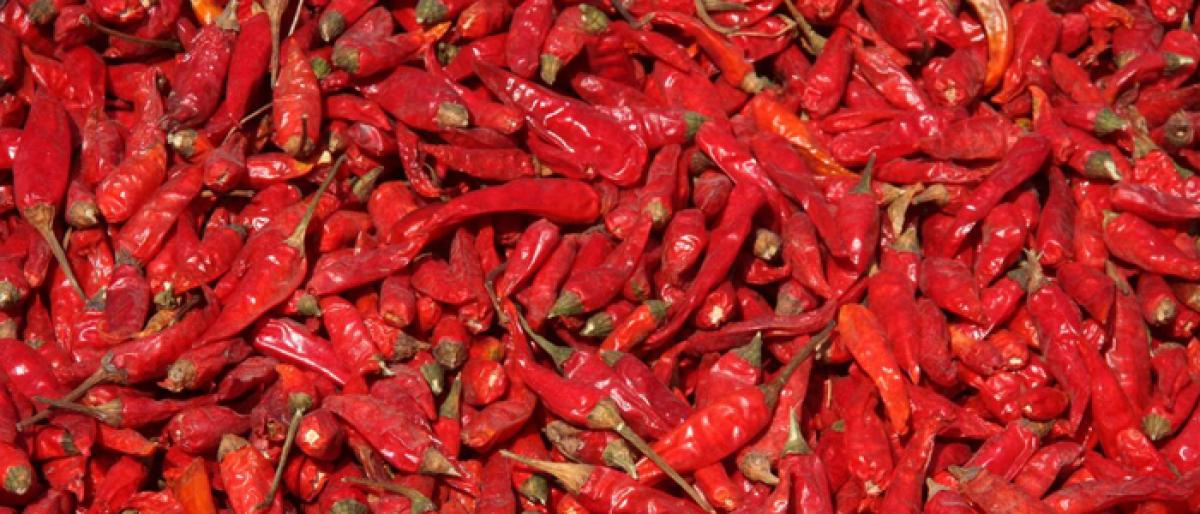 Highlights
The prices of red chilli shooting up at the Agriculture market here in Khammam are bringing smiles on the faces of the growers with a quintal of crop fetching them Rs 8,925. On Friday, according to trade sources, the prices of best varieties of the produce was shot up to Rs 9,000 per quintal which is considered as a record rate. The farmers brought nearly 4,000 bags of chillies to the agricultural
Khammam: The prices of red chilli shooting up at the Agriculture market here in Khammam are bringing smiles on the faces of the growers with a quintal of crop fetching them Rs 8,925. On Friday, according to trade sources, the prices of best varieties of the produce was shot up to Rs 9,000 per quintal which is considered as a record rate. The farmers brought nearly 4,000 bags of chillies to the agricultural market on Friday.
The farmers' who have grown chilli in 12,552 hectares during Kharif and another 701 hectares in Rabi, are a happier lot this year with more productivity and better market price for their produce. The prices are at record rate due to substantial slump in production in the district compared to previous year.
There is a great demand for Teja variety which is grown more in Khammam, Suryapet, Kothagudem, Mahabubabad and Warangal rural regions.
"I have spent about Rs 1 lakh per acre for crop input and made an overall profit of around Rs 3 lakh from four acres this year," said Rajaiah, a 40-year-old tenant farmer who has grown chilli as a second crop this year in Raghunathapalem mandal. Timely water supply for fields has also led to the good yield, he added. Meanwhile, market experts say that the chilli prices may see further increase in coming up days. Even discoloured chillies fetched the farmers Rs 6,200 per quintal.
Meanwhile, some of the farmers reported that they were facing problems with virus attack. The attack which was initially noticed only at certain regions was now spreading at an alarm rate which might result in huge loss. They are seeking help from the officials to save their crop.