KTR calls on people to reject Congress in 2019 polls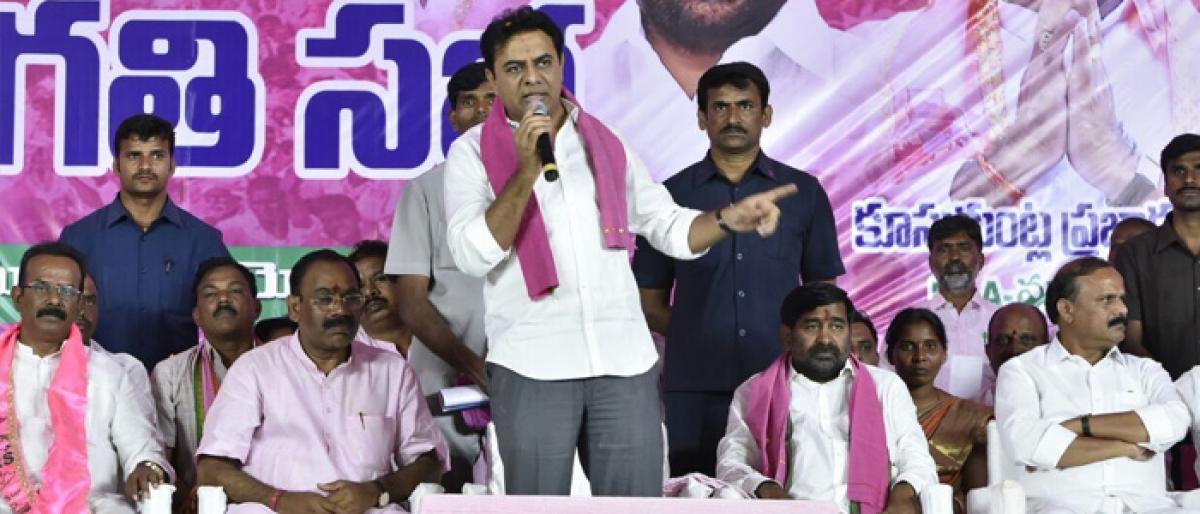 Highlights
Minister for Municipal Administration KTRama Rao here on Monday asserted that the government is committed to eradicate the fluoride problem completely...
Nalgonda: Minister for Municipal Administration KTRama Raohere on Monday asserted that the government is committed to eradicate the fluoride problem completely in the Munugodu constituency. The constituency has been severely affected by the problem.
He was participating as Chief guest atthe Munugodu constituency Pragathi Mahasabha held at Chandur. Addressing a huge gathering, the Minister said the previous Congress governments should be blamed for the existence of the problem even after70 years of Independence.
The State government is making all efforts to provide safe drinking water to people through Mission Bagirtha. The government was also striving to provide irrigation facility inMunugodu constituency through Shivannagudem project to address the fluoride issue permanently.
He mocked at MLA Komatireddy Venkat Reddy over his misbehavior during the Governor's speech on the floor of the House. Congress top leaders embarked on the bus Yatra with a hope of a big response from the people, he said. But they had failed to garner people's attention.
He said theState was making rapid development during the last four years and no discrimination was being shown against the constituencies of Opposition leaders in implementation of welfare schemes and development activities. He dismissed the allegations made by the Opposition as baseless. Rama Rao urged the people to reject theCongress once again in 2019 for failing to realise their mistakes.
He promised to ensurean IT park is established at Dandu Malkapuram and elevation of Choutuppal as municipality.He promised to see that a new Gattuppal mandal is created. Minister Jagadish Reddy , ZP Chairman Balunaik, local Munugodu MLA Prabhakar Reddy, MP Bhoora Narsaiah Goud, MLC Karne Prabhakar, a large number of party workers and people participated.
The Minister unveiled the Telangana martyrs memorial pillar and the statue of Professor Jayashankar and laid foundation stone for expansion of four-lane road at an estimated cost of Rs 4 Crores at Chandur.
Subscribed Failed...
Subscribed Successfully...