YSRCP bandh complete, peaceful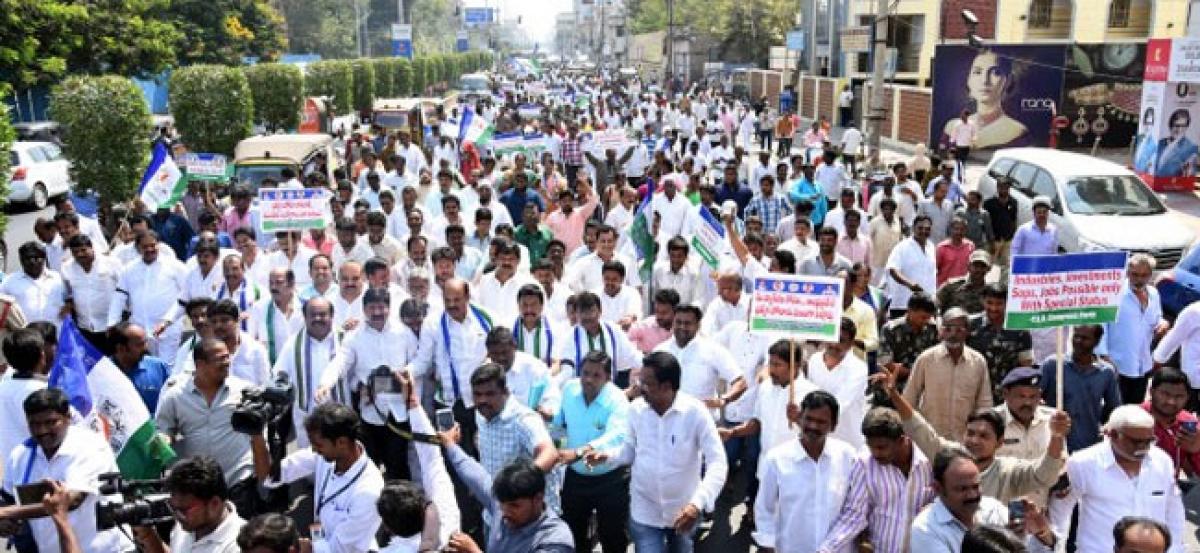 Highlights
The YSRCPsponsored state wide bandh in protest against the treachery of Chief Minister Chandrababu Naidu and the Government at the Centre on the issue of special status for Andhra Pradesh is going on peacefully
The YSRCP-sponsored state wide bandh in protest against the 'treachery' of Chief Minister Chandrababu Naidu and the Government at the Centre on the issue of special status for Andhra Pradesh is going on peacefully. At several places across the state, the impact of the bandh is clearly seen with the buses going off the roads and educational institutions and business establishments closed Even the petrol bunks are closed.
The police have cracked down on the YSRCP activists across the state to ensure that the bandh is a failure. In Nagari, MLAs Roja and Narayana Swamy were arrested. Several bus services were cancelled due to the band. In Guntur's Sattenapalli, YSRCP spokesperson has been moved fro one police station to another. Several leaders like Mustafa, Meruga Nagarjuna, L Appireddy, Janga Krishnamurthy and others were arrested in Guntur. MLA Pinnelli Ramakrishna Reddy has been arrested in Macherla. In Pulivendula, former minister YS Vivekananda Reddy was arrested.
The bandh is also being observed in Prakasam, Anantapuram, Krishna , West Godavari, Vizianagaram and several other districts. Meanwhile, YSRCP activists staged a dharna in front of the Kurnool Taluq police station demanding the release of the arrested leaders.