TRS Books in Advance 415 RTC Buses For Pragati Nivedana Sabha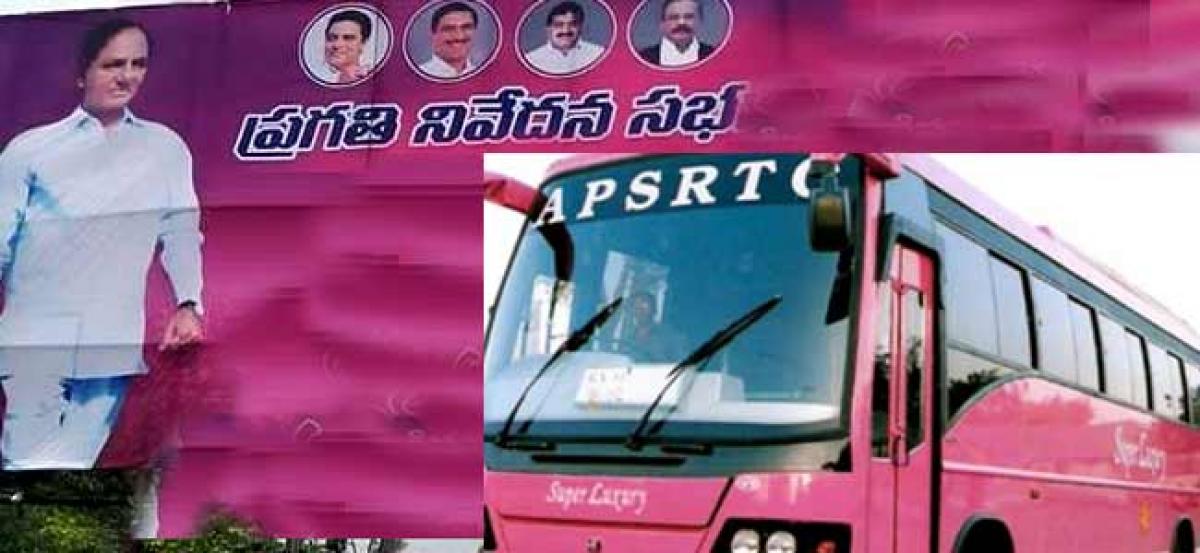 Highlights
Aimed to bring in lakhs of people to its proposed public meeting, the TRS government has made all necessary arrangements for their safe transit The meeting which is scheduled to be conducted on September 2 is the first of its kind It is named, Pragathi Nivedhana Sabha and is to hold in the suburbs of Hyderabad at KonagaraKolan
Aimed to bring in lakhs of people to it's proposed public meeting, the TRS government has made all necessary arrangements for their safe transit. The meeting which is scheduled to be conducted on September 2 is the first of it's kind. It is named, Pragathi Nivedhana Sabha and is to hold in the suburbs of Hyderabad at KonagaraKolan
Over 415 RTC buses from Adilabad district alone along with 2000 other private buses and 5000 taxis have been booked in advance to ferry the people and the party leaders to the venue. Of the total 627 RTC buses from the districts, 300 will be sent to the meeting with over 50 people on board charging Rs 43 per kilometre per bus. It may be notified that only district bound buses like Palle Velugu and Express buses will ferry the people to Pragati Nivedana Sabha.
An amount of Rs 5 crore has been estimated for the transportation charges which will be funded by the TRS party.
The party also directed the district leaders to coordinate with the people to avoid any inconvenience. Several news roads have also been laid to reach the venue easily. Apart from these arrangements, drinking water and temporary toilets are also being organised at the venue.