Bandh evokes huge response in AP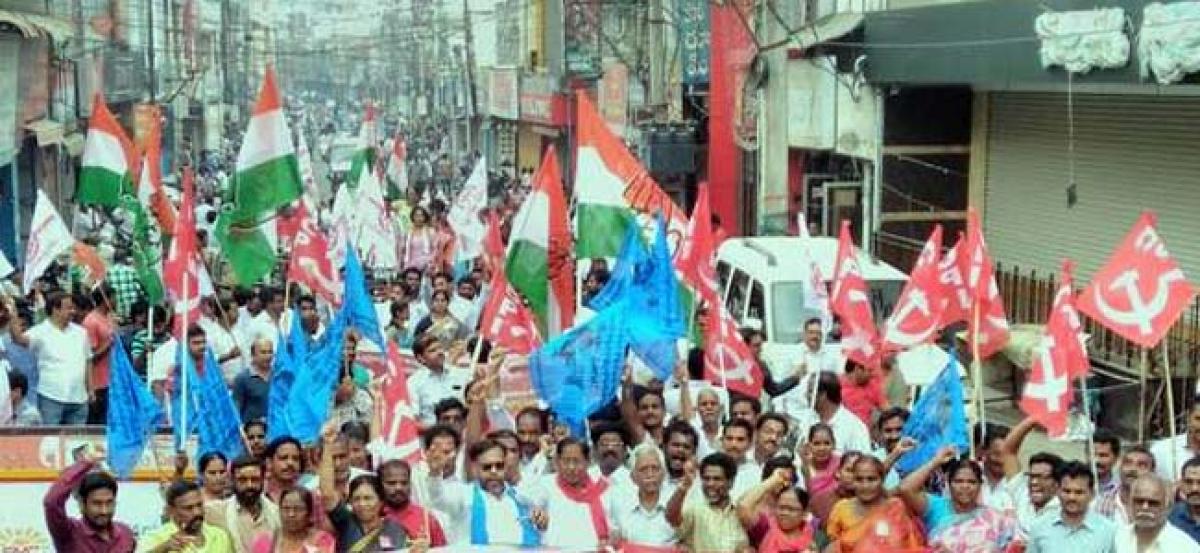 Highlights
Bandh call given by the Congress party and other political parties evoked huge response in Vijayawada, Guntur, Visakhapatnam, Tirupati, Ongole, Kadapa and other parts of the state on Monday as RTC halted its services affecting the transportation and most private educational institutions declared holiday in view of bandh
Vijayawada: Bandh call given by the Congress party and other political parties evoked huge response in Vijayawada, Guntur, Visakhapatnam, Tirupati, Ongole, Kadapa and other parts of the state on Monday as RTC halted its services affecting the transportation and most private educational institutions declared holiday in view of bandh.
In Vijayawada and Guntur, Left parties and Janasena activists staged a protest at the RTC bus stand demanding the Union government to bring the fuel under the purview of the GST. Thousands of Congress party leaders and workers are taking part in the protests demanding the Union government to bring the fuel under the limits of GST.
Common people are furious over the soaring prices of diesel and petrol which reached Rs.80 per litre. The police are on high alert and posted tight security near the bus stations and main junctions in the cities like Vijayawada, Guntur, Vizag, Tirupati etc to prevent any untoward incident. So far, the bandh is peaceful in the state. Hundreds of political leaders and activists were arrested and shifted to the police stations as a precautionary measure and to prevent any untoward.
Meanwhile, government educational institutions are functioning as usual.