KTR fan reaches Hyderabad, receives great honour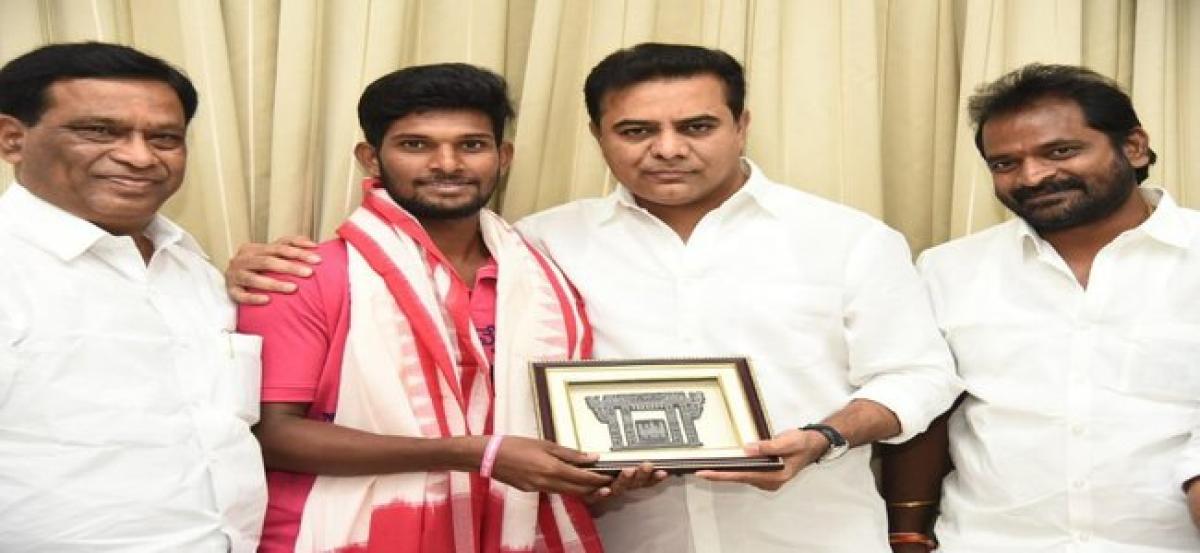 Highlights
Telangana IT minister KT Rama Rao on Sunday honoured a youth from Nellore Kumar Reddy who walked all the way from Vijayawada to Hyderabad extending support to TRS party
Telangana IT minister KT Rama Rao on Sunday honoured a youth from Nellore who walked all the way from Vijayawada to Hyderabad extending support to TRS party.
Kumar Reddy who was impressed by the TRS rule, began the walk 17 days ago wishing the party win in the forthcoming elections.
ఆంధ్రప్రదేశ్, నెల్లూరుకు చెందిన రోహిత్ కుమార్ రెడ్డి అనే యువకుడు టీఆర్ఎస్ పార్టీ చేస్తున్న అభివృద్ధి, సంక్షేమ కార్యక్రమాలకు ఆకర్షితుడై, పార్టీ గెలుపును కాంక్షిస్తూ గత 17 రోజులుగా విజయవాడ నుండి పాదయాత్ర చేస్తూ హైదరాబాద్ చేరుకున్నాడు.ఈ సందర్బంగా మంత్రి @KTRTRS గారిని కలవడం జరిగింది pic.twitter.com/Wl8JaEGOTU

— TRS Party (@trspartyonline) October 14, 2018
Reddy who reached Hyderabad today received a grand welcome from the TRS leaders. Later he met his favourite leader KT Rama Rao, who presented him a memento.
Meanwhile, Kumar asked KTR to offer a chance to campaign for TRS party for which he received a positive response.