Narendra Modi has no moral right to continue as Prime Minister-Chandra Babu naidu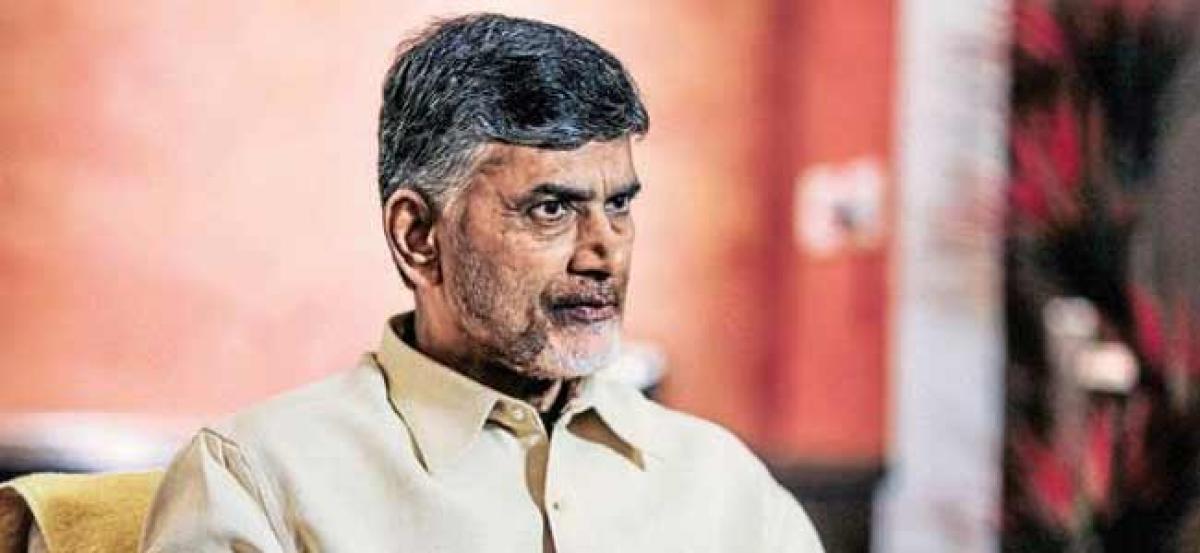 Highlights
Chief Minister NChandra Babu naidu has called upon the people to extend their cooperation to TDP as it is going the intensify the agitation against BJP lead NDA government across the country
Kadapa: Chief Minister N.Chandra Babu naidu has called upon the people to extend their cooperation to TDP as it is going the intensify the agitation against BJP lead NDA government across the country. Addressing huge public in Dharma Porata Deeksha at Proddaturu on Tuesday he said that Narendra Modi has no moral right to continue as Prime Minister as he was responsible for destroying integrity of the nation in all fronts.
He said that the following inference of central government in independence agencies like CBI, RBI the credibility those agencies get bad shaped leads democracy is at cross roads. Recalling the intervention of Government with Law &Order problem issues like attack on opposition leader YS Jagan Mohan Reddy, Chandra Babu said it is against spirit of constitution and demoralize the investigation procedure.
However chief minister opined that Kodi-Kathi( attack on Jagan) has to be established in different angles whether the accused willfully involved in the incident or any forces behind scene to create sympathy on the opposition leader. He said he never encouraged murder politics.
While defending the stand of TDP in making electoral alliance with Congress in Telangana state, he said it is because of nations interest to check the bitter rule continuing in that state. Saying that completion of Polavaram is his life ambition he said about 60 percent of work completed remaining 40 percent would be completed by 2019 December and all rivers in the state would make connectivity in the interest of making AP as drought free state.
Saying that 'Operation Garuda is transparent one and fact, chief minister said BJP lead NDA Government hatching conspiracy to de stabilize the state government by utilizing YSR Congress, and Jana Sena parties of it wicked politics. Continuing raids by CBI, Income Tax is a part of conspiracy implemented by the central government.
However chief minister cleared that either his party men or himself never afraid of such incidents because they were all clear on their part and ruling the state in transparent manner. "During my 40years political journey I have never committed single mistake as it was proved when the late chief minister Rajasekhar Reddy put 26 enquiries during congress regime". he said.
Expressing determination over establishment of Steel plant in Kadapa district Chandra Babu said with in one month state government is going to laid foundation stone for steel plant if central government fails to respond positively over the issue.
Responding to the plea of the local party leaders over completion of second phase of Galeru Nagari Sujala Sravanthi (GNSS) chief minister has sanctioned Rs 3,500 crores for the project ordered for calling tenders within one month. He also assured all pending projects would be completed in a phased manner.
Chandra Babu naidu appealed the people to extend their support for TDP to gain 25 MP seats, and voted to power in ensuing elections. Ministers C.Adinarayana Reddy, S.Chandra Mohan Reddy, MP Ashok Gajapathi Raju and others were present.
Panchayath Raj Minister Nara Lokesh has said despite state is facing severe financial hurdles Rs 1600 crores deficit budget but committed to implement all development programmes and welfare schemes for the benefit of all sections of people in the state. He said Narendra Modi has sanctioned Rs 1000 cores for capital construction as he spent Rs 3,000 crores for construction Sardar Vallabha bhai patel statue. He alleged that it is unfortunate opposition leader YSR congress president YS Jagan Mohan Reddy ttrying to gain the sympathy of the public through Kodi-Kathi incident but it was misfired as the people of state has clarity over the issue. He urged the people to extend their support to the TDP by providing victory in all 10 constituencies and 2 MP seats in the 2019 elections.
Describing him as miser MP JC Diwakar Reddy said actually he is against giving donations, but giving Rs 10lakhs to the Srikakulam cyclone victims to point out credibility of Prime Minister N.Narendra Modi as he was least bothered over sanction to the victims. "Narendra Modi is a monk he has no affection with any one and unkind". While questioning the credibility of YSR congress president YS Jagan Mohan Reddy for not visiting flood affected areas in Srikakulam district, Diwakar Reddy said Jagan is an immature politician as he is giving priority to cast politics. " His father Rajasekhar Reddy tried his best for bringing water to Gandikota Reservoir, but Jagan never think in that angle instead playing 'Reddy politics' he said.
Describing political fight between central and stage government as Good-Bad, Rajya sabha member CM Ramesh said there was no compromise with BJP lead NDA government as TDP continues to fight till it will implement all assurances including establishment of Steel plant in Kadapa district mentioned in AP Reorganizing Act.