Kashmiri half-widows living in a state of limbo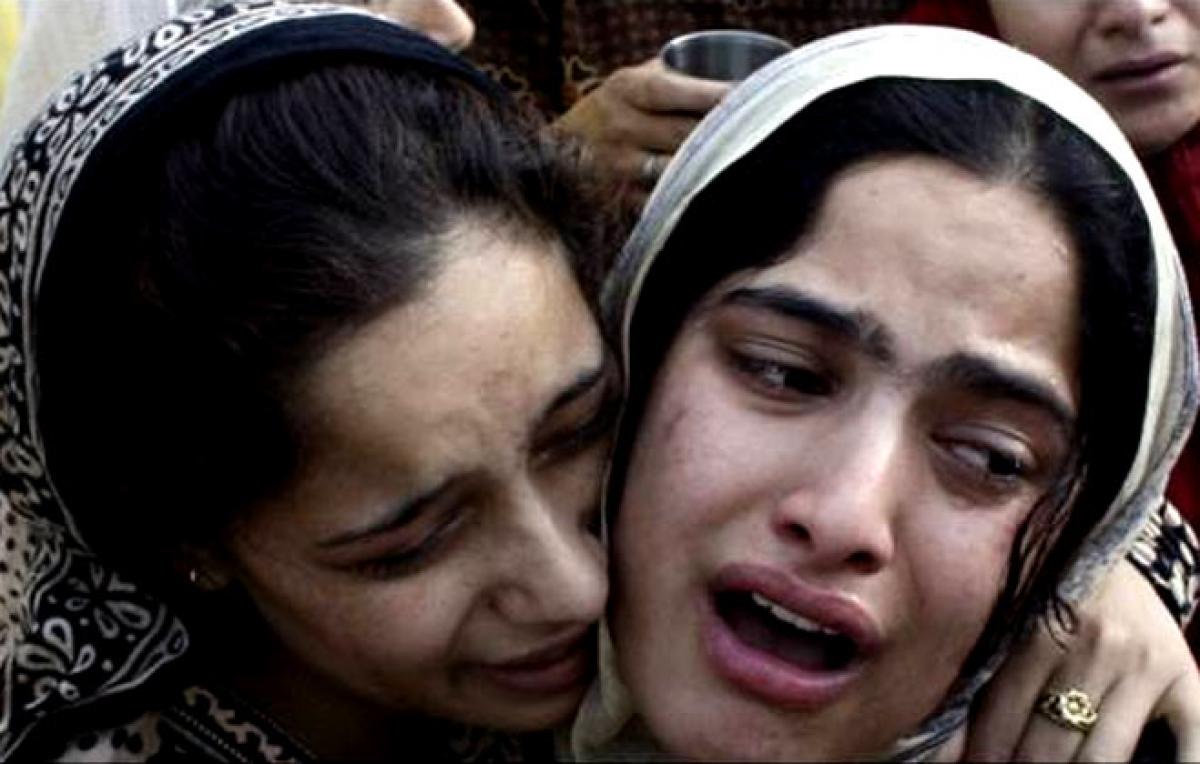 Highlights
Kashmiri Half-Widows Living In A State Of Limbo. Lying near thick deodar forests, terraced cornfields, apple orchards and jagged mountains, the hamlet of Dardpora looks idyllic. But this Kashmiri village nurtures deep wounds from decades of conflict and hides within its fold a substantial number of what has come to be known as \"half-widow\".
Dardpora (Jammu and Kashmir): Lying near thick deodar forests, terraced cornfields, apple orchards and jagged mountains, the hamlet of Dardpora looks idyllic. But this Kashmiri village nurtures deep wounds from decades of conflict and hides within its fold a substantial number of what has come to be known as "half-widow".

This term may be unique to Kashmir, describing some 200 of the women in the village whose husbands have disappeared but not yet been declared dead. Probably this is the largest concentration of such women in a single village.
They have to live with the uncertainty of not knowing what happened to their spouses, in addition to the deep pain felt by about 100 other women in the village whose husbands died in the conflict.
The disappearance of such men have often been linked by activists to police or security forces' action.
Dardpora, literally means "abode of pain", is almost 140 km north of the state's summer capital, Srinagar, and lies in Kupwara district close to the Line of Control (LoC) that cuts Kashmir into two parts - one in India, the other in Pakistan.
The central government puts the number of those missing in the past 20 years of the Kashmir conflict at about 4,000 while victims' groups say the actual number is almost double.
On December 26, 2013, following an initiative by Ehsas, a civil society group in Kashmir, six religious clerics decreed that Kashmir's "half-widows" could remarry if their husbands do not return for four years after disappearance.
That may have appeared to be some sort of a solution to a major social problem, 22 years after the first disappearance and seven years after the last.
But for many of these "half-widows", the decision means little. Some have for decades waited for the return of their husbands and they say it's too late for them to start afresh.
"I've a son who has a disability. I couldn't have looked after him if I had married another man," Bano Begum told IANS.
Wives of disappeared men often face various socio-economic uncertainties too. Since most of the disappeared men are from rural Kashmir, these widows usually live impoverished lives. And because of religious and societal pressures, most of the half-widows don't re-marry.
Shamsuddin Pasal, Begum Jaan's husband, left home for evening prayers in 1998 to never return. "It has been years since he is missing and I am too old to remarry now," said 54-year-old Begum Jaan.
"I have a son and a daughter. What will be their future in my absence?" she asks.
One of the biggest problems is that the property and custody rights of such women go into a limbo. In the absence of their family's bread-winners, they have to rely on their in-laws or parents for their economic needs.
Economic relief such as ration cards or transfer of husband's property or bank accounts become difficult as these processes require a death certificate, which they cannot get as their husbands' death is not officially recognised.
Under Islamic jurisprudence, a widow with children gets one-eighth of her husband's property. A widow without children gets one-fourth. A half-widow, till her husband is declared dead, gets nothing.
"Second marriage is considered a taboo in our society. There is a social stigma attached to it. And when it comes to property issues, it is always the death of husband that makes a widow eligible for property rights. In the case of half-widows such an option doesn't exist," explains Sheikh Showkat, who teaches law and human rights at Central University of Kashmir.
Showkat says under the Dissolution of The Muslim Marriage Act, 1939, such women "the whereabouts of whose husband have not been known for a period of four years" may pursue divorce.
"If after the second marriage, her first husband arrives, the first marriage is not valid," he says.
However, there are scholars who dispute this. And the force of tradition and religion is pretty strong in these areas.
According to prominent Islamic scholar, Mufti Abdul Rashid of Srinagar, a woman whose husband has disappeared has to seek help from a Muslim judge in locating him for a year.
"If the judge fails to trace her husband, he can dissolve the marriage and allow her to perform another Nikkah (marriage)," argues Rashid, who comes from the Deobandi sect of Sunni Muslims. "If the first husband appears after her Nikkah, the second marriage will be dissolved."
Earlier, according to the Hanafi sect of Sunni Muslims, the wife of a disappeared person was supposed to wait for an impossible 90 years after which she can remarry.
Mufti Qamar-ud-Din, another Islamic scholar, however, says the waiting period now stands reduced (as agreed by Islamic scholars) to four years and 10 days.
But the religious scholars have no good answers for the possibility of a reappearance.
"A women can remarry after this time. But if the first husband appears, the second marriage will automatically break. She will have to abandon her second husband and live with her first husband," he explains.
Rights groups say they have not known any disappeared person to return in 26 years of conflict.
Meanwhile, the "half-widows" continue to be at the receiving end of an injustice perpetrated by the government, society and the religion. They are fed up with the attention given to them, but no effective solution.
"We have become specimens," says Bano Begum. "Hundreds of people with cameras, pen and copies have visited our place, interviewed us and then never returned -- like our husbands. They have sold our tragedies. We are fed up with giving interviews. Will your report bring back my husband?"
The anger in her voice soon dies down; what lingers is her suffering in this abode of pain.