Congress questions PM Modi's silence on lynching cases, demands Jayant Sinha quit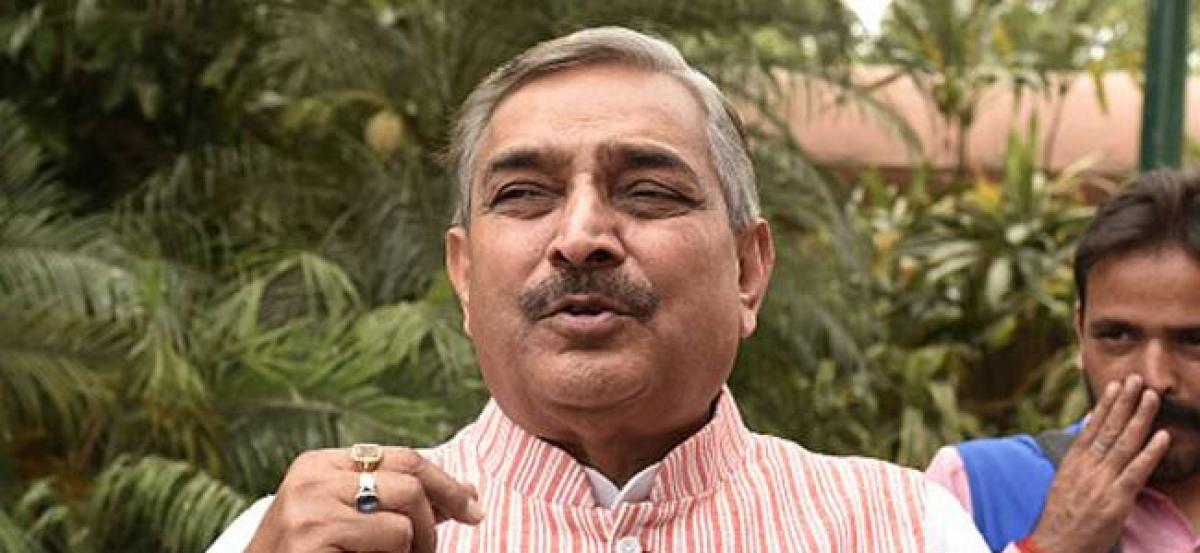 Highlights
The Congress on Monday questioned the silence of Prime Minister Narendra Modi on incidents of lynching in the country, and demanded the resignation of Union minister Jayant Sinha for garlanding eight convicts in a lynching case after they were released on bail
Congress leader Pramod Tiwari also demanded a judicial probe into the killing of a gangster inside a high security jail in UP.
New Delhi: The Congress on Monday questioned the silence of Prime Minister Narendra Modi on incidents of lynching in the country, and demanded the resignation of Union minister Jayant Sinha for garlanding eight convicts in a lynching case after they were released on bail.
Congress leader Pramod Tiwari said the silence of the prime minister and BJP president Amit Shah, and honouring of the convicts by a minister give "a guarantee to" the perpetrators that they have the support and encouragement of the government.
Accusing the Bharatiya Janata Party (BJP) and the government of spreading hatred and violence in society, he said the issue would be raised by the opposition in the upcoming monsoon session of Parliament starting July 18.
"When will Prime Minister Modi unequivocally condemn the growing acts of violence which are creating a further divide in the fault lines that exist? Does PM Modi believe that his silence will reap political benefits for the BJP? Is the tacit support of various BJP leaders to such criminals who incite mob violence a tool to further attack and intimidate the marginalised sections of the society?...Is the silence of the prime minister not giving rise to such incidents?" he asked.
Tiwari also asked when Home Minister Rajnath Singh was going to seek a report from various states that were reporting growing incidents of such hate crimes and mob violence.
"Why is Modi government continuing to maintain criminal silence on the growing mob lynching incidents? Is the country, under the BJP rule, turning into a mobocracy, where anarchy prevails? 'Maun Modi' (Silent Modi)...'Kadi Ninda' (strong condemnation) is the only defence through which the Modi government is giving itself a clean chit," he told reporters.
The Congress leader asked rhetorically, as to what it indicated when ministers felicitate convicted criminals.
"What is this if not an act of encouragement?" he asked.
Training his guns on Sinha, he said, "Jayant Sinha is a member of Modi's Council of Ministers and if he garlands those convicted of lynching, he should have no place in council of ministers. If the prime minister does not sack him, at least he should resign of his own."
He said BJP's Sinha supported convicted mob lynchers and felicitated them.
"Does this not indicate the nation that Indian government supports lynchers?" he asked.
He noted that the nation does expect a minister who has taken an oath on the Constitution to glorify convicts.
"This is an insult of the Constitution and the judiciary, which has given them punishment," he said.
Sinha stoked a controversy after he felicitated eight convicts in the Ramgarh lynching case when they came out of prison on bail last week.
Meat trader Alimuddin Ansari was beaten to death on June 29 last year by a mob at the Bazaar Tand area under Ramgarh police station on the suspicion that he was carrying beef in his car.
The Congress leader also demanded a judicial probe into the killing of a gangster inside the high security jail in Baghpat in Uttar Pradesh, saying a mere magisterial probe would not suffice. Attacking the Modi government over the law and order situation in the country, he said it is reflected in a brazen manner in the brutal murder of convict Munna Bajrangi inside Baghpat Jail.
He also cited a statement by BJP MP from Kurukshetra, Raj Kumar Saini who has reportedly said that 90 per cent of BJP candidates would lose in the upcoming polls because the Modi government has neither the right intent nor right policies.
Tiwari alleged that under Narendra Modi's watch, India has seen more than 4.5 times rise in attacks and a two-fold rise in deaths due to mob lynching in 2017. Since January 2018, he said, 61 mob attacks sparked by rumours circulated on social media have been reported and this trend is growing by the day.
"Mob lynching on the basis of rumours has become the norm of the day where people have started believing that they can take law and order in their own hands and dispense instant justice on basis of mere rumours," he alleged.
The Congress leader said responsibility of maintaining law and order is that of the elected government and these growing incidents of violence show that people have lost their faith in the BJP government.
"PM Modi's criminal silence on the growing incidents is deafening," he said. He added that another Union minister, Giriraj Singh, paid a visit in jail to those accused of inciting communal violence and his colleague Mahesh Sharma visited the Dadri mob lynching accused and supported draping of the coffin of one of the accused in a Tricolour.
"Through this tacit support, they are abetting such hooligans to take law and order in their own hands and believe they will be protected by the government of the day. BJP chief Amit Shah has also refrained from taking any action on any of these ministers and BJP members, who continue to support such hooligans through statements and such acts. Those who stay silent and act as mute spectators, will be considered complicit in these crimes," he said.
Tiwari said instead of holding themselves responsible and accountable, the government has totally absolved itself through its IT Minister Ravi Shankar Prasad, who conveniently blamed the social media platforms for their own misdeeds.