Kalaignar fighter by birth itself: Kerala CM meets Karunanidhi in hospital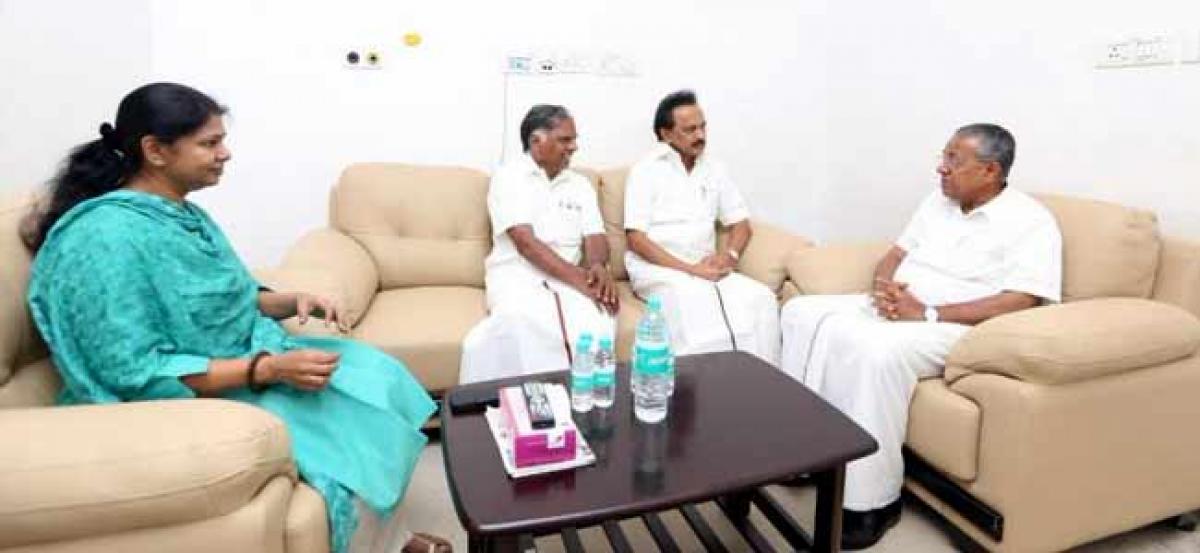 Highlights
DMK president M Karunanidhis health is improving, Kerala Chief Minister Pinarayi Vijayan said on Thursday after he met the veteran Dravidian leaders family members at a hospital in Chennai to inquire about his health
Chennai: DMK president M Karunanidhi's health is improving, Kerala Chief Minister Pinarayi Vijayan said on Thursday after he met the veteran Dravidian leader's family members at a hospital in Chennai to inquire about his health.
Vijayan told reporters that he met Karunanidhi's son and the party's working president M K Stalin and daughter Kanimozhi, besides others family members and DMK leaders.
"They all informed us (CPI-M delegation) that his condition is improving," he said. "Kalaignar (Karunanidhi) is a fighter by birth itself. In his life he fought in several fields," Vijayan added and praised the 94-year-old leader's willpower.
The chief minister said he wished Kalaignar a speedy recovery.
Karunanidhi, who is admitted to a private hospital after his blood pressure dropped on July 27, has been advised an extended hospital stay.
On July 18, he underwent a procedure at the same hospital to replace a tracheostomy tube to help him breathe normally. '
Vice President M Venkaiah Naidu and Congress President Rahul Gandhi visited him in hospital. Many other leaders also visited the hospital and met the family of the veteran DMK chief.
DMK workers have waited outside the hospital in upscale Alwarpet area, praying for the recovery of the party chief.