'My wish to join Congress has dragged me into Muzaffarpur case'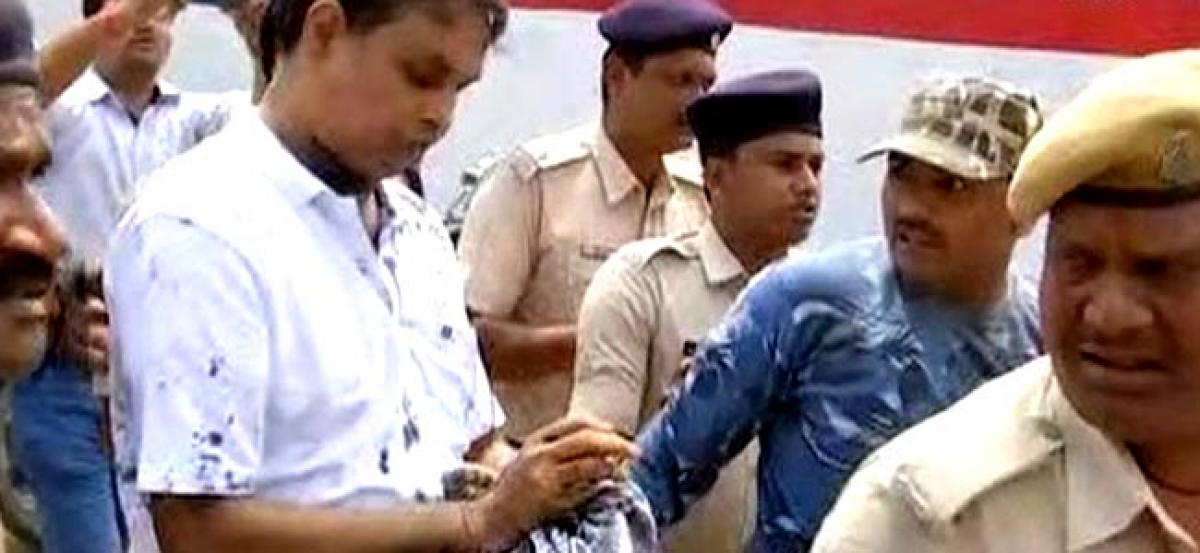 Highlights
Brajesh Thakur, the key accused in the Muzaffarpur shelter home alleged rapes, on Wednesday claimed that he has been falsely implicated as he was planning to join the Congress party Thakur was produced before the court among other accused
Muzaffarpur (Bihar) : Brajesh Thakur, the key accused in the Muzaffarpur shelter home alleged rapes, on Wednesday claimed that he has been falsely implicated as he was planning to join the Congress party. Thakur was produced before the court among other accused.
A woman meanwhile threw ink at Thakur outside the court.
"I was thinking of joining the Congress and it was almost final that I will contest elections from Muzaffarpur. That is the reason why I have been unnecessarily framed in the case. None of the girls (inmates of the shelter home) has taken my name. You can check that yourself," Thakur told media outside the court.
Speaking about Madhu Kumari, who is one of the accused and currently absconding, Thakur further said, "I have never had any relation with Madhu. This has been propagated by some newspapers who want my newspaper office to shut down. Their business is getting affected due to my newspaper; that is the reason why it is happening."
He further admitted having spoken to Bihar's Social Welfare Department Minister Manju Verma's husband, but denied to have known him well.
Reacting to Thakur's comments, Bihar Congress president Kaukab Quadri said, "It is a laughable comment made by him. Investigation suggests that he was connected to Manju Verma's husband. His connections with BJP and JD(U) have also come out. How can it be possible that he was supposed to contest elections representing the Congress? He should reveal the names he was in touch with from the Congress party. I feel that the law and order has completely failed in the state."
Last month, 11 employees of the shelter home were arrested and 44 girls were rescued. The shelter home case was uncovered around three months ago after a report by the Tata Institute of Social Sciences (TISS) in April revealed that the inmates were allegedly sexually abused.
On Tuesday, the Supreme Court came down heavily on the case and raised question over the funding of the Non-Governmental Organisation (NGO) that were running the shelter home.
Earlier, the opposition parties led by Rashtriya Janata Dal (RJD) held a sit-in protest and candle march in New Delhi's Jantar Mantar on August 4 to protest against the shelter home rape case.
Many political leaders including Congress President Rahul Gandhi, Delhi Chief Minister Arvind Kejriwal, Bihar's former chief minister Jitan Ram Manjhi, CPM general secretary Sitaram Yechury, former MP Sharad Yadav had joined the protest and demanded Bihar Chief Minister Nitish Kumar's resignation.