Chandrababu Naidu pays tribute to Vajpayee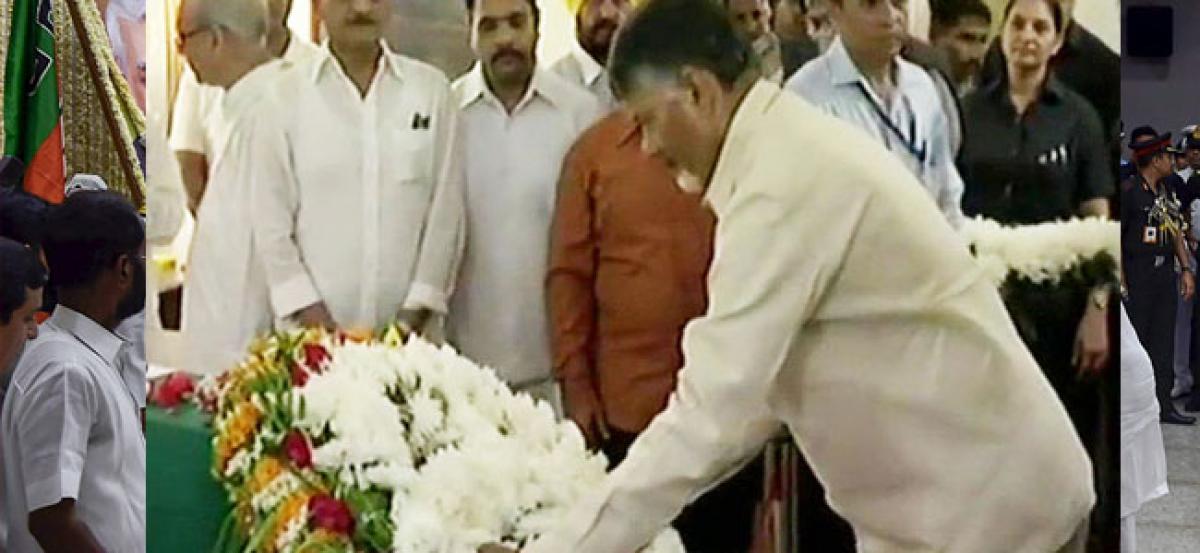 Highlights
Andhra Pradesh Chief Minister N Chandrababu Naidu paid tribute to the mortal remains of former Prime Minister Atal Bihari Vajpayee at his residence in Delhi on Friday
New Delhi: Andhra Pradesh Chief Minister N Chandrababu Naidu paid tribute to the mortal remains of former Prime Minister Atal Bihari Vajpayee at his residence in Delhi on Friday.
Soon after All India Institute of Medical Science (AIIMS) announced the demise of the Bharatiya Janata Party (BJP) veteran, Chief Minister Naidu took to social media and said, "On this unfortunate day, we have lost one of the greatest visionaries the nation has seen. The beloved former Prime Minister of India, Atal Bihari Vajpayee ji will continue to inspire us and the generations to come. May he rest in peace."
93-year-old Vajpayee breathed his last at 5:05 pm here on Thursday after prolonged illness.
Terming him as a 'great statesman', Naidu said, "Today the nation lost a great statesman. He was a believer of national development. During Kargil, we have seen his statesmanship and great fighting spirit. He brought so many reforms in the country which are still prevalent. I had a very good rapport with him. We never had any differences".
In a condolence message, the Chief Minister described Vajpayee as a great parliamentarian who served for four decades. He was elected for Lok Sabha ten times and Rajya Sabha two times.
Further hailing Vajpayee's regime, the Chief Minister said that "Vajpayee was instrumental in strengthening the Bharatiya Janata Party (BJP) which was confined to two seats in 1984 to 270 seats at present."
"Though Vajpayee offered eight cabinet berths to Telugu Desam Party (TDP), the party stayed away from union cabinet and offered external support. I have played key role in selecting Abdul Kalam as presidential candidate by discussing with Vajpayee," Naidu added.
Lauding over the developments taken up by Vajpayee in Andhra, Naidu stated, "Large number of roads and highways were developed during Vajpayee regime. He took initiative for development of national highway from Tada to Ichchapuram in Andhra. He also sanctioned World Bank funds to Velugu project and had also introduced IT development works in Hyderabad and many more."
Naidu also added that Vajpayee appointed him as chairman of micro irrigation task force. "I had a strong personal attachment with Vajpayee. His era remains as a history in Indian politics," Naidu noted.
Vajpayee, who was the country's 10th Prime Minister, will be laid to rest at the Smriti Sthal. The Central and all state governments have declared a seven-day holiday to mourn his demise.