Joint op by RSS, NGO run by Muslims gives hope to flood-hit people of Kodagu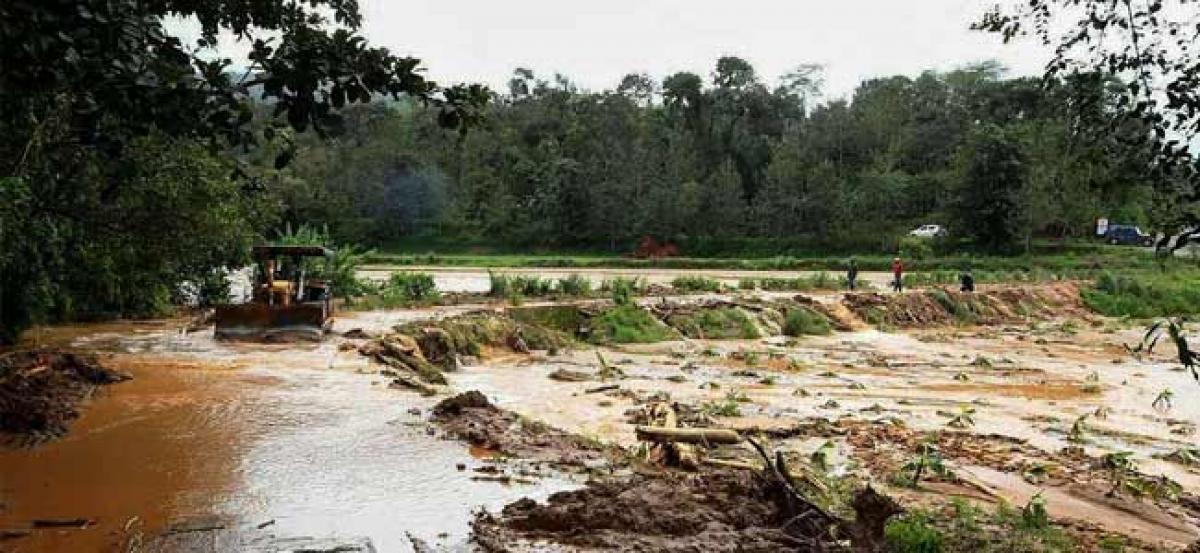 Highlights
They walked for miles on slippery trails, crossing cascading streams and braving landslidesMany were aged men and women, whose lives had gone awry in the wake of the torrential rains that lashed Kodagu district in Karnataka, bordering Kerala, claiming at least 17 lives and leaving a trail of destruction since August 12
They walked for miles on slippery trails, crossing cascading streams and braving landslides.
Many were aged men and women, whose lives had gone awry in the wake of the torrential rains that lashed Kodagu district in Karnataka, bordering Kerala, claiming at least 17 lives and leaving a trail of destruction since August 12.
Several people were carried on shoulders to the relief camps, where they sat waiting for their names to be called to receive food and other relief materials.
The residents of Kodagu not only lost their homes due to the incessant rains and floods, but were also cut off from the rest of the world due to frequent landslides.
Since August 16, the villagers living in and around Madikeri were rescued and taken to the relief camps.
The much-needed support was a result of a joint relief-and-rescue operation undertaken by the RSS-affiliated Seva Bharati and the Usmaniya Charitable Trust (Bhadravati), an NGO run by Muslims.
Talking to PTI at a relief camp here, Anjali, a resident of Kodagu, said, "We feel so relieved and confident about life...We had lost all hope...Just then, the Seva Bharati and the Usmaniya Charitable Trust came to our rescue and provided succour."
"They rescued and brought us here. Some of them carried the aged people. For some, it was quite a challenge to wade through the muddied and slippery terrains and cross the cascading streams coming down the slopes of the hills.
"The experience still haunts us, but hope fills us when we sit for meditation and yoga in the morning. Even I chant 'Om', though I am a Christian," she added.
Some of the flood-hit people have great challenges before them as their houses were destroyed in the nature's fury.
One of them, Lakshmi, said, "My house has collapsed. I hope the government will help people like me." Around 1,000 families were provided relief materials by the Seva Bharati and the Usmaniya Charitable Trust.
Mussavvir Basha, general secretary, Usmaniya Charitable Trust said they spent Rs 5 lakh for providing rice packets, water bottles, biscuits, free ambulance service, first-aid kits etc. to the marooned people.
"There was a barrage of fake news and hatred being spread on Twitter, Facebook and other social media platforms. Some mediapersons too, I am sorry to say, are dividing the country into north and south.
"In this backdrop, the joint operation should serve as an inspiration to people to bring unity in this hour of crisis," he said.
Basha and five others of the trust visited the RSS camp at Madikeri and proposed the joint operation.
Both the organisations took part in the rescue-and-relief work from August 21 to 24, before the members of the Usmaniya Charitable Trust returned to Bhadravati in Shivamogga district.
Expressing happiness over joining hands with the RSS-affiliated NGO, Usmaniya Charitable Trust president JBT Babu said they rescued 10 people.
"They (Seva Bharati) were very kind and treated our volunteers with the respect they deserved. We are moved and hope such concerted efforts will inspire other NGOs run by different faiths or communities to come together to serve the needy at times of crisis," he said.
Kodagu district RSS pracharak Avinash said the two organisations working together to reach out to the stranded people showed the way to solidarity and social harmony in a divided world.
More than 5,000 people have been rendered homeless in Kodagu district, where rescue-and-relief operations are underway in full swing.