Siddharamaiah will keep government intact: Deve Gowda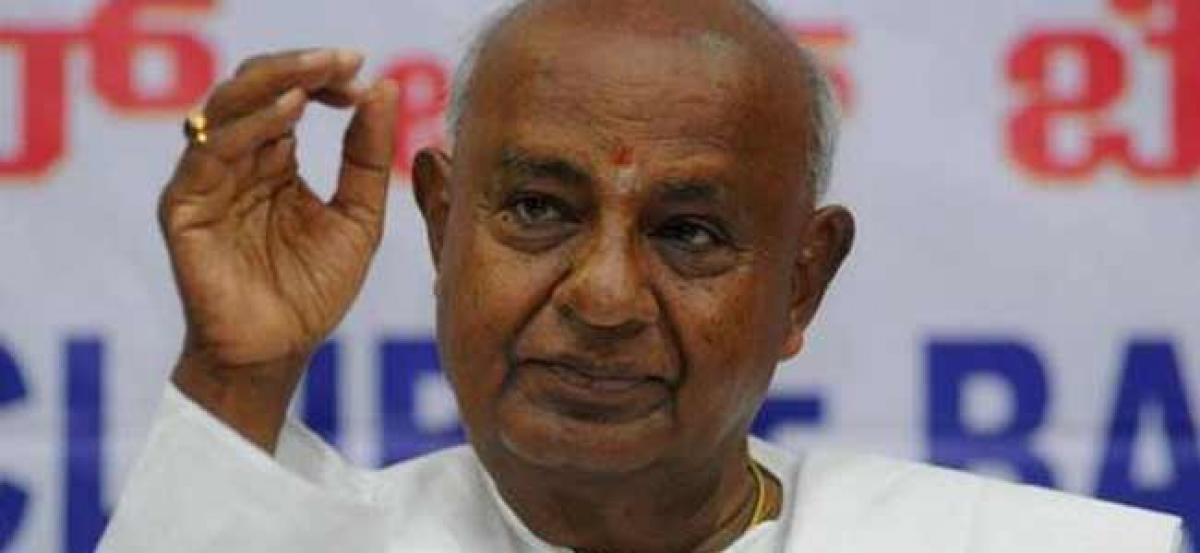 Highlights
JDS supremo and former Prime Minister HD Deve Gowda claimed former Chief Minister Siddharamaiah, a one time protege turned foe, will ensure that the JDS congress coalition government will complete five years in power
HASSAN: JD(S) supremo and former Prime Minister HD Deve Gowda claimed former Chief Minister Siddharamaiah, a one- time protege turned foe, will ensure that the JDS congress coalition government will complete five years in power.
Gowda said " Siddaramaiah has assured me that Kumaraswamy-led government will complete its full term. We are good friends but, owing to a few differences, he joined the Congress".
Rifts within the Congress, which briefly threatened the existence of the government, Gowda said, "Congress has a history of more than 130 years, and knows how to solve the problems. Yeddyurappa who should behave in manner that behooves that of an opposition leader.
Former PM Said, Atal Bihari Vajpayee demitted office after being a PM for 13 days, as a opposition leader, he was never involved in anything that lowered the dignity of the Parliament."
Kumaraswamy, who rolled out initiatives worth of Rs 1,650 crore in Hassan, said he would better resign than taking advice from BJP chief Yeddyurappa.
Siddaramaiah claimed BJP leaders were using black money to tempt Congress-JD(S) legislators to their party fold. " A friend of mine told me BJP leaders are ready to pay Rs 70 crore per MLA in Goa to keep their partnership in power there". In Karnataka too, BJP seem to be adopting the same tactics to form the government.
Siddaramaiah insisted the coalition government in Karnataka is stable and there is no danger for it to survive.