Karnataka farmers stage protest, seek full loan waiver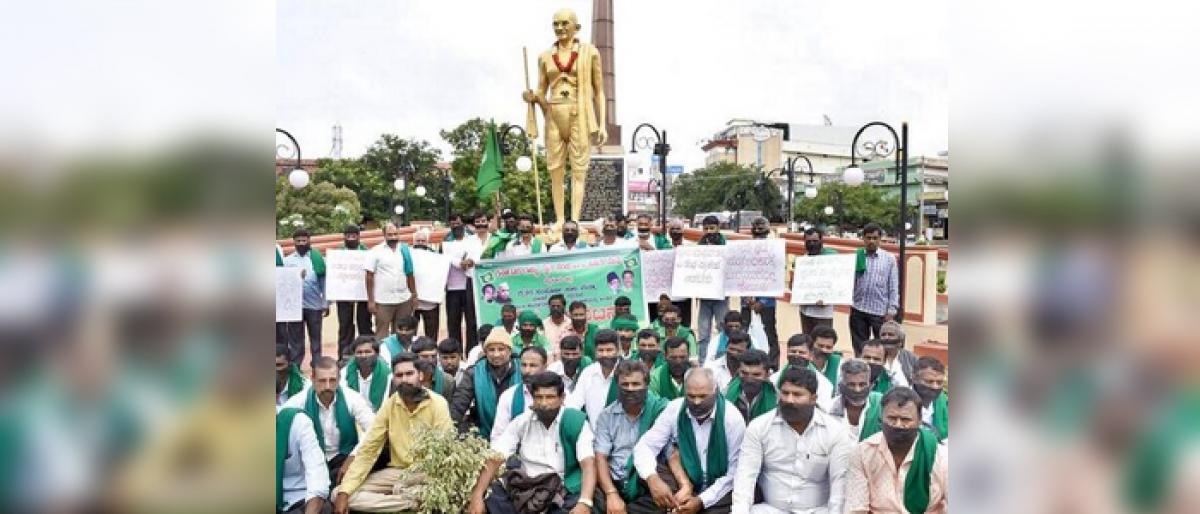 Highlights
Hundreds of farmers from across the state on Monday staged a protest here on a host of issues and set a fortnightlong deadline for the government to fulfil their demands, including complete loan waiver
Bengaluru: Hundreds of farmers from across the state on Monday staged a protest here on a host of issues and set a fortnight-long deadline for the government to fulfil their demands, including complete loan waiver.
Farmers' have given the government a memorandum containing about 40 demands and have expressed hope that the Chief Minister and his cabinet would look in to it and take an appropriate decision.
Their charter of demands includes full loan waiver, minimum support price for crops and relief measures for drought hit areas.
Farmers also expressed anguish over Chief Minister Kumaraswamy's reported comments against a woman farmer from Belagavi on Sunday and sought an apology. Agitating farmers who had threatened to lay a siege to Vidhana Soudha, the state secretariat, were stopped by the police at the Freedom Park.
Despite farmers' demand that Kumaraswamy should meet and hear them, the government sent Co-operation Minister Bandeppa Kashempur to talk to agitating ryots.
"Government has said they will call us for meeting to discuss on our issues. We have demanded that government fulfil its promises and look into our demands, we have given 15 days deadline, if nothing happens, we will start our agitation again from village level," farmer leaders said.
Kashempur said several groups of farmers from across the state have submitted a memorandum to the government on about 39 issues, and the government would look into it.
The government would try and respond to all their demands positively, he said.
"I will speak to the Chief Minister and will call farmers' leaders for a meeting with him on host of issues like drought, situation in flood hit Kodagu, among others, at the earliest," the minister said.
Farmers also demanded that Kashempur should convey to the chief minister their demand seeking Kumaraswamy's apology for his comments against agitating sugarcane farmers and a woman farmer from Belagavi.
Driving trucks with sugarcane, a group of farmers on Sunday had 'gatecrashed' into "Suvarna Vidhana Soudha", the legislature complex in northern district of Belagavi.
They were protesting Kumaraswamy's reported cancellation of his visit to meet royts agitating over payments due from sugar mills.
In a strong reaction, Kumaraswamy had described those who barged into the legislature complex as "goondas" and accused them of defaming the entire farming community.
Kumaraswamy's remarks against a woman farmer while questioning her 'silence' in the last four years on the arrears issue and her farming background, had evoked sharp reaction from her.
Kumaraswamy has now convened a meeting of sugarcane farmers and sugar factory owners at Vidhana Soudha in Bengaluru on Tuesday to discuss the issue and find a way out.